The Top 3 Diets for Heart Health
Discover what to eat

for a healthy heart 
February is heart health month and that has me thinking about the most important factors you need to know about heart health.
Nutrition plays a major role in reducing many of the risk factors for heart disease. 
Making healthy eating choices is not only important to keep your blood cholesterol levels and blood pressure healthy, it influences your ability to manage a healthy weight and protect against diabetes. 
What diet is best for the heart?
Rest assured that the best heart-healthy eating plan is the one you will actually follow.  You do not need a so called "diet". Instead, you need a healthy lifestyle you can sustain for life.   
Follow a plan that speaks to your food personality and the types of foods that you and your family enjoy.  Work with an experienced Registered Dietitian  that can help guide the way and making eating well simple and tasty. 
Read on to find out how many researchers would define the top 3 diets for heart health next. 
Top Diet for Heart Health: The Mediterranean Diet
The Mediterranean Diet includes traditional foods from countries surrounding the Mediterranean Sea. There is an emphasis on plant-based foods such as grains, vegetables, fruits, legumes, nuts, seeds and oils, as well as wine and small portions of seafood, poultry, meat and cheese. 
Research on the Mediterranean diet started over 50 years ago when researchers examined the health outcomes of more than 13,000 middle-aged men in the popular Seven Countries Study. They learned that those from the Greek island of Crete had lower cardiovascular disease than those in other countries. 
Since this study, not only has the Mediterranean diet been shown in multiple research studies to improve heart disease and stroke risk, the diet may lower the risk of diabetes, obesity and even reduce cognitive decline as you age. 
It has been proposed that the health benefits of the Mediterranean diet are attributed to lowered oxidative stress and reduced inflammation that are at the core of chronic disease. The unsaturated "good fats" found in Mediterranean foods and rich emphasis on plants provide plenty of fibre, vitamins, minerals and phytochemicals for health. 
Top Diet for Heart Health: The DASH Diet
The DASH (dietary approaches to stop hypertension) diet has been shown in research to lower blood pressure significantly in part due to the rich sources of potassium, magnesium, calcium, as well as protein and fibre. This eating plan emphasizes plenty of fruits, veggies, low-fat dairy foods, and reduced saturated fat. The DASH diet also includes whole grains, fish, poultry, and nuts and is low in red meat, sweets, added sugars, and sweetened beverages typical in North American diets.  
Top Diet for Heart Health: The MIND Diet 
Martha Clare Morris, PhD, a nutrition epidemiologist and her colleagues designed the MIND diet which is a hybrid of the Mediterranean and DASH diet. Both diets have been shown to reduce the risk of cardiovascular disease, hypertension, heart attack and stroke.  The MIND diet also has been shown to lower the risk of dementia and reduce the risk of Alzheimer's disease.   
The 10 brain healthy food groups included in the MIND diet includes green leafy veggies, other veggies, nuts, berries, beans, whole grains, fish, poultry, olive oil and wine.  The MIND diet recommends reducing red meat, butter and stick margarine, cheese, pastries and sweets and fried or fast food. 
What does a heart healthy diet look like?
Add the right fats (don't be fat phobic)
Unsaturated fats found in olive oil, nuts, seeds, avocados and fish are healthy fats that are good for us. Be sure to include a moderate amount of these in your diet, as they lower your "bad" or LDL-cholesterol. 
For a full deep dive into the topic of saturated fat for your heart read my previous blog post here:  Has the advice on saturated fat changed? 
Become friends with fibre
Fibre found in whole grain breads, bran cereals, beans/legumes, and fruits/veggies help to reduce cholesterol and keep you full longer. Soluble fibre which is especially high in bran cereals containing psyllium is particularly good for reducing cholesterol levels when you eat it regularly. 
Eat more plants
It is no surprise that the healthiest heart healthy diets include plenty of plants. Plant foods are associated with more diverse gut bacteria, and that this may have a key influence on metabolism, inflammation, and risk for disease.  
If you need some inspiration for adding more fruits and veggies to your diet check out this article on our blog:  Eating the rainbow and 20 ways to eat more vegetables.
What other wellness factors are important for heart health?
While you may not be able to change some risk factors for heart disease such as your genetics or family history, there are so many things you can do. 
Outside of eating well to achieve your personal best weight and managing high blood pressure, high cholesterol and diabetes, it is important to quit smoking, keep physically active and reduce stress. Sound overwhelming? Take one step at a time — every effort you make to live a healthier life is movement in the right direction. 
Does a heart healthy diet include chocolate? Eggs? French fries? Alcohol? Bacon?
Yes it can. A heart healthy diet for high cholesterol, high blood pressure and overall heart disease treatment and prevention does not require you to be perfect.  There are no bad foods, only bad overall diets. 
The best diet to follow is the one you can realistically sustain for life.   
For the record – there is nothing fundamentally wrong with YOU if you have not been able to stick to a diet. The diet was fundamentally flawed from the start. 
As with most things in life, one size does not fit all. Be wary of any eating plan that says there is one way to eat that is superior. Scientific evidence does not suggest this is the case. You can be healthy following a wide range of eating plans (including both eating meat or as a vegetarian). 
Looking for more help on building a heart healthy diet you can live with for life?
Contact us to book a free complimentary call to find out more about our in-person or virtual Registered Dietitian services.
Don't forget to check your health insurance! Many insurance plans cover Dietitian services.
If you enjoyed this blog, check out our other articles on related topics: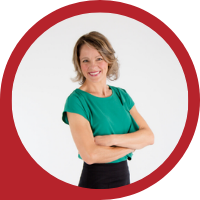 About Andrea Holwegner
CEO, Registered Dietitian, Counseling Practice Director & Professional Speaker
Andrea the «Chocolate Loving Nutritionist» is founder and CEO of Health Stand Nutrition Consulting Inc. since 2000. She is an online nutrition course creator, professional speaker and regular guest in the media. Andrea is the recipient of an award by the Dietitians of Canada: The Speaking of Food & Healthy Living Award for Excellence in Consumer Education....Read more