Working From Home? 3 Ways to Boost Productivity and Energy
Healthy eating at work and other good habits for remote work
As recently as 6 months ago the debate raged on about whether remote workers are as productive as on-site employees. As the global pandemic changed all our lives and many employers overnight transitioned to a business staffed by work from home (WFH) employees, new studies have shown a climb in productivity now that more people are required to work from home due to Covid-19:
A study of 16,000 employees found that remote working led to a 13% performance increase, improved work satisfaction, and fewer breaks and sick days. Other studies have shown that remote working improves productivity and creativity, and research from 85% of the companies studied reported improvement in productivity as a result of remote working.
After months of lockdown, the novelty of working from home with few opportunities to leave the house, combined with spouses also working from home, children being schooled at home, canceled vacations and limited social interaction have resulted in WFH fatigue. 
Here are three ways you can combat WFH Fatigue and give yourself a mental and physical boost.
1 – Practice Mindful Productivity
Practicing mindfulness is too often confused with the state of doing nothing – so mindful productivity sounds like the ultimate oxymoron. In fact, practicing mindfulness can lead to improvements in physical and mental health – and productivity! As a Registered Dietitian and Online Nutritionist, I talk about food a lot. But I also talk about why I practice and advocate mindfulness in eating, in stress management and in workplace productivity. As someone prone to getting stressed out and feeling overwhelmed, one of the biggest things that has helped me to become calmer and more present and more productive is practicing mindfulness. 
Mindfulness is the state of being more aware of what you are doing and why you are doing it. Being mindful helps you focus on the task at hand, and not be distracted by other things going on around you. 
Mindful productivity is about calmly acknowledging and accepting your feelings and thoughts while engaged in work or creative activities. Research in the last decade shows that mindfulness practices contribute to well-being at work and lead to happier, healthier, and more productive employees. These same mindfulness practices can contribute to more productive – and less stressed – WFH employees also. 
Here are some of the ways I incorporate mindful productivity into my daily routine that might work for you too:
Taking a deep breath before I start a new work task.

I took a few mindfulness courses. Find a mindfulness meditation instructor you can connect with in your local area or online.  Instructors can offer you the kind, compassionate teaching approach to anchor something that sounds simple but is actually quite hard to stick to. My instructors have been great to help me start small and build the habit. A calmer, more present version of yourself is waiting to be found.

Try mindfulness apps. If one doesn't work, try another one – they're not all the same! A few of the most popular mindfulness apps are The Mindfulness App, Calm and Headspace by my personal favorite is the Insight Meditation App which I use for its timer mostly now for self-guided meditation.
Forbes magazine has a great article with more tips for getting off auto-pilot and practicing mindful productivity during remote working. 
2 – Eat For Productivity

As the Chocoholic Nutritionist, I believe in eating well and having a life that saves room for chocolate and other delicious foods. But as a Registered Dietitian, I also know that what you eat and when you eat it impacts your productivity and your energy level. I encourage people to think about adding a bit more structure into their everyday eating patterns – but not something that's completely inflexible. Healthy eating at work and at home are now the same thing for many remote workers – and their families. 
One of the few positive things that may come from the COVID-19 pandemic is that families are actually home cooking together more. Kids are frustrated trying to be productive and manage online learning. Here are some healthy meal ideas to make with your kids that are delicious and will increase the whole family's energy and productivity.
Because people are now eating more meals at home, the time of day we eat and what we eat is changing – as is how much we eat! Using a timing technique to put some structure into our day is really helpful. It's the free-for-all kind of eating and multitasking and bringing food to our computers that can really zap energy.  Eating while doing something else doesn't allow us to keep track of how much we're eating. 
As much as we can, make eating the only thing that you are doing – a solo act in itself. That aspect of mindful eating will serve you well from just the ability to detect hunger and fullness, and it allows you a productivity break so that you're not just sustaining work non-stop and homeschooling non-stop with no sort of break. I would really like to encourage people to clearly define when is eating, when is rest time, when is work time, and not try to multitask them all because you end up feeling burned out by all of them.
I spoke about What to Eat for Productivity and Stress Relief on The Small Business Mastermind podcast – listen to the full episode here. 
3 – Move More

Sitting at your desk hunched over your computer isn't just bad for your posture – it's bad for your mental and physical health! Depending on where you live, you have access to different opportunities for exercising while social distancing. But wherever you live, you can work more movement and exercise into your daily routine while working from home. With limited opportunity for your regular exercise routine, it's easy to sit at your desk all day, working hard to be productive. Too much sitting negatively affects your metabolism, blood pressure, blood sugar and cholesterol and can lead to weight gain.
Movement doesn't have to be a full-on exercise routine. Small but frequent activity doesn't disrupt your productivity – movement increases productivity, reduces stress and improves physical well-being. There are easy ways to incorporate more movement into your work routine:
Take several walks a day to the fridge for a glass of water or a cup of hot tea.

Hydration is important for maximum energy

. Dehydration can lead to fatigue, irritability and headaches. Keeping a full water bottle at your desk is good for hydration – but taking that walk to the kitchen several times each day is good for managing your stress and recharging your energy. Getting away from your desk once an hour for 1-2 minutes helps you stretch, relax and refresh.

Try a standing or treadmill desk. A standing desk burns more calories, reduces back and neck pain and

increases productivity

. If you're going to be working from home for the remainder of the year, this could be a good investment in your health and well-being. If you don't want to invest in a standing desk, many homes have kitchen islands or fireplace mantels that can do double-duty as standing desks in short spurts.

If you have a lot of phone meetings, practice walking and talking on your smartphone. Doing mini-laps inside the house while on the phone doubles your productivity! 

Track your daily steps. Not everyone follows the 10,000 daily steps goal. But many new remote workers are shocked to discover they now take less than 1,000 steps a day! Many smartphones come with built-in step trackers, or you can buy an inexpensive pedometer. If you discover you're only taking 500 steps a day, set your goal at 1000 steps. If you're at 1,000, double it to 2,000. Small increases in movement make a bit difference in your physical and mental health.

If you're a baseball fan, you're familiar with the 7th Inning Stretch. If you're not, this is a time for fans to stand up, walk around and even do a few lunges and stretches during a long afternoon at the baseball field. Incorporate a brief but focused break ⅔ of the way through your workday to stretch your back and neck muscles, flex your wrists and fingers and get the blood flowing in your legs. Simple yoga movements that can be done at your desk are available on yoga videos and apps.

As gyms and exercise studios closed, online workouts boomed! Many are free and excellent, and are geared towards people of all different fitness levels. Some require equipment but others need only a small amount of space and a little bit of your time to reap big benefits.
Transitioning to working from home isn't easy whether it's for a short period of time or long-term – and even permanent. Despite its many benefits to both employers and employees, remote work requires a change in your daily routine to make sure you're not sacrificing your health for the sake of productivity. There are simple but effective changes you can make to your nutrition, your activity and your focus that will increase your productivity and energy – and save your sanity – while working from home.
Virtual Nutrition Counseling Support
Looking for more suggestions on fueling healthy productivity in your work day?  Need assistance with meal planning or nutrition support for a health concern?  Our Online Nutritionist / Dietitian team can help.  
Contact us for additional private one-on-one Online Nutritionist support.  Our Dietitian team specializes in meal planning, weight concerns, emotional eating, eating disorders, digestive health issues, diabetes, heart health, fertility, kidney disease and more: REVIEW OUR PERSONAL NUTRITION COUNSELING SERVICES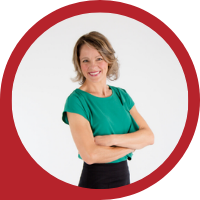 About Andrea Holwegner
CEO, Registered Dietitian, Counseling Practice Director & Professional Speaker
Andrea the «Chocolate Loving Nutritionist» is founder and CEO of Health Stand Nutrition Consulting Inc. since 2000. She is an online nutrition course creator, professional speaker and regular guest in the media. Andrea is the recipient of an award by the Dietitians of Canada: The Speaking of Food & Healthy Living Award for Excellence in Consumer Education....Read more