Almond Biscotti
This is a family favorite for a sweet treat with tea or coffee and heart heathy almonds.
Makes 32 servings
What you need:
1 ¾ cup unbleached flour
2 tsp baking powder
¾ cup whole almonds, roasted
2 eggs
¾ cup sugar
1/3 cup melted non-hydrogenated margarine or butter
2 tsp vanilla
½ tsp almond extract
1 ½ tsp grated orange rind
1 egg white beaten
How you prepare:
1. In a large bowl, mix baking powder, flour and almonds and set aside. In a separate bowl, whisk together eggs, sugar, butter/margarine, vanilla, almond extract and orange rind. Add wet ingredients to dry mixture, and mix to form dough.
2. Divide dough into 2 equal parts. On a baking sheet, create two, 12 inch-long logs. Brush top of logs with beaten egg white. Bake for 20min at 350 degrees.
3. Let cool for 5 min. Cut logs diagonally in 3/4inch slices. Separate slices on the baking sheet. Bake again for 20-25 minutes or until golden.
Per serving:
Calories 85
Fat 4 g
Carbohydrates 11 g
Protein 2 g
Dietary Fiber 0.6 g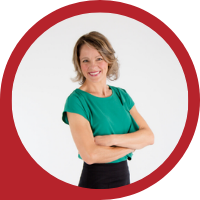 About Andrea Holwegner
CEO, Registered Dietitian, Counseling Practice Director & Professional Speaker
Andrea the «Chocolate Loving Nutritionist» is founder and CEO of Health Stand Nutrition Consulting Inc. since 2000. She is an online nutrition course creator, professional speaker and regular guest in the media. Andrea is the recipient of an award by the Dietitians of Canada: The Speaking of Food & Healthy Living Award for Excellence in Consumer Education....Read more