Beets – featured vegetable
Featured Vegetable: Beets
Beets are a vegetable that are well known for their red colour, but they can also be white, yellow or pink. Beets are an excellent source of folate which is an important nutrient that makes red blood cells. Not getting enough folate can lead to feeling tired and weak. Folate is particularly important during pregnancy to help prevent birth defects in a developing baby.  
After eating beets, don't be surprised if you see a red colour when you go to the washroom. This is the remnant of the antioxidant betalain – the pigment responsible for beet's beautiful and deep colour.
Four ways to use beets:
Steamed or Baked
Simply wash and place in a steamer for 15-20 minutes until soft. Peel the skins after cooking, toss with a little vinaigrette or salt and pepper. Serve warm or cool.
BBQ
Wash and cut into chunks, toss with a drizzle of olive oil, and put into a basket on the bbq grill. Gives a slightly different texture than steaming or baking, and really brings out the sweetness of beets. Try them on the bbq, and add to a salad! Beets pair beautifully with a dijon mustard dressing and goat cheese, and a blend of greens.
Shredded & Raw
Peel and shred beets using a grater and add to salads, soups or muffin recipes.
Natural Food Dye
Save remaining water from steaming or boiling beets and add small amounts to muffins, cakes or icing for an all natural food dye.
Check out these beet recipes from our blog: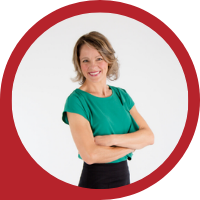 About Andrea Holwegner
CEO, Registered Dietitian, Counseling Practice Director & Professional Speaker
Andrea the «Chocoholic Nutritionist» is founder and CEO of Health Stand Nutrition Consulting Inc. since 2000. She is an online nutrition course creator, professional speaker and regular guest in the media. Andrea is the recipient of an award by the Dietitians of Canada: The Speaking of Food & Healthy Living Award for Excellence in Consumer Education....Read more