Berry Oatmeal Muffin Recipe
Use up fresh or frozen berries to get a burst of summer flavour in these healthy oatmeal muffins
A weekend morning is a great time to quickly mix together these delicious muffins. Muffins are great to grab for a quick breakfast, lunchtime snack or for a post-workout boost. They also freeze well! We like to bring these as a snack during outdoor winter activities like skating or snowshoeing. These healthy oatmeal muffins bursting with juicy berries are sure to be your new favourite.
Makes 12 muffins.
What You Need
1/2 cup butter
1 cup sugar
1 egg
3/4 cup rolled oats
1.5 cups flour
2 tsp baking powder
1/2 tsp salt
2 tsp grated lemon rind
2/3 cup milk
1.5 cups fresh or frozen cranberries, blueberries, raspberries or saskatoon berries
How To Prepare Healthy Oatmeal Muffins with Berries
Cream the butter and sugar. Add the eggs.
Add the flour, oats, baking powder, salt, lemon rind, milk and berries and stir just until combined. Don't over-stir.
Scoop batter into greased muffin tins (or into muffin tins lined with paper muffin tin liners) and bake at 375 F for about 18-20 minutes until done.

Nutritional Information (For 1 muffin)
192 Calories
35 Carbohydrates
3.8 g Protein
4.3 g Fat.
1.7 g Fibre
We hope you and your family enjoy this heatlthy oatmeal muffin recipe with your favorite berries! I'm a big fan of raspberries or blueberries in these.
You may also like one of these other mufifn recipes:
Looking for more simple meal planning tips and healthy recipes for a healthier lifestyle? Sign up for our weekly newsletter for a healthy recipe of the week (and nutrition articles and videos with a balanced living philosophy to help encourage healthy habits but still save room for your favorites). Our nutrition newsletter is written by the Online / Calgary Nutritionists on our team who each hold a professional Registered Dietitian license to ensure you are getting credible advice.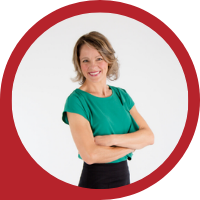 About Andrea Holwegner
CEO, Registered Dietitian, Counseling Practice Director & Professional Speaker
Andrea the «Chocoholic Nutritionist» is founder and CEO of Health Stand Nutrition Consulting Inc. since 2000. She is an online nutrition course creator, professional speaker and regular guest in the media. Andrea is the recipient of an award by the Dietitians of Canada: The Speaking of Food & Healthy Living Award for Excellence in Consumer Education....Read more