Black Bean Vegetarian Chili
A delicious vegetarian chili with black beans!
Recipe adapted from my friend Kerry Parker Smith 
This recipe can be made on your stove top in a pot using canned beans, or use dried beans and cook in your pressure cooker/Instant Pot or slow cooker.  Serve with rice or buns and a tossed salad or raw veggies for a balanced meal. 
Makes 6 servings 
What You Need
Vegetarian Chili Recipe Ingredients:
2 cups dried black beans (soaked for 8 hours), or 6 cups cooked black beans (four, 15-ounce cans of black beans, drained and rinsed)

 

1 large onion, chopped

 

3 large carrots, peeled and diced into small pieces

 

3 celery stalks, diced into small pieces

 

4 cloves of garlic, minced

 

1 tbsp chili powder

 

2 tsp ground cumin

 

1/4 to 1/2 tsp cayenne pepper or more depending on how spicy you like it

 

Optional: ground chilies to taste (such as New Mexico, aleppo chilies and/or ancho chilies)

 

1-2 cups water or vegetable broth (see step 1 below)

 

Two, 28-ounce cans of stewed diced tomatoes

 

1 medium-sized sweet potato or yam, peeled and cut into ½-inch chunks

 

Salt and pepper to taste

 

Optional garnish/toppings:  chopped green onions, cilantro, grated cheddar cheese, sour cream

 
How to Make the
Vegetarian Chili
Recipe:
If using canned beans

:

 

In a large pot, sauté onions, carrots, and celery in a few tablespoons of oil until soft.  Add the garlic, chili powder, cumin, cayenne pepper, chillies, 1 cup of water/broth, and canned tomatoes and heat until bubbling.

 

If using dried beans:  

In a strainer drain soaked beans and rinse well. Combine black beans, onion, carrots, celery, garlic, chili powder, cumin, cayenne pepper, chilies, 2 cups water/broth, canned tomatoes and stir to ensure dried beans are covered in the liquid.  Secure the lid of your instant pot/pressure cooker and move the steam release valve to "Sealing".  Select Manual/Pressure Cook to cook on high pressure for 25 minutes.  When the cooking cycle is complete, wait 10 minutes to let the pressure release naturally and then move the steam release valve to "Venting" to release any remaining pressure.  When the floating valve drops, remove the lid. 

(Alternatively, place the above mixture in a slow cooker until the black beans are soft).

Add salt, pepper and additional seasonings to taste.  Use the back of a spoon to mash some of the sweet potato/yam against the side of the pot to thicken the chili if needed.
Serve in bowls with your favourite garnish/toppings as desired.
We hope you enjoyed this delicious vegetarian chili recipe! If you gave it a try, make sure to post a photo of your meal and tag us on Facebook and Instagram @healthstandnutrition!
Nutrients per serving

:
356.4 Calories  
70.5 g Carbohydrates  
19.3 g Protein  
2 g Fat  
17.9 g Fibre    
Looking for more simple meal planning tips and healthy recipes for a healthier lifestyle?
Sign up for our weekly newsletter for a healthy recipe of the week (and nutrition articles and videos with a balanced living philosophy to help encourage healthy habits but still save room for your favorites). Our nutrition newsletter is written by the Calgary Nutritionists on our team who each hold a professional Registered Dietitian license to ensure you are getting credible advice.
Click here to sign-up for our free weekly nutrition newsletter
Check out more vegetarian recipes on the blog here: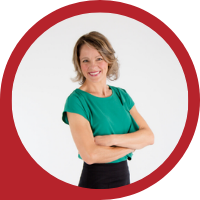 About Andrea Holwegner
CEO, Registered Dietitian, Counseling Practice Director & Professional Speaker
Andrea the «Chocolate Loving Nutritionist» is founder and CEO of Health Stand Nutrition Consulting Inc. since 2000. She is an online nutrition course creator, professional speaker and regular guest in the media. Andrea is the recipient of an award by the Dietitians of Canada: The Speaking of Food & Healthy Living Award for Excellence in Consumer Education....Read more