Cheesy Broccoli Bites
Crispy on the outside, warm and tender on the inside!
This broccoli bites recipe is delicious and a fan favourite for many family members… it's even kid friendly! It's a great veggie side that compliments many meals and can even be eaten as an appetizer or veggie packed snack. The warm gooey cheese on the inside pairs deliciously with the breaded crispy texture on the outside. Feel free to experiment with whatever different veggies or types of cheese you have on hand. Try swapping out the broccoli for cauliflower, zucchini or even carrots depending on what you have. Enjoy!
What You Need
Broccoli Bites Recipe Ingredients
2 cups broccoli

 

2 eggs

 

¾ cup breadcrumbs 

 

1 tsp garlic powder or 1 clove garlic minced 

 

½ tsp dried thyme 

 

½ yellow onion, diced

 

Pepper to taste preference 

 

½ cup cheese of choice – cheddar, gouda, Havarti, Swiss 

 
How to Make the Broccoli Bites
Recipe:
Preheat oven to 400 degrees F. 

 

Boil water and cook broccoli until tender. Drain and let cool.

 

In a food processor or blender add broccoli and all remaining ingredients. Blend until broccoli is well chopped. If the dough is still very wet add some flour 1 tbsp at a time until dough comes together. 

 

Using your hands or a spoon form into bit size tots. Place on a parchment-lined baking try. Cook for 20-25 minutes, flipping halfway until lightly brown on both sides.

 
If you tried this broccoli bites recipe, post a photo and tag us on Facebook and Instagram @HealthStandNutrition.
Nutrients per serving

:
182 Calories
19 g Carbohydrate 
11.5 g Protein 
6.8 g Fat 
1.2 g Fiber  
Looking for more simple meal-planning tips and healthy recipes?
Sign up for our weekly newsletter for a healthy recipe of the week and nutrition articles and videos with a balanced living philosophy to help encourage healthy habits but still save room for your favourites. Our nutrition newsletter is written by the Calgary Nutritionists on our team who each hold a professional Registered Dietitian license to ensure you are getting credible advice.
Click here to sign-up for our free weekly nutrition newsletter
Check out more recipes on the blog here: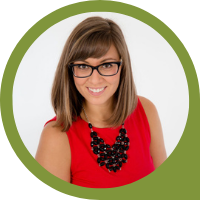 Shauna Kime
Registered Dietitian & Online Nutritionist - Weight Concerns, Women's Health, Diabetes & Meal Planning
The first thing you will notice about Shauna is her contagious optimism, energetic personality and zest. Shauna loves teaching and has a heart full of compassion and empathy for helping clients work through health concerns. Shauna specializes in healthy cooking, diabetes, cardiovascular health, weight concerns and womens health. Read more