Creamy Carrot Soup
Like carrots? You're going to love this carrot soup recipe!
Keep this recipe in handy to use up that forgotten bag of carrots in your fridge, or after harvesting your garden!
This puréed carrot soup is thick and smooth even without dairy or a substitute, but their addition creates a rich, filling, and delicious version.
Plus! you can follow the same technique with almost any root vegetable – turnips, potatoes, or celeriac, for example.
The soup is especially flavorful with parsnips, which are sweet beyond belief.
Recipe from Mark Bittman's – How to Cook Everything.
Makes: 4 Servings. Time: 45 minutes 
Creamy Carrot Soup Ingredients
3 tablespoons butter or extra virgin olive oil

 

1 small onion, sliced

 

1 pound carrots, roughly chopped

 

1 large starchy potato, peeled and roughly chopped

 

Salt and freshly ground black pepper

 

5 cups vegetable stock or water

 

2 teaspoons suger, or to taste (optional)

 

½ cup cream or sour cream (optional)

 

¼ chopped parsley leaves for garnish
Put the butter or oil in a large, deep saucepan or casserole over medium heat. When the butter melts or the oil is hot, add the vegetables. Season with salt and pepper and cook, stirring occasionally, for about 15 minutes, until the carrots soften a bit. Add the stock and cook until the vegetables are very tender, 15 to 20 minutes.

 

Use an immersion blender to puree the soup in the pan. Or cool the mixture slightly (hot soup is dangerous), pass it through a food mill or pour it into a blender, and puree carefully until smooth, working in batches if necessary. (You may prepare the soup in advance up to this point. Cover, refrigerate for up to 2 days, and reheat before proceeding). Adjust the seasoning if the soup tastes flat, stir in the sugar to play up the carrot flavor.
3. If you're serving the soup hot, reheat it in the saucepan. If you're serving it cold, refrigerate, covered, for at least 2 hours. Either way, stir in the cream if you're using it, then garnish, and serve.
Creamy Fennel Soup
– A shot of Pernod, Ricard, or other anise-flavoured liquor added with the vegetable stock will boost the flavor even further. Substitute fennel for carrots; reserve the fennel fronds for garnish and use them in place of the parsley.
Creamy Celery Soup – Substitute celery for the carrots, reserve the celery leaves for garnish if they're green and fresh, otherwise use parsley or dill for garnish. 
Nutrients per serving* (1 serving):  
243 Calories 
13 g Fat  
29 g Carbohydrates   
5 g Fiber  
4.5 g Protein 
*Nutrition analysis is based on using butter, water, and optional ingredients*
Let us know what you think and comment below! We'd also love to see it too, so make sure to tag us on our social accounts.
Looking for more healthy recipes and nutrition tips?
Sign up for our free weekly newsletter, Sound Bites, for a healthy recipe of the week. Along with nutrition articles and videos with a balanced living philosophy to help encourage healthy habits but still save room for your favorites.
Our nutrition newsletter is written by the Online & Calgary Nutritionists on our team who each hold a professional Registered Dietitian license to ensure you are getting credible advice.
Join thousands of subscribers, today!
If you enjoy this Creamy Carrot Soup, you might like these recipes as well:
https://www.healthstandnutrition.com/creamy-cauliflower-soup/
https://www.healthstandnutrition.com/butternut-squash-apple-soup-recipe/
https://www.healthstandnutrition.com/black-bean-soup-2/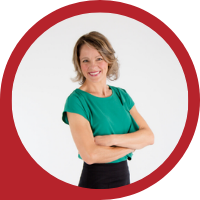 About Andrea Holwegner
CEO, Registered Dietitian, Counseling Practice Director & Professional Speaker
Andrea the «Chocolate Loving Nutritionist» is founder and CEO of Health Stand Nutrition Consulting Inc. since 2000. She is an online nutrition course creator, professional speaker and regular guest in the media. Andrea is the recipient of an award by the Dietitians of Canada: The Speaking of Food & Healthy Living Award for Excellence in Consumer Education....Read more