Butternut Squash and Apple Soup Recipe
Try This Healthy Fall Soup Recipe!
This is the perfect fall soup for a weekday meal served with grilled cheese sandwiches and raw veggies or a tossed salad. It also works great leftover in your lunch the next day or frozen in individual servings to take and reheat. Foods rich in colour such as butternut squash are good sources of carotenoids—compounds which are cancer and heart disease preventative.
Makes 6 servings
What You Need
Butternut Squash and Apple Soup Ingredients
1 can (12 oz.) evaporated milk (or 12 oz. milk or fortified soy/almond beverage)
3 lbs. (1.5 kg) butternut squash
3 garlic cloves
2 medium apples
8 cups chicken or vegetable stock
Salt and pepper
Pinch of cayenne pepper (or more if you like it spicy)
Fresh thyme or savory (optional)
How to Make the
Butternut Squash and Apple Soup
Recipe
Preheat oven to 350F.
Cut squash in half and scoop out seeds.
Brush the cut side of the squash with olive oil and place cut-side down on baking sheet.
Without removing skin, cut the hard end of the garlic off and place the exposed end on the baking sheet next to the squash.
Peel and core the apples and add to the baking sheet.
Bake in oven for 45-50 minutes or until the squash is tender.
Scoop out the squash and squeeze into the processor or blender. Remove skin from garlic, and add to processor. Add apples, puree. Transfer puree to medium saucepan.
Add enough stock to give soup the desired consistency.
Add salt, pepper, and nutmeg to taste.
Heat soup gently over medium heat, stir in milk.
Serve topped with chopped fresh thyme or summer savoury and a spoon of sour cream if desired.
We hope you enjoyed this tasty fall butternut squash soup recipe! If you gave it a try, make sure to post a photo of your soup and tag us on Facebook and Instagram @healthstandnutrition!
Nutrients per serving

:
222 Calories  
46 g Carbohydrates  
9 g Protein  
2 g Fat  
5 g Fibre    
Looking for more simple meal planning tips and healthy recipes for a healthier lifestyle?
Sign up for our weekly newsletter for a healthy recipe of the week (and nutrition articles and videos with a balanced living philosophy to help encourage healthy habits but still save room for your favorites). Our nutrition newsletter is written by the Calgary Nutritionists on our team who each hold a professional Registered Dietitian license to ensure you are getting credible advice.
Click here to sign-up for our free weekly nutrition newsletter
Check out more fall soup recipes on the blog here: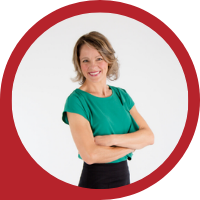 About Andrea Holwegner
CEO, Registered Dietitian, Counseling Practice Director & Professional Speaker
Andrea the «Chocolate Loving Nutritionist» is founder and CEO of Health Stand Nutrition Consulting Inc. since 2000. She is an online nutrition course creator, professional speaker and regular guest in the media. Andrea is the recipient of an award by the Dietitians of Canada: The Speaking of Food & Healthy Living Award for Excellence in Consumer Education....Read more