13 Easy Healthy Holiday Appetizers
Ideas for holiday appetizers!
Need a quick healthy holiday appetizer for a social gathering?  Try these festive Dietitian approved ideas inspired with good nutrition:
1. Baked chips with edamame guacamole
Take sundried tomato flour tortilla wraps and brush with vegetable oil. Cut with scissors into triangle wedges and sprinkle with a pinch of salt.  Bake tortillas until lightly browned and toasted.  Serve with guacamole blended with shelled cooked edamame beans to add some additional protein. Grab the recipe here: Edamame Guacamole
2. Asparagus wrapped in prosciutto
Roll slightly steamed or blanched asparagus with a piece of prosciutto and once you are ready to serve grill on the BBQ or roast in the oven until prosciutto is crispy. Serve asparagus with a splash of balsamic vinegar or bottled balsamic crema.
3. Red and green fruit kabobs

On a short appetizer-sized bamboo skewer, thread green grapes, honeydew melon, kiwi fruit slices and fresh strawberry slices for a festive red and green fruit kabob. You can also alternate with cubes of Havarti cheese if you like.
4. Bite-sized caprese salad


Thread a cherry or grape tomato, fresh basil leaf and mini bocconcini cheese on a toothpick. Once you are ready to serve, drizzle your platter with olive oil and balsamic vinegar (or bottled balsamic crema).
5. Red and green veggie and dip platter
Make a festive veggie platter with cherry tomatoes, red pepper slices, cucumber slices, broccoli and snap peas with your favorite creamy dip or hummus.
6. Avocado tomato feta dip

You can't go wrong when you add chopped tomato, diced avocado, onion, feta cheese and a drizzle of red wine vinegar and lemon juice. For the exact recipe you can find that on our website here: Avocado Tomato Feta Dip.
WATCH the Healthy Holiday Appetizers TV Interview here:
7. Pesto stuffed mushrooms
Remove stems from small white, brown or cremini mushrooms. Heat a skillet with drizzle of oil and pan-fry mushroom

s stem side up for about 5 minutes and then flip over and fill with pesto and cook for another few minutes. Garnish with a couple of pomegranate seeds.
8. Broccoli Christmas tree
Arrange broccoli in the shape of a tree on a flat large baking sheet.  "Decorate" your tree with cherry tomatoes, radishes, round slices of carrot, round slices of mini cucumbers and yellow pepper slices for garland.
9. Baked brie and roasted red peppers
Bake a round of brie cheese, topped with diced, roasted red peppers (you can purchase these in a jar) and minced
garlic (or sundried tomatoes packed in oil), serve with whole grain crackers and celery sticks and red pepper slices with dip.

10. Cracker appetizer bites
Whole grain crackers (my favorites are Lesley Stowe raincoast crisps) with whipped cream cheese and red or green
hot pepper jelly.
11. Stuffed baby potatoes
Boil baby potatoes until tender.  Cool and cut in half (trim a small slice from the bottom of each half so it stands upright.  Brush with melted butter and top with sour cream and fresh chives.
12. Smoked salmon cucumber bites
Cut English cucumbers into ¼ inch round slices, add a spoon of whipped cream cheese and top with smoked salmon or shrimp. Garnish with fresh dill.

13. Roasted spicy chickpeas
Purchase pre-made roasted chickpeas and toss with a splash of oil, soy sauce, ginger, garlic powder, onion powder, cayenne pepper, black pepper and sesame oil.  You can also make your own with our recipe here: Roasted Spicy Chickpeas
How do I navigate more indulgent holiday treats and appetizers?
Don't be a scrooge and nitpick your favorite holiday treats and make family and friends that are celebrating traditional foods feel badly.
It's not what you do between Christmas and New Year's, but what you do between New Year's and Christmas that really counts.
Health should be measured by your ability to not only eat healthfully but also soulfully with fun and flexibility.
Looking for a healthy gift idea for a friend or family member? 
If you or someone you know is on the path to healthy living, why not plan a thoughtful holiday gift that considers FUN and health?
Try some of these nutrition minded gift certificates, baskets, gadgets and more on our article here:  Healthy Gift Ideas
Need more support on speedy healthy ideas for busy schedules?
Contact our Calgary Dietitian / Online Nutritionist team for help!
As Registered Dietitians that specialize in meal planning, weight concerns, emotional eating, eating disorders, digestive health, heart health, diabetes, pediatric nutrition and sports nutrition we can see you in our local Calgary Nutritionist office or as an Online Dietitian by phone or video conferencing for virtual nutrition counseling. Find out more about our Dietitian Nutrition Counseling Programs here.
Join the waiting list for our next Online Nutrition Course The Pursuit of Healthiness.
As university trained Registered Dietitians, you can count on us for credible advice and practical meal planning so you don't have to stress about food anymore. You can achieve a healthy and joyous relationship with food and your body. Let's talk about what this can look like for you. CONTACT US.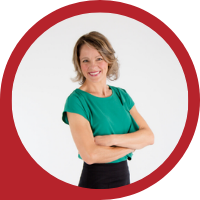 About Andrea Holwegner
CEO, Registered Dietitian, Counseling Practice Director & Professional Speaker
Andrea the «Chocolate Loving Nutritionist» is founder and CEO of Health Stand Nutrition Consulting Inc. since 2000. She is an online nutrition course creator, professional speaker and regular guest in the media. Andrea is the recipient of an award by the Dietitians of Canada: The Speaking of Food & Healthy Living Award for Excellence in Consumer Education....Read more