The Truth Behind Feeding a Cold and Starving a Fever
A guide to help you get through this upcoming cold and flu season, and why this old wives' tale should not be part of it.
Written by Liana Greenshields, Student in the Dietetics Specialization program at the University of Alberta and reviewed by our Health Stand Nutrition Dietitian Team.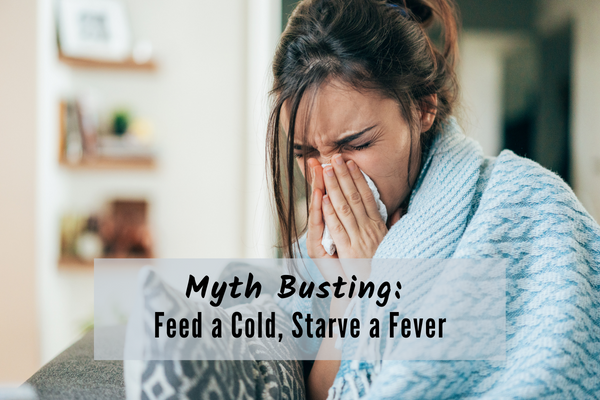 As we near the cold and flu season, you may find yourself looking for relief from your symptoms or wondering what to eat when sick. But is altering your diet something that can help with this? In this post, we'll look into the popular "feed a cold and starve a fever" saying, why it is not recommended, and a few easy recipe ideas to help you feel at your best as you get through your cold. 
What does "Feed a Cold, Starve a Fever" mean?
Feeding a cold and starving a fever is an old wives' tale that has been around for centuries as a way to mend your cold or flu. It was used in the Middle Ages when it was thought that there were only two types of illnesses: 
Illnesses caused by high temperatures (a fever) which needed to be "cooled down", so eating was not recommended.

Illness caused by cold temperatures (a cold) which needed to be fuelled to battle the illness, so eating was recommended.

 
But does it work?
Lucky for us, this old saying is not true. With all the research we have available to us today, nutrient availability has not been shown to influence the immune system's response to sickness. The simpler answer is that starving is never the answer. 
Is there a diet or food that can speed up a cold or the flu?
The short answer is no. Unfortunately, the only way to "cure" a cold is by letting it run its course. When you are ill, you should focus on eating foods that give you energy and make you feel well. Not only that, but it is very important to get plenty of rest and drink plenty of fluids to allow your body to fight off the illness. Staying hydrated helps to avoid dehydration, and resting will ensure you don't push your body too hard. 
Fun fact: Although it may seem like medications speed up a cold, it is not true. Over-the-counter medications can help relieve symptoms, but they cannot cure or speed up the duration of a cold or flu.  
What about vitamin C? Doesn't it help with a cold?
Over 60 years of clinical studies have been reviewed to research this theory, and it has been concluded that taking vitamin C supplements after the onset of a cold does not shorten the illness. However, studies have shown that colds can be shortened somewhat in certain demographics by taking vitamin C supplements daily, but not enough to warrant calling them a "cure." This is because the intestines' ability to absorb vitamin C decreases to 50% when consuming amounts greater than 1000 mg (the amount of vitamin C in about 15 medium-sized oranges). So, unfortunately, drinking a glass of orange juice a day won't speed up a cold, nor will it prevent it.  
Then what does vitamin C do? 
Vitamin C helps the body maintain bones, blood vessels, and muscles, and also helps the body absorb iron and form collagen. It also acts as an antioxidant to neutralize harmful free radicals in the body. So needless to say, it is an essential vitamin to the body to keep you healthy, but not necessarily in preventing a cold or flu. 
What to eat when you feel sick
When you are feeling under the weather, eat what your body craves. Whether it's chicken noodle soup, plain toast, cereal, or whatever else comes to mind, it is important to give your body what it wants. These foods won't cure your cold as we have discovered, but eating your comfort foods can help satisfy you during your sickness. It can be harder to eat when you're sick and have no appetite, so it is important not to push yourself too hard and take it day by day.
What to eat when you're sick and have no appetite:
Plain toast (with butter or nut butter if you want to add a fat)
Cereal or oatmeal
Plain pasta or rice
Chicken noodle soup
Crackers
Unsweetened applesauce cups
Canned unsweetened pears or peaches
Bananas
Smoothies
Watermelon slush (toss cubes of fresh watermelon in the freezer and blend with water or juice)
These foods are bland and can be easy to eat without overwhelming your body with too much flavour or spices. But remember, listen to your body and give it what it craves! Whether you have a cold or a fever, your body always needs fuel.
Recipe ideas to comfort you while you're sick
If you have enough energy to get in the kitchen or are lucky enough to have a family member or friend cooking something for you try these ideas:
Asian Chicken Noodle Vegetable Soup Recipe: This veggie-packed meal will help you get the energy to make you feel at your best, while also avoiding dehydration. Make the entire recipe and you'll have leftovers for the whole week!
Green Smoothie Recipe: If you're wanting to get some veggies in, this easy smoothie will do just that (with protein too!)
Mashed Potatoes: This easy side dish requires very little energy to make. Eat it along with a chicken breast and your choice of raw or cooked veggies to make it a full meal.
If all you want to do is sit on the couch:
Easy Peanut Butter, Cocoa & Banana Oatmeal: This easy and healthy 5-ingredient recipe comes together in no time, allowing you to get right back in bed to enjoy your delicious oatmeal.
Make a quick wrap: There's nothing easier than this! Throw some pre-cooked chicken, lettuce, vegetables, and sauces of choice into a tortilla and wrap it up. You've got yourself a meal in 5 minutes!
Prepared meals: If you don't feel like making your own meal or soup, grocery stores have plenty of options. Try a canned black bean or lentil soup, canned beans in tomatoes sauce or a carton of pureed butternut squash or roasted red pepper soup..
No one enjoys the cold and flu season, especially if you are unlucky and end up with a nasty sickness. Lucky for you as we explored the topic in this post, the old saying to "feed a cold and starve a fever" is not true. Starving to "extinguish" a fever could lead to more problems than solving the original one. So next time you have a bad bug that has rendered you miserable on the couch, always remember to fuel your body with whatever it craves and take it day by day without pushing yourself too hard
Looking for more information and help with your diet when you want to eat for optimal health?
For more information or personal help on anything nutrition-related, contact our Registered Dietitians to get your questions answered! Also, don't forget to sign up for our weekly newsletter to never miss out on recipes, tips, and more.
Check out these related blog posts by our expert Dietitians :

Brought to you by our friendly Registered Dietitian team at Health Stand Nutrition Consulting Inc. For more balanced living advice check out our RESOURCE MEGA BANK of nutrition articles, videos, healthy recipes, newsletters and meal planning kits here: www.healthstandnutrition.com/personal-nutrition/resource-mega-bank/