Flourless Black Bean Brownies
Try this healthier, gluten-free version of a favorite chocolatey treat
Are you looking for a way to make some of your favourite baked treats a little healthier? Look no further than these delicious, rich and fudgy gluten-free black bean brownies. 
Recipe Courtesy of Chocolate Covered Katie 
What You Need
1 ½ cup black beans (1 15oz can, drained and rinsed)  
2 tbsp cocoa powder  
½ cup oats 
1/3 cup maple syrup 
¼ cup vegetable oil  
2 tsp vanilla extract  
½ tsp baking powder  
¼ cup chocolate chips 
Optional: nuts of choice, extra chocolate chips to sprinkle on tip, slices of banana  
How To Make Flourless Black Bean Brownies
Preheat oven to 350 degrees F.  
Combine all the ingredients except for the chocolate chips and other optional ingredients to a food processor or blender and blend until really smooth.  
Take out blade of the food processor and stir in chocolate chips and nuts if adding. Pour into a greased or parchment lined 8×8 pan. 
If adding more chocolate chips or banana slices, place on top now.  
Cook the brownies for 15-18 minutes, let cool before cutting into 16 squares. 
Enjoy!  
Nutritional Information
 For 1 brownie with no add-ins
 
120 Calories 
15.7 Carbohydrates 
2.6 g Protein 
5.9 g Fat 
2.7 g Fibre 
We have more delicious black bean recipes for you:  
Looking for more simple meal planning tips and healthy recipes for a healthier lifestyle? Sign up for our weekly newsletter for a healthy recipe of the week (and nutrition articles and videos with a balanced living philosophy to help encourage healthy habits but still save room for your favorites). Our nutrition newsletter is written by the Online / Calgary Nutritionists on our team who each hold a professional Registered Dietitian license to ensure you are getting credible advice.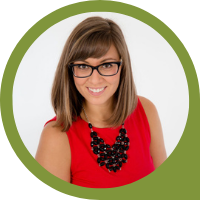 Shauna Kime
Registered Dietitian & Online Nutritionist - Weight Concerns, Women's Health, Diabetes & Meal Planning
The first thing you will notice about Shauna is her contagious optimism, energetic personality and zest. Shauna loves teaching and has a heart full of compassion and empathy for helping clients work through health concerns. Shauna specializes in healthy cooking, diabetes, cardiovascular health, weight concerns and womens health. Read more