Grandma's Vanilla Pudding
Registered Dietitian Approved Healthy Dessert!
Looking for a high calcium dessert? Homemade pudding is much healthier than store-bought packaged pudding. Try my Grandma Viola's classic vanilla pudding. She would serve this with a raspberry fruit sauce or stewed rhubarb. You can also enjoy this plain, with fresh berries or top this with sliced banana and a spoon of shredded coconut. Enjoy this simple Registered Dietitian approved healthy dessert.
Makes 4 servings
What you need:
3 tbsp. corn starch
1/3 cup sugar
2 cups of skim, 1% or 2% milk
1 egg, beaten
1 tsp. vanilla
1 tbsp. butter
How you prepare:
Mix cornstarch and sugar together.
Add milk and stir until dissolved.
Cook on the stove in a pot until thick (be sure to stir occasionally while cooking). Whisk in beaten egg quickly.
Cook another 1 minute and stir in vanilla and butter.
Cool.
Per serving:
Calories 177
Carbohydrates 28 g
Protein 6 g
Fat 4 g
Dietary Fiber 0 g
Looking for more healthy recipes by Registered Dietitians?
Sign up for our weekly newsletter for a healthy recipe of the week (and nutrition articles and videos with a balanced living philosophy to help encourage healthy habits but still save room for your favorites). Our nutrition newsletter is written by the Calgary nutritionists on our team who each hold a professional Registered Dietitian license to ensure you are getting credible advice.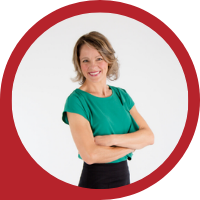 About Andrea Holwegner
CEO, Registered Dietitian, Counseling Practice Director & Professional Speaker
Andrea the «Chocolate Loving Nutritionist» is founder and CEO of Health Stand Nutrition Consulting Inc. since 2000. She is an online nutrition course creator, professional speaker and regular guest in the media. Andrea is the recipient of an award by the Dietitians of Canada: The Speaking of Food & Healthy Living Award for Excellence in Consumer Education....Read more