8 Health, Wellness and Food Trends for 2020
Exploring Health, Wellness and Food Trends for 2020
Everyone likes to stay current on the latest trends. Food and health trends are particularly important because they impact how you look, feel and behave both at home and at work. As a Registered Dietitian, nutrition blogger, mom and foodie – at the start of every year I like to explore the latest health, wellness and nutrition trends. Here are 8 of the top food and wellness trends – and new buzz words – that you can expect to see at home, in restaurants and in stores in 2020.
1. Intuitive Eating
Intuitive eating is a positive approach to managing your diet. Last year, intermittent fasting was a popular calorie management technique where adherents restrict their eating to 8 or 9 hours each day. Intuitive eating is a more mindful approach to eating that emphasizes everything is allowed in moderation, and doesn't label foods as "bad" or "good." Intuitive eating is often called "the un-diet", and focuses on balance and enjoying your food, without guilt.
As the Chocoholic Nutritionist, my mission has long been to empower a healthful and joyous relationship with food.  Becoming an intuitive eater is one way to achieve this.
To learn more about intuitive eating, read our article, Why Our Dietitian Team Loves Intuitive Eating.
2. Sustainable Seafood
Sustainable seafood is caught or farmed to preserve the long-term vitality of the species, to protect the well-being of the oceans, to foster the livelihood of fishing communities and to improve the health of the consumer. Eating Well magazine has listed sustainable seafood as a top food trend for both consumers and chefs.
3. Plant-Based Protein
2019 was the year of plant-based burgers and plant-based ice creams. When it comes to food trends in 2020 we will see an increase in plant-based seafood. Seafood alternatives made from soy protein and seaweed or other plants will be a go-to for people who prefer plant-based, vegetarian protein due to dietary restrictions or eco-friendly lifestyles. Plant-based butters, sour creams and other vegan dairy substitutes are joining ice cream in the dairy aisles.
Looking for a yummy plant-based burger recipe?  Try our delicious Veggie Lentil Burger recipe.
4. Grain-Free Flours and Foods
Low carb eating trends such as the keto diet and gluten-free foods for dietary restrictions have expanded beyond cauliflower crusts and crackers. Grain-free foods are popular for both dietary and lifestyle choices. Many traditional food products are now offering grain-free alternatives such as granolas, cookies and muffins. New products that allow home cooks and professional chefs to create grain-free alternatives include fruit and vegetable flours to make wraps, breads, cakes and pasta. Grain-free beer is more readily available for both health and dietary needs and lifestyle preferences.
Here is a nutritionist's view of the keto diet: To keto or not to keto, that is the question: A dietitian's thoughts about the keto diet.
5. Regenerative Agriculture
The health of our planet directly impacts the health of the people living on our planet. Regenerative agricultural practices are intended to help the environment – and not to simply not hurt the environment. More than sustainable farming, regenerative agriculture is a conscious decision to give back to the earth, with the goal to reduce the impacts of climate change due to human behaviors. Big brands are beginning to adopt regenerative practices because consumers are voting with their wallets. In fact, Whole Foods named regenerative agriculture as the #1 food trend in 2020.
6. Low-alcohol and Nonalcoholic Drinks
Mocktails are quickly becoming the cocktail of choice for millennials – young adults who want the fun and flavor of cocktails but also choose to limit their alcohol. "Sober curious" young adults are experimenting with an alcohol-free lifestyle for a period of time, and making health-focused alcohol decisions. "Dry January," where people redefine their relationship with alcohol and choose not to use alcohol during the month of January, is popular with all age groups for its physical and mental health benefits, better sleep habits and lower blood pressure.
7. Prebiotics
Prebiotics were expected to be a hot health and wellness trend in 2018, but they haven't really become popular with consumers until now. Both prebiotics and probiotics are essential for a healthy gut environment or microbiome. The Specialty Food Association (SFA) says a healthy digestive system with dietary fiber and friendly bacteria from prebiotics such as bars and crunchy snacks made with prebiotic-rich barley and buckwheat are one of the top food trends.
8. CBD Products
With the legalization of cannabis in Canada in 2018, marijuana products have exploded in the marketplace. In 2019, marijuana-based food and drinks were very popular with consumers. In 2020, CBD, short for cannabidiol and a derivative of the marijuana plant, is a popular ingredient in products such as cosmetics, toothpaste, lotions and pain relief products, including sleep aids and menstrual pain and muscle soreness products.
Should You Try the Latest Health or Food Trend in 2020?
Whatever nutrition, wellness or food trend you decide to try out in 2020, it's important to carefully consider how that change will impact your overall physical and mental health. Understanding which food or health trend is right for your unique body is important. Just because a food is trendy and in all the food news, magazines and social media doesn't mean it's right for you. Work with a Registered Dietitian to help you build a customized nutrition plan ideal for you.
Nutrition and food trends come and go, but you can count on the credible advice from our Calgary Nutritionists and Online Dietitian team. Our Registered Dietitian nutrition consulting practice was established in 2000. Our professional university trained Dietitian team has experience in workplace wellness, professional speaking engagements, webinars, online nutrition courses and nutrition counseling.
As Registered Dietitians that specialize in meal planning, weight concerns, emotional eating, eating disorders, digestive health, heart health, diabetes, pediatric nutrition and sports nutrition we can see you in our local Calgary Nutritionist office or as an Online Dietitian by phone or video conferencing for virtual nutrition counseling. Find out more about our Dietitian Nutrition Counseling Programs here.
As university trained Registered Dietitians, you can count on us for credible advice and practical meal planning so you don't have to stress about food anymore. You can achieve a healthy and joyous relationship with food and your body. Let's talk about what this can look like for you. CONTACT US.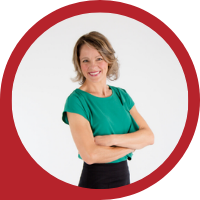 About Andrea Holwegner
CEO, Registered Dietitian, Counseling Practice Director & Professional Speaker
Andrea the «Chocolate Loving Nutritionist» is founder and CEO of Health Stand Nutrition Consulting Inc. since 2000. She is an online nutrition course creator, professional speaker and regular guest in the media. Andrea is the recipient of an award by the Dietitians of Canada: The Speaking of Food & Healthy Living Award for Excellence in Consumer Education....Read more