How Does Less Sleep Affect Your Weight?
Why lack of sleep can cause weight gain and what to do about it
Ever wondered how does sleep affect your weight?  Read on as this article will help you understand the connection of sleep and weight.
We see many clients that over time have put on a large amount of extra weight and begin making changes to their diet and exercise patterns, believing that 'calories in minus calories out' would create weight loss.  There are MANY factors that influence weight above and beyond diet and exercise as we've talked about previously in several articles including this one here:  Dietitian Answers to Your Top Weight Loss Questions. and here:  New Obesity Guidelines Go Beyond Diet and Exercise.
Often our clients are surprised when when we ask them about their sleep patterns and inquire if they snore loudly. Based on the response it is not uncommon that we refer our clients with weight concerns to see a sleep medicine physician for support.  If a client snores it it is ideal to be assessed for sleep apnea — a factor that hinders the ability to lose weight.
The role of sleep for your weight
Getting quality sleep and simply enough sleep per night is important for your overall health, especially if you are struggling with your weight.
Sleep deprivation negatively affects blood sugar clearance and insulin sensitivity, putting you at risk for high blood sugars and diabetes.
Insufficient sleep also negatively affects appetite regulation.
The hormone leptin suppresses appetite when your body has enough food.
Ghrelin is the appetite stimulator hormone and is secreted in the gut when our body detects a need for food.
When you are sleep deprived, you have less leptin and more ghrelin present, which may make you more likely to overeat high-calorie foods.
Research also shows that individuals not getting enough sleep have elevated levels of the stress hormone cortisol.
Studies have shown that high cortisol levels increase fat storage around your waistline and decrease insulin sensitivity, increasing the risk for diabetes and heart disease.
10 tips for getting better sleep
1. Establish a solid sleep routine.
As much as possible, develop a sleep habit to wake up and go to bed at approximately the same time each day. Getting to bed earlier can be hard, so start with 15 minutes at a time.
2. Curb caffeine late in the day.
Caffeine can stay in your system for as long as eight hours, so decrease coffee, tea and other caffeine sources from lunch onward.
3. Watch alcohol intake.
Despite alcohol initially making you sleepy, it can hinder entering into the deep restorative stages of sleep.
4. Avoid large meals late in the day.
Taking in lots of food and fluid before bed can cause indigestion and make it difficult to fall asleep, as well as cause you to wake up to urinate frequently at night.
5. Assess when you exercise.
Research shows exercise late in the day can make it difficult to fall asleep, so you may need to move physical activity to earlier in the day.
6. Power down stimulating activities.
Turn off smartphones, computers and television at least 30 minutes before going to bed (preferably more). Take the television out of your bedroom.
7. Ask your doctor for help.
If you snore loudly and are overweight, you may have sleep apnea. Ask your doctor for more information about this and about a referral to a sleep medicine physician. Consider using a light box, which can also help.
8. Don't go to bed starved.
If you are chronically dieting, carb deprived and simply not eating enough, your sleep will be disturbed. Seek help from a registered dietitian to create a food plan that achieves a good balance of nourishment for health and achievement of your personal best weight.
9. Examine your medications and supplements.
Talk to a pharmacist for education about your medications, including herbs and dietary supplements that may be helpful or harmful.
10. Help for emotional health.
Give yourself enough time to truly unwind before bed. If you are struggling with depression or anxiety, it can be difficult to get enough quality or quantity of sleep. Work with a registered psychologist and your physician to process and strategize feeling better and getting the help you need.
How much sleep do you need?
Newborns 0 to 2 months: 12 to 18 hours
Infants 3 to 11 months: 14 to 15 hours
Toddlers 1 to 3 years: 12 to 14 hours
Preschoolers 3 to 5 years: 11 to 13 hours
School-age children 5 to 10 years: 10 to 11 hours
Teenagers 10 to 17 years: 8.5 to 9.25 hours
Adults: 7 to 9 hours
— Source: National Sleep Foundation
Need more help with your goal for weight loss?

Our Dietitian Calgary and Online Nutritionist services can't guarantee weight loss (no one can!) but we can guarantee we will do everything we can to help you move towards your personal best weight and a sustainable lifestyle. You won't find any weird fad diets, unnecessary food restrictions and anyone trying to sell you shakes, supplements or so-called miracle cures here.
As university-trained Registered Dietitians, you can count on us for credible advice and practical meal planning so you don't have to stress about food anymore. You can achieve a healthy and joyous relationship with food and your body. Let's talk about what this can look like for you.
Contact our Calgary Dietitian / Online Nutritionist team for help!
As Registered Dietitians that specialize in meal planning, weight concerns, emotional eating, eating disorders, digestive health, heart health, diabetes and sports nutrition we can see you in our local Calgary Nutritionist office or as an Online Dietitian by phone or video conferencing for virtual nutrition counseling. Find out more about our Dietitian Nutrition Counseling Programs here.
Join the waiting list for our next Online Nutrition Course The Pursuit of Healthiness.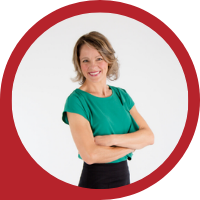 About Andrea Holwegner
CEO, Registered Dietitian, Counseling Practice Director & Professional Speaker
Andrea the «Chocolate Loving Nutritionist» is founder and CEO of Health Stand Nutrition Consulting Inc. since 2000. She is an online nutrition course creator, professional speaker and regular guest in the media. Andrea is the recipient of an award by the Dietitians of Canada: The Speaking of Food & Healthy Living Award for Excellence in Consumer Education....Read more