What You Learned from All Those "Failed" Fad Diets
Takeaways From Weight Loss Diets by a Registered Dietitian / Nutritionist Calgary
By Jana Spindler (Online Dietitian / Nutritionist Calgary specializing in weight concerns, emotional eating and disordered eating).
For every diet that you have tried, and failed, and blamed yourself and your lack of will-power, you have also learned something.
You learned the things that DO NOT work for you most definitely.
It is very likely though, that you also learned a few things that really DO work for you.
Don't get me wrong, "diets" in the form of calorie restricted eating don't work long term. There has been plenty of research done to prove this, so I won't go quoting that.
Whether it is keto, intermittent fasting, low-carb, high-protein, Paleo, no sugar, or whatever it was that you tried for the sole purpose of losing weight, it will not become your style of eating if you feel deprived and restricted. And that isn't for your lack of will-power, that is just how diets are set up.
However, I can promise you, you did not walk away from those diets empty handed.
Diets can act as a way to learn our own personal style of eating. Once we get past that disappointment of "I fell off the wagon again" or "I am just not strong enough to stick with it", we have a chance to reflect on what we learned about ourselves in the process.
Some things that you may have learned on your weight loss diet:
Learning your personal preference for meal timing.  Are you a 3 meals a day kind of person? How about a 3 meals and 3 snacks kind of person? Or are you like me and its more like 5-6 meals each day ?
Did they make you focus on your water intake? Was it helpful to carry a water-bottle with you and make sure you stayed hydrated ?
Did you feel better with a focus on eating more vegetables? Did they find some easy ways to sneak in veggies or make this habit feel easier?
Do you feel better when you include more fat in your diet? Or protein? Did those foods help you feel more satisfied after a meal?
Did you learn where your macro-nutrients (carbs, fat, protein) came from?
Did you realize that you are not someone who can just cut out certain tasty foods? Is there a way to moderate those foods that feed your soul as much as your body?
Am I encouraging you to go try a fad diet now? No.
However, if you are one of the many people who have tried one in the past or are struggling with one now, I challenge you to take a look at what pieces from that diet worked for you and what pieces of that diet really didn't. You just might get a better idea of your own true food personality and what will work for the long-term.
Looking for more Nutritionist tips on weight loss from our team?
Check out these articles:
Dietitian Answers to Your Top Weight Loss Questions
How Often to Eat: The Scoop on Fasting and Grazing for Your Metabolism
You May be Losing Weight…But Your Diet Isn't Working
Detoxes, Cleanses and the Keto Diet
What is the Best Diet to Follow 
How to Navigate Emotional Eating
Calgary weight loss Nutritionist / Dietitian support
If you are seeking support for weight loss, emotional eating and finding an eating style that can work for life, here are some ways we can help support you:
Join the waiting list for our next Online Nutrition Course The Pursuit of Healthiness.
Contact us to learn more about booking private one-on-one nutrition counseling in-person at our Calgary office or by virtual video conferencing with one of the weight loss Nutritionists / Dietitians on our team.
Our weight loss Nutritionist / Dietitian Calgary services can't guarantee weight loss (no one can!) but we can guarantee we will do everything we can to help you move towards your personal best weight and a sustainable lifestyle. You won't find any weird fad diets, unnecessary food restrictions and anyone trying to sell you shakes, supplements or so-called miracle cures here. As university trained Registered Nutritionists / Dietitians, you can count on us for credible advice and practical meal planning so you don't have to stress about food anymore. You can achieve a healthy and joyous relationship with food and your body. Let's talk about what this can look like for you. CONTACT US.
As Registered Nutritionists / Dietitians that specialize in weight concerns, emotional eating and disordered eating we can see you in our local Calgary nutritionist office or as an Online Dietitian by phone or video conferencing for virtual nutrition counseling. Read more about our nutrition counseling programs and book an appointment by our experienced Registered Nutritionist / Dietitian team here: NUTRITION COUNSELING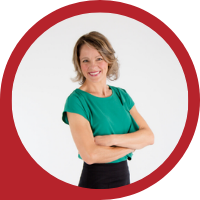 About Andrea Holwegner
CEO, Registered Dietitian, Counseling Practice Director & Professional Speaker
Andrea the «Chocolate Loving Nutritionist» is founder and CEO of Health Stand Nutrition Consulting Inc. since 2000. She is an online nutrition course creator, professional speaker and regular guest in the media. Andrea is the recipient of an award by the Dietitians of Canada: The Speaking of Food & Healthy Living Award for Excellence in Consumer Education....Read more