Mexican Pasta Salad Recipe
Shake up Taco Tuesday with this cool and zesty 
pasta salad
 Backyard grilling season is officially upon us (if you don't grill all through the winter!) and this delicious taco grilled chicken served on top of cool and creamy Mexican pasta salad with avocado is a great way to kick off the season for backyard eating.  
 Serves 4-6
What You Need: 
Taco Grilled 
Chicken: 
2 boneless, skinless chicken breasts  
½ cup plain yogurt 
1-2 tbsp lime juice  
2 tbsp taco seasoning  
Combine yogurt, lime juice and taco seasoning, Marinate chicken breasts in mixture for 30min – 2hrs.  
Grill on the bbq until cooked through  
Mexican 
Pasta 
S
alad:
Pasta – Macaroni or fusili are good for a salad 
corn (frozen, canned, or cut from cob) 
black beans, canned, drained and rinsed  
tomato, cherry or roma, diced  
bell pepper, diced 
red onion, diced  
green onion, sliced  
avocado 
cucumber, diced 
cilantro  
cheese, grated  
lettuce, shredded 
Lime 
V
inaigrette
D
ressing
zest and juice of 2 limes 
1/3 cup olive oil 
2 tsp honey (or white sugar) or to taste 
1.5 tbsp apple cider vinegar 
1/2 tsp cumin 
1/4-1/2 tsp paprika 
1/4-1/2 tsp chilli powder 
1/4-1/2 tsp garlic powder 
Place all ingredients in a mason jar and then shake to combine 
How to Prepare Mexican Pasta Salad 
Cook pasta as directed, let cool.  
Dice all veggies and place in large bowl except for cucumber, avocado and cilantro.  
Add black beans to bowl.   
Mix in cooled pasta.  
Make vinaigrette to taste, mix through pasta salad.  
Put lettuce on a serving plate and add pasta salad.  
Top with cucumbers, avocado, cilantro, grated cheese and sliced chicken.  
Nutritional Information
Based on 6 servings
(analysis based on using: 400 grams pasta, 1 cup of corn, 100 ml black beans, 2 tomatoes, 200 grams lettuce, 1 avocado, 150 g cucumber, 1 pepper, 100 grams cheddar, 100 gram onion)
655 Calories 
73 Carbohydrates 
35 g Protein 
26 g Fat. 
8.5 g Fibre 
We hope you enjoy this Mexican pasta salad recipe! Looking for more great grilling recipes? Try these:  
Looking for more simple meal planning tips and healthy recipes for a healthier lifestyle? Sign up for our weekly newsletter for a healthy recipe of the week (and nutrition articles and videos with a balanced living philosophy to help encourage healthy habits but still save room for your favorites). Our nutrition newsletter is written by the Online / Calgary Nutritionists on our team who each hold a professional Registered Dietitian license to ensure you are getting credible advice.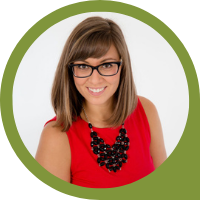 Shauna Kime
Registered Dietitian & Online Nutritionist - Weight Concerns, Women's Health, Diabetes & Meal Planning
The first thing you will notice about Shauna is her contagious optimism, energetic personality and zest. Shauna loves teaching and has a heart full of compassion and empathy for helping clients work through health concerns. Shauna specializes in healthy cooking, diabetes, cardiovascular health, weight concerns and womens health. Read more