What is the best food for YOUR body? Mindful eating Dietitian advice
Your body is smarter than you – give mindful eating a try
Mindful eating Dietitian advice by Registered Nutritionist Jana Spindler
As a Registered Dietitian and a retired athlete, I am constantly asked "what is the "best" way to eat?", or "what is the healthiest diet?"
I am sure that I constantly frustrate my clients with my response of "your body knows best" if you would just slow down, quiet your brain and pay attention to it, your body will let you know.
Realistically, all foods break down to carbohydrates, protein and fat. Yes, some have more vitamins and minerals than others, but, as long as we choose a variety of food, our bodies will figure out the rest.
Now that being said, I do believe that having a balanced plate at most, not all, meals helps to balance physical energy, satiety, blood sugars and emotional energy. This means including carbohydrate, protein, fruits and / or vegetables and some form of inherent or added fats to find that balance. 
Balance can be found in many ways
However, that does not mean that we can only find that balance one way. This balance can be found on a vegetarian diet or a meat-atarian diet. This balance can be found using foods found at the farmer's market, the grocery store, fast food restaurant or a buffet restaurant. Find YOUR balance using your food personality.
The most important thing to me about your food, is that you are an active participant in choosing all of your food. You decide what you want to eat and how much to eat. If you make that choice, that is your decision to own. There is no guilt, shame or negative self-talk that needs to happen. You chose what you wanted in that moment and what you felt would serve you best in that moment.
If you are struggling with food remember, the food itself is not the issue. The behaviors and thoughts around food are what I challenge you to pay attention to.
Neck down, your body is smarter than you. It knows what it needs, when it is hungry, what foods taste the best and what foods make it run the best or keep it full the longest. If you hate the taste of broccoli, why are you eating it?
Awareness is key
The first step to learning mindful eating and increasing decision making ability about food is to build your awareness of what you are already doing.
This can be done by writing down what you eat (without calories or portions noted) and then evaluating how the foods made you feel.  Alternatively you can do a simple check in with yourself before and after each instance of eating. For resources on mindful eating check out one of my favorite resources: https://www.thecenterformindfuleating.org.
Remember, that when it comes to making conscious decisions about food it comes down to you and what serves you best in that moment. There are times when you choose cake and that is truly what serves you best. There will also be times when you choose salad and are incredibly satisfied.
You decide. Your body knows best.
If you would like to learn more about getting in touch with your body and learning strategies for mindful eating, I'd be happy to support you.  As a Registered Dietitian that specializes in mental health, emotional eating, body image concerns and eating disorders please reach out to me if you need a hand.
Read more mindful eating Dietitian tips in these previous articles from our Calgary nutrition team:
Mindful Eating for Health and Meal Satisfaction: How You Eat is as Important as What You Eat
When is Mindful Eating an Effective Strategy for Eating Disorders?
How to Navigate Emotional Eating: What to Do When You Find Yourself Eating When You Are Not Hungry
Top 3 Ways to Start Practicing Mindful Eating
Looking for more support on mindful eating, better health or eating disorder dietitian support?
Our Dietitian Calgary and Online Nutritionist services can help you create a healthy and joyous relationship with food and your body. You won't find any weird fad diets, unnecessary food restrictions and anyone trying to sell you shakes, supplements or so-called miracle cures here. As university trained Registered Dietitians, you can count on us for credible advice and practical meal planning so you don't have to stress about food anymore. You can achieve a healthy and joyous relationship with food and your body. Let's talk about what this can look like for you. CONTACT US.
As Registered Dietitians that specialize in weight concerns, emotional eating and disordered eating we can see you in our local Calgary nutritionist office or as an Online Dietitian by phone or video conferencing for virtual nutrition counseling. Read more about our nutrition counseling programs and book an appointment by our experienced Registered Dietitian team here: NUTRITION COUNSELING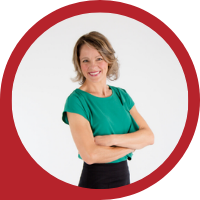 About Andrea Holwegner
CEO, Registered Dietitian, Counseling Practice Director & Professional Speaker
Andrea the «Chocolate Loving Nutritionist» is founder and CEO of Health Stand Nutrition Consulting Inc. since 2000. She is an online nutrition course creator, professional speaker and regular guest in the media. Andrea is the recipient of an award by the Dietitians of Canada: The Speaking of Food & Healthy Living Award for Excellence in Consumer Education....Read more