The Mothership Tomato Salad Recipe
The Mothership Tomato Salad
Andrea came across this recipe as a great way to use up some of the abundance of tomatoes from her garden. This recipe comes courtesy of the Food Network, and Jamie Oliver. This is amazing on its own, or served with boccocini cheese, or fresh buns. 
What you need:
2 1/4 pounds mixed ripe tomatoes, different shapes and colors
Sea salt and freshly ground black pepper
A good pinch dried oregano
Red wine or balsamic vinegar
Extra-virgin olive oil
1 clove garlic, peeled and grated
1 fresh red chile, seeded and chopped
How to make:
Use a variety of tomatoes, and do not panic at the amount of salt – it's worth it for the flavour.
Fresh oregano is your best option, but dried is fine in this recipe as well
Chop your tomatoes in half, or quarters, depending on size.
Put the tomatoes into a strainer and season with a good pinch of sea salt. Toss them and season again. This will draw out some moisture, and compound the flavours. Leave in strainger about 15 minutes, then discard extra juice.
Transfer the tomatoes to a large bowl and sprinkle with oregano.
Make a dressing using 1 part vinegar to 3 parts oil, the garlic and the chile. Drizzle over the tomatoes.
Per serving (1/6 of recipe):
Calories – 160
Protein – 1.5 g
Carbohydrates – 8 g
Fat – 13. 9 g
Fibre – 2.3 g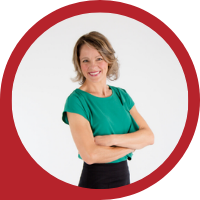 About Andrea Holwegner
CEO, Registered Dietitian, Counseling Practice Director & Professional Speaker
Andrea the «Chocoholic Nutritionist» is founder and CEO of Health Stand Nutrition Consulting Inc. since 2000. She is an online nutrition course creator, professional speaker and regular guest in the media. Andrea is the recipient of an award by the Dietitians of Canada: The Speaking of Food & Healthy Living Award for Excellence in Consumer Education....Read more