Peanut Butter Nanaimo Bars Recipe
NUTTY CANUCK FAVOURITES 
post sponsored by the Peanut Bureau
All Canadians know and love the Nanaimo bar, but did you know that peanut butter was invented in Canada too? We can't think of a better way to show your true patriot love than with this peanutty twist on the classic dessert. More great recipes can be found at www.peanutbureau.ca.  
Prep time: 20 minutes
Chilling time: 30 minutes
Baking time: 10 minutes
Makes 20 bars
Peanut Butter Nanaimo Bars Recipe 
Ingredients 
Base:
½ cup (125 mL) butter, melted
⅓ cup (75 mL) unsweetened cocoa powder
¼ cup (60 mL) granulated sugar
1 egg, lightly beaten
1⅔ cup (400 mL) graham cracker crumbs
½ cup (125 mL) peanuts, finely chopped
¼ cup (60 mL) each shredded sweetened coconut and mini chocolate chips
Filling:
½ cup (125 mL) smooth peanut butter
2 tbsp (30 mL) butter
1⅓ cup (325 mL) icing sugar
3 tbsp (45 mL) milk
2 tsp (10 mL) vanilla
Topping:
4 oz (115 g) milk or bittersweet chocolate, chopped
1 tbsp (15 mL) butter
2 tbsp (30 mL) peanuts, chopped
Directions
1. Preheat oven to 350°F (180°C). To help parchment stick, lightly grease an 8×8-inch (2-L) baking pan, then line with parchment paper so the edges overhang pan. In a large bowl, combine melted butter, cocoa powder and sugar, stirring until smooth. Add egg, graham crumbs, peanuts and coconut, and stir to combine. Stir in chocolate chips until mixture is well blended. Pat mixture into the base of the prepared pan. Bake for 10 to 12 minutes, or until set and no longer shiny. Refrigerate until room temperature.
2. Meanwhile, using an electric mixer, beat peanut butter with butter, icing sugar, milk and vanilla until smooth. The filling will be quite thick. Once the base has cooled, spread peanut butter mixture evenly over top. Refrigerate until firm.
3. In a microwave or in top of a double boiler, melt chocolate with butter. Drizzle over the firm filling layer, spreading to cover. Sprinkle with peanuts. Refrigerate until set, about 30 minutes. Using parchment paper, lift the Nanaimo bars out of the pan. Slice into bars or squares.
Per 1 bar: 260 calories, 16 g fat (7 g saturated fat, 0.3 g trans fat), 30 mg cholesterol, 4 g protein, 26g carbohydrates, 2 g fibre, 18 g sugars, 140mg sodium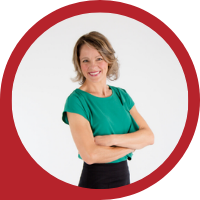 About Andrea Holwegner
CEO, Registered Dietitian, Counseling Practice Director & Professional Speaker
Andrea the «Chocoholic Nutritionist» is founder and CEO of Health Stand Nutrition Consulting Inc. since 2000. She is an online nutrition course creator, professional speaker and regular guest in the media. Andrea is the recipient of an award by the Dietitians of Canada: The Speaking of Food & Healthy Living Award for Excellence in Consumer Education....Read more