Protein Packed Granola
Try my favorite high protein granola recipe
This protein-packed granola recipe is so much tastier and more nutritious than purchasing commercial brands. Enjoy granola on top of yogurt with fruit or as a morning breakfast cereal with milk. My family is a huge fan of granola so this makes a big batch but you can of course make a half recipe if you want a smaller quantity or place it in the freezer (just don't add the dried fruit until you are going to enjoy fresh).
Makes 20 servings
What You Need:
3.5 cups roughly chopped nuts or seeds (almonds, cashews, pecans, sunflower seeds, pumpkin seeds, pistachios etc)
2.5 cups rolled oats
1/2 cup hemp hearts
1/2 cup unsweetened coconut ribbons or flakes
3 tsp cinnamon
3 tbsp maple syrup
3 tbsp coconut oil, melted
1.5 cups dried fruit (such as raisins, dried cranberries, dried blueberries or dried gogi berries etc.).
How To Make the High-Protein Granola Recipe:
Mix everything together (except dried fruit) in a large baking dish and bake at 325 F for 30-40 minutes (stirring every 10 minutes) until browned and toasted.
Once cool stir in dried fruit and store in an air-tight container.
Serve with milk or on top of yogurt, cottage cheese, or dessert tofu with your favorite fruit such as berries, diced apples, diced pears or sliced peaches or plums.
We hope you love this high-protein granola recipe!
Nutrients Per Serving: (1 serving = 56 g)
Nutrition analysis based on 1 cup almonds, 1 cup pecans, 1/2 cup cashews, 1/2 cup sunflower seeds, 1/2 cup pumpkin seeds AND 3/4 cup raisins, 3/4 cup dried cranberries
277 Calories
23 g Carbohydrate
8 g Protein
18.9 g Fat
4.8 g Fibre
Looking for more simple meal planning tips and healthy recipes for a healthier lifestyle?
Sign up for our weekly newsletter for a healthy recipe of the week (and nutrition articles and videos with a balanced living philosophy to help encourage healthy habits but still save room for your favorites). Our nutrition newsletter is written by the Calgary Nutritionists on our team who each hold a professional Registered Dietitian license to ensure you are getting credible advice.
Click here to sign-up for our free weekly nutrition newsletter: Nutrition Newsletter by our Calgary Nutritionist / Online Dietitian team.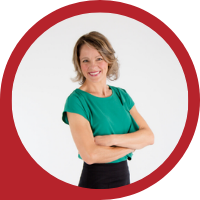 About Andrea Holwegner
CEO, Registered Dietitian, Counseling Practice Director & Professional Speaker
Andrea the «Chocolate Loving Nutritionist» is founder and CEO of Health Stand Nutrition Consulting Inc. since 2000. She is an online nutrition course creator, professional speaker and regular guest in the media. Andrea is the recipient of an award by the Dietitians of Canada: The Speaking of Food & Healthy Living Award for Excellence in Consumer Education....Read more