Tahini Chicken & Vegetable Kebabs
This grilled Tahini Chicken & Vegetable Kebab Recipe is the perfect meal to end off the summer!
Kebabs or skewers are a fun and attractive way to serve meat and veggies.
Juicy, and delicious, these chicken kebabs feature zucchini, bell pepper, mushrooms, and onion. But feel try to different vegetables and meat to mix things up!
This recipe is great served with fresh hummus and pita bread.
Ingredients
Tahini Chicken & Vegetable Kebab Ingredients
2 chicken breasts, cut into 1-inch pieces

1 zucchini, cut into rounds

 

1 bell pepper, cut into bit size pieces 

 

8 medium mushrooms 

 

½ red onion, quartered and wedged 

 

Skewers – approx. 8 wooden or metal
Tahini Marinade Ingredients
½ cup tahini

 

2 tbsp honey 

 

3 tbsp olive oil 

 

Juice and zest of 1 lemon 

 

2 tsp garlic powder 

 

¼ tsp salt 

 

½ tsp ground black pepper

 
Instructions
1) Preheat grill. If using wooden skewers place in water to soak. 
2) Prepare chicken and vegetables in 2 separate bowls so they are ready to be threaded onto skewers.  
3) In a medium bowl combine tahini marinade – tahini, oil, honey, lemon zest and juice, garlic powder, salt and pepper.  
4) Separate the marinade mixture into half, putting half with the chicken and half with the diced vegetables. Mix to combine. If able to let marinade for 1-2 hours then do so.  
5) Thread chicken and one of each vegetable until kebob stick is full. Repeating until all kebobs are done and meat and vegetables are used up.  
6) Grill on medium to high heat for 10-12 minutes per side until cooked through.  
7) Serve immediately. 
Nutrients per serving (about 2 skewers):  
448 Calories 
32 g Fat  
30 g Carbohydrates   
5 g Fiber  
14 g Protein 
Looking for more healthy recipes and nutrition tips?
Click below to sign up for our weekly free newsletter, Sound Bites, that goes out to thousands of our subscribers.
Once you try this recipe, let us know what you think and comment below! We'd also love to see it too, so make sure to tag us on our social accounts.
If you enjoy these Tahini Chicken & Vegetable Kebabs, you might like these recipes as well: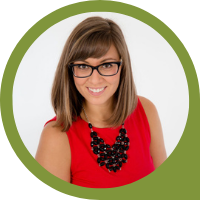 Shauna Kime
Registered Dietitian & Online Nutritionist - Weight Concerns, Women's Health, Diabetes & Meal Planning
The first thing you will notice about Shauna is her contagious optimism, energetic personality and zest. Shauna loves teaching and has a heart full of compassion and empathy for helping clients work through health concerns. Shauna specializes in healthy cooking, diabetes, cardiovascular health, weight concerns and womens health. Read more