Toasted Coconut Custard
How to make a delicious coconut pudding
Calling all coconut lovers! This soulful food recipe for toasted coconut custard is for you! Enjoy this creamy dessert as is, or top with fresh fruit such as berries, banana slices or diced mango or pineapple slices.
Makes 8 small servings
What You Need:
1/2 cup unsweetened shredded coconut (ideally long strand if you have it)
1/2 cup white granulated sugar
1/3 cup cornstarch
1/4 tsp salt
1 cup 1% milk (or soy milk, almond milk or lactose free milk)
1 can (14 oz) canned coconut milk
4 large egg yolks
Fruit for topping (optional) – try berries, banana slices, diced mango or pineapple slices
How to Make It:
Begin by toasting the coconut. Place the coconut on a baking sheet and bake at 325 F for 5-8 minutes. Coconut toasts very quickly so be sure to stir every few minutes for even browning and to avoid burning.
Next, make the coconut custard recipe. In a medium saucepan without heat, stir together the white sugar, cornstarch and salt. Whisk in the milk, coconut milk and egg yolk.
Cook the custard over medium heat whisking constantly about 5 minutes until the mixture begins to bubble. Reduce heat to low and continue cooking for another 1 minute while you are still whisking.
Pour into small dessert bowls and refrigerate for at least 4 hours until chilled. Top with the toasted coconut and fresh fruit.
Nutrients per serving
(Using 1% milk and without the fruit):
242 Calories
21 g Carbohydrates
3.8 g Protein
17 g Fat
1 g Fibre
We hope you've enjoyed this soulful food dessert for Toasted Coconut Custard Recipe!
Looking for more simple meal planning tips and healthy recipes for a healthier lifestyle?
Sign up for our weekly newsletter for a healthy recipe of the week (and nutrition articles and videos with a balanced living philosophy to help encourage healthy habits but still save room for your favorites).
Our nutrition newsletter is written by the Online / Calgary Nutritionists on our team who each hold a professional Registered Dietitian license to ensure you are getting credible advice.
Discover why over 10,000 subscribers follow our nutrition newsletter today: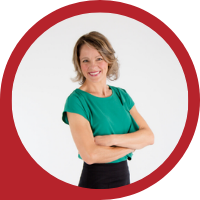 About Andrea Holwegner
CEO, Registered Dietitian, Counseling Practice Director & Professional Speaker
Andrea the «Chocolate Loving Nutritionist» is founder and CEO of Health Stand Nutrition Consulting Inc. since 2000. She is an online nutrition course creator, professional speaker and regular guest in the media. Andrea is the recipient of an award by the Dietitians of Canada: The Speaking of Food & Healthy Living Award for Excellence in Consumer Education....Read more