3 Ways to Cut a Grapefruit
And 6 Simple Ways to Enjoy Grapefruit
Grapefruits are a nutritious option to start your day as part of a healthy breakfast or as a healthy snack. You can also toss grapefruit into a variety of different recipes. Read on for ideas on how to enjoy grapefruits as well as 3 techniques on ways to cut a grapefruit.
What is the best way to cut up a grapefruit?
There are several ways to slice a grapefruit including these 3 popular methods:
Option 1 – Cut Grapefruit in Half
Lay the grapefruit on its side and slice directly down the middle to display all the segments. Run a grapefruit knife around the outside of the grapefruit flesh and each segment and enjoy (a grapefruit knife is serrated on both sides and bent to follow the contours of a grapefruit). Alternatively you can use a grapefruit spoon (a spoon that is serrated at the tip) to do the same job.
Option 2 – Cut Grapefruit in Wedges
Make grapefruit wedges you can eat off the peel by cutting the grapefruit in half this time starting your cut through the stem end of the grapefruit. Continue cutting until you have 6 wedges per side.
Option 3 – Cut Grapefruit in Segments
WATCH this short chef video for how to segment a grapefruit seamlessly:
What are some simple ways to enjoy grapefruit?
Simple Maple Cinnamon
Lay your grapefruit down on the counter on its side and cut your grapefruit in half so you can see all of the segments displayed nicely. Drizzle each grapefruit half with a teaspoon of maple syrup and a pinch of cinnamon. Enjoy as is or roast in the oven for a few minutes. Dig into your juicy grapefruit with a grapefruit spoon (the serrated edges easily loosen grapefruit sections).
Handmade Fruit Cocktail
Slice grapefruits, pears, apples, berries or any of your favorite fruit into a margarita glass and top with a splash of any unsweetened juice.

Fish or Shrimp Tacos
Add sliced grapefruit to the top of your usual recipe for grilled fish or shrimp tacos for a fresh twist on a family favorite.
With Avocado
Grapefruit and avocado are a match made in heaven. Simple sliced and arrange on a plate and drizzle with your favourite light vinaigrette.
Roasted!
Cut a grapefruit in half and sprinkle with a pinch of brown sugar and broil in the oven for a few minutes for the sugars to caramelize.
Paloma Cocktail
To make 4 cocktails: add 1 cup fresh pink grapefruit juice (roughly two juiced grapefruits), 1/4 cup fresh lime juice (roughly one juiced lime), a pinch of white sugar to sweeten (or simple syrup) to taste, 12 ounces club soda and 8 ounces tequila (optional)
Do you have a favourite way to enjoy grapefruits? Let us know in the comments below!
Looking for more simple meal planning tips and healthy recipes for a healthier lifestyle? Sign up for our weekly newsletter for a healthy recipe of the week (and nutrition articles and videos with a balanced living philosophy to help encourage healthy habits but still save room for your favorites). Our nutrition newsletter is written by the Online / Calgary Nutritionists on our team who each hold a professional Registered Dietitian license to ensure you are getting credible advice.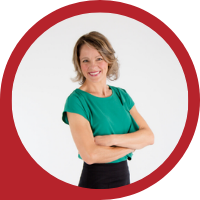 About Andrea Holwegner
CEO, Registered Dietitian, Counseling Practice Director & Professional Speaker
Andrea the «Chocoholic Nutritionist» is founder and CEO of Health Stand Nutrition Consulting Inc. since 2000. She is an online nutrition course creator, professional speaker and regular guest in the media. Andrea is the recipient of an award by the Dietitians of Canada: The Speaking of Food & Healthy Living Award for Excellence in Consumer Education....Read more