3 Tips for Hiring a Corporate Wellness Expert
How to hire a workplace wellness trainer or speaker
Health, nutrition, stress management and productivity are highly relevant to the success of your workplace. When employee health and nutrition are not maximized, employers have higher health benefit costs and experience more employee absenteeism, safety concerns and lost productivity. Studies repeatedly show that healthier, less stressed-out employees are happier, more creative and ultimately more productive.
Workplace wellness programs are an opportunity for a business to deliver nutrition and wellness solutions to their employees. All employee demographics benefit from improved wellness, from employees with young families to baby boomer to workers just launching their careers. Statistics prove that an investment in employee wellness programs can provide as high as a 6:1 return on investment. 
3 Tips for Hiring a Corporate Wellness Expert
1.  Hire a nutrition and wellness expert: When hiring a nutritionist make sure they are a Registered Dietitian, not just a nutritionist. All dietitians are nutritionists but few nutritionists are dietitians and therefore lack high-level education in nutritional science. In my province of Alberta the titles Registered Dietitian, Dietitian and Registered Nutritionist are all regulated protected titles to help ensure you are working with a credible expert. 
As CEO of nutrition counselling practice Health Stand Nutrition, our nutritionists are all Registered Dietitians, with advanced training and expertise in areas including:
Meal Planning and Family Nutrition
Nutrition's Impact on Employee Productivity
Eating Disorders
Weight Management
Cardiovascular Disease and Diabetes
Sports Nutrition
2.  Hire a professional speaker: A nutrition and wellness expert must have more than good information: they must be able to deliver their wellness message in a way that:
entertains
motivates
is memorable
A message that is delivered in a way that is boring, too technical or lacking practical applications results in your employees tuning out on the speaker and their message. (see Andrea Holwegner speaker kit)
Andrea Holwegner, Registered Dietitian and Professional Speaker:
Andrea Holwegner RD is one of a handful of Registered Dietitians in North America who are qualified professional speakers. She knows how to deliver relevant content mixed with humor and fun, capturing corporate, association and government audiences with a buzz that's better than caffeine! Her simple ideas elevate productivity, work-life balance and health.
                                         ~ See Rave Reviews for Andrea Holwegner
Speaker Demo:
Andrea Holwegner: Health, Wellness and Productivity Expert
With extensive media expertise including regular TV and radio appearances as well as an in-demand wellness and productivity speaker, Andrea knows how to engage an audience and deliver important information in an entertaining format. Andrea is a member of CAPS, the Canadian Association of Professional Speakers; other certification organizations for professional speakers include NSA – National Speaker's Association and GSF – Global Speakers Federation.
3. Hire practical experience: Your corporate nutrition and wellness consultant should have practical experience working with clients facing nutrition and wellness issues, and not someone with research credentials but no practical experience. A Registered Dietician nutrition consultant and educator has experience counseling individuals on wellness challenges and providing solutions that get results. (see Andrea Holwegner client list) 
Workplace Benefits for Hiring a Nutrition and Wellness Expert
Your corporate wellness consultant should work closely with your team to ensure their nutrition services are relevant to your employees and contractors personally as well as directly impact the needs of your workplace.
Top 5 Benefits of A Corporate Wellness Program:
Enhanced resiliency, work-life balance and ability to combat stress.
Increased stamina, energy and productivity for demanding workloads.
Improved bottom line related to the high costs of health benefits, medications, sick leaves, burn-out and employee turnover.
Address costly and unfavorable health concerns from biometric screening and health risk assessments such as obesity, high cholesterol, high blood pressure, diabetes, depression and other health issues.
Enhanced health confidence for your corporate team and improved wellness, safety and productivity for field workers and those that travel for their jobs.
Corporate Wellness Takeaway
A Corporate Nutrition and Wellness Consultant must understand how to achieve health and productivity without guilt or complexity: Advice that is too complicated or takes the pleasure out of eating can result in your employees choosing not to follow the advice of your wellness consultant. A corporate nutrition and wellness program should demonstrate that:
Achieving good health and optimal energy can be simple.
Nutrition and eating habits can have a profound impact on your overall health, wellness and stress as well as workplace productivity, safety, confidence and creativity.
Food and eating should be fun! You don't need to sacrifice your favourites to be successful.
How Andrea Holwegner Can Help Your Employee Wellness Initiative:
Workplace Wellness Articles by Andrea Holwegner, RD:
a version of this article originally appeared on LinkedIn
Do you have a specific theme or specialized need for your workplace? Andrea Holwegner can help you customize employee wellness programs that will meet the health, nutrition, stress or productivity needs of your company. Contact Andrea to discuss your needs.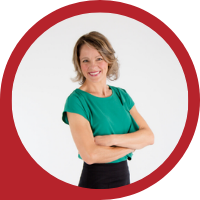 About Andrea Holwegner
CEO, Registered Dietitian, Counseling Practice Director & Professional Speaker
Andrea the «Chocolate Loving Nutritionist» is founder and CEO of Health Stand Nutrition Consulting Inc. since 2000. She is an online nutrition course creator, professional speaker and regular guest in the media. Andrea is the recipient of an award by the Dietitians of Canada: The Speaking of Food & Healthy Living Award for Excellence in Consumer Education....Read more