Apple Cinnamon Overnight Oats Recipe
Enjoy this overnight oats recipe that tastes just like apple pie!
This apple cinnamon overnight oats recipe comes from my good friend Tara Habijanac. It's great for busy mornings to get your family members fueled with good nutrition for school and work.
Makes 4 servings
What you need

 Apple Cinnamon Oats Ingredients
1 1/3 cups old fashioned rolled oats
1 1/3 cup milk + 2/3 cup plain yogurt (or 2 cups milk or dairy-free milk alternative)
1 cup applesauce
1/2 tsp cinnamon
1/4 tsp ground ginger
1/4 tsp ground cloves
1/2 cup chopped nuts/seeds (such as walnuts, pecans, cashews, almonds or pumpkin seeds)
1/4 cup dried fruit (such as dried cranberries, raisins, currents, blueberries, diced prunes or diced figs)
1 tbsp chia seeds
Topping
2 apples, diced (or use any fresh or dried fruit as topping such as berries or raisins you have on hand)
How you make it
Mix up all of the above ingredients (except the last ingredient for fresh fruit for topping) in a large bowl.
Divide the mixture into four, 12 ounce glass mason jars (or any other containers this size with a lid).
Seal lids and place in the refrigerator over night.
When you are ready to eat top with diced fresh apples and a sprinkle of cinnamon.
Nutrients per serving:
(analysis done with the variation of 1% milk and 2% fat plain yogurt, diced almonds, dried cranberries and fresh apples for topping):
380 Calories
13 g Protein
61 g Carbohydrate
10.1 g Fat
9.9 g Fibre
(analysis done with the variation of 2 cups almond milk, diced almonds, dried cranberries and fresh apples for topping):
335 Calories
8 g Protein
55 g Carbohydrate
10.5 g Fat
9.9 g Fibre
We hope you have enjoyed this apple cinnamon overnight oats recipe! Do you have a favourite ingredient list or variation or topping for overnight oats? Let us know in the comments!
Looking for more simple meal planning tips and healthy recipes for a healthier lifestyle?
Sign up for our weekly newsletter for a healthy recipe of the week (and nutrition articles and videos with a balanced living philosophy to help encourage healthy habits but still save room for your favorites). Our nutrition newsletter is written by the Calgary Nutritionists on our team who each hold a professional Registered Dietitian license to ensure you are getting credible advice.
Check out these previous articles on our blog!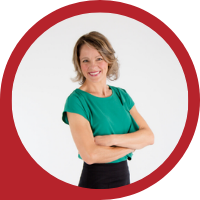 About Andrea Holwegner
CEO, Registered Dietitian, Counseling Practice Director & Professional Speaker
Andrea the «Chocoholic Nutritionist» is founder and CEO of Health Stand Nutrition Consulting Inc. since 2000. She is an online nutrition course creator, professional speaker and regular guest in the media. Andrea is the recipient of an award by the Dietitians of Canada: The Speaking of Food & Healthy Living Award for Excellence in Consumer Education....Read more