DIY Loaded Baked Potato Toppings for a Healthy Dinner [VIDEO]
Build your own budget-friendly baked potato bar
This blog post is sponsored by: Canada's Food Island 
As food prices continue to rise the humble baked potato is a nutrition-packed, budget-friendly option for family dinners.  Creating a healthy baked potato bar at home with fun toppings for your family to assemble is a great idea to accommodate a wide variety of food preferences and good nutrition. 
Read more about this family-friendly idea for creating a loaded baked potato taco bar for your family (and other theme ideas for baked potato toppings). 
Potato P

ower
At the start of 2022, Canada's Food Price Report 2022 forecasted an overall food price increase of 5-7% for the coming year now only a few months later, food prices in Canada are predicted to rise again.  The humble potato is a great staple to family dinner tables as it is nutritious, healthy, affordable, and delicious! 
Prince Edward Island, Canada's Food Island is world renowned for high-quality potatoes thanks to the iron-rich soil in PEI. Potato farmers in PEI have been growing potatoes for over 200 years – they are made to enjoy!   
Learn more from my segment on CTV Morning Calgary:
Assembling a Healthy Baked Potato Bar
Who doesn't love a loaded baked potato?  To create a baked potato bar you'll want to first cook your baked potatoes in the oven, on the BBQ, in the microwave, or in a pressure cooker.  While your potatoes are cooking you can prepare and assemble your toppings in a theme that works for your family. 
Here are some fun baked potato toppings, themes and ideas to try: 
Greek baked potatoes
Canned/drained chickpeas tossed with a Greek vinaigrette (or sliced cooked chicken with Greek seasoning)

Diced tomatoes

Olives

Greek yogurt

Feta cheese

 
Mexican baked potatoes
Black beans

Corn

Pico de gallo

Guacamole or diced avocado

Cilantro
Simple vegetarian baked potato
Baked beans

Grated cheddar

Green onions

 

 
Smoked salmon baked potatoes
Cream cheese
Smoked salmon
Fresh dill or chives
Chili topped baked potato
Beef/turkey/vegetarian chili

Grated cheddar cheese

Sour cream

Green onions.

 
Fajita baked potatoes
Pinto/refried beans (or slices of leftover or freshly cooked beef/chicken) topped with sautéed sliced red/yellow/orange peppers and onions with fajita seasoning.
Pulled pork baked potatoes
See the recipe below.
Baked Potato Recipe: P

ulled Pork B

aked Potato Taco Bar
Try this recipe for a DIY baked potato taco bar using pulled pork courtesy of Canada's Food Island. Try it with pinto beans for a vegetarian option!
Makes 4 Servings 
What You Need
P

ulled Pork B

aked Potato Taco Bar

Ingredients
4 large PEI potatoes 
1 tbsp olive oil 
2 cup shredded pulled pork, cooked, and heated 
1 cup salsa 
1 cup guacamole 
4 Romaine lettuce leaves, chopped 
1 cup cheddar cheese, grated 
½ cup bacon, cooked and crumbled 
1 cup sour cream 
lime wedges, to garnish 
cilantro, to garnish
How to Make the

P

ulled Pork B

aked Potato Taco Bar Recipe
Directions
Step 1:  Preheat the oven to 425F, and line a baking sheet with parchment paper. 
Step 2:  Wash potatoes to remove any dirt. Pat dry with a towel. Place on the baking sheet and using a fork and poke holes in the potato. Brush potatoes with olive oil. Bake for 45- 60 minutes until the potato center is tender and the skin is crisp. 
Step 3: While potatoes are cooking prep taco toppings. 
Step 4:  Once the potatoes are cooked, slice the center with a knife and gently push on each end towards the center. Place each potato onto a plate.
Step 5: Serve baked potatoes with your favourite taco toppings such as cooked pulled pork, salsa, guacamole, lettuce bacon, cheese, and sour cream. Top with a lime wedge and cilantro, to garnish if desired. Enjoy! 
Want to learn more about PEI potatoes?
Check out this infographic for some fun facts about PEI potatoes: PEI Potatoes Infographic
Watch this short colorful video and more in their series to learn how PEI potatoes are grown and harvested:
Looking for more simple meal-planning tips and healthy recipes?
Sign up for our weekly newsletter for a healthy recipe of the week and nutrition articles and videos with a balanced living philosophy to help encourage healthy habits but still save room for your favourites. Our nutrition newsletter is written by the Calgary Nutritionists on our team who each hold a professional Registered Dietitian license to ensure you are getting credible advice.
Click here to sign-up for our free weekly nutrition newsletter
Check out more potato recipes on the blog here: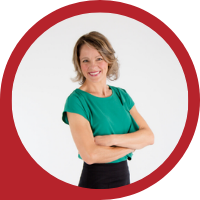 About Andrea Holwegner
CEO, Registered Dietitian, Counseling Practice Director & Professional Speaker
Andrea the «Chocolate Loving Nutritionist» is founder and CEO of Health Stand Nutrition Consulting Inc. since 2000. She is an online nutrition course creator, professional speaker and regular guest in the media. Andrea is the recipient of an award by the Dietitians of Canada: The Speaking of Food & Healthy Living Award for Excellence in Consumer Education....Read more