Blueberry Pecan Baked Oatmeal Cups Recipe
Healthy Registered Dietitian Breakfast Recipe for Oatmeal Lovers!
Calling all oatmeal lovers!  This Registered Dietitian approved make-ahead breakfast (or snack!) recipe works great eaten fresh or pulled out of the freezer and reheated for busy mornings.  Although you may think this is a muffin recipe, think of this more like oatmeal, conveniently baked into a cup.

Makes 12 baked oatmeal cups
What you need:

2 cups rolled oats
1/2 cup chopped pecans (or any other of your favorite nuts)
1 tsp baking powder
1 tsp cinnamon (or other spices, add more or less to taste)
1/4 tsp salt
1 1/2 cups milk
2 eggs
1/4 cup real maple syrup
1 tsp vanilla extract
1 cup blueberries
Recipe Directions:
Preheat oven to 350. Grease or line a 12 cup muffin tin with muffin cups.
Mix oats, pecans, salt, baking powder, and spices. In a separate bowl, mix eggs, milk, syrup, and vanilla. Pour wet ingredients over dry, and mix well to combine. Fold in blueberries.
Fill muffin cups about halfway, and bake until just set – about 30 minutes. Cool for 10-15 minutes and remove from tin.
Can be kept in the fridge for 3 days, or in the freezer for a month.
Serve warm on their own or with plain Greek yogurt and a drizzle of maple syrup.
Per baked oatmeal cup:
Calories: 107
Fat: 5g
Protein: 3.4g
Carb: 12.9g
Dietary Fibre: 1.4g
Looking for more breakfast ideas?
Check out this article and video on Registered Dietitian Recommended High-Protein Breakfast Ideas
Read this article and watch this video on Solutions for the Top 3 Breakfast Challenges
If you are seeking support to help to make meal planning simple if you are cooking for one, don't want to spend oodles of time in the kitchen or find yourself eating out often, we can help. We specialize in health without guilt or complexity. Our Calgary Dietitian team can work with you in person at our Calgary office or online through our virtual private and secure video conferencing services. Contact Us.
For more information about our Calgary Dietitian / Online Nutritionist services by our experienced nutrition counseling team visit: NUTRITION COUNSELING or our Digital Online Program The Pursuit of Healthiness: ONLINE NUTRITION COURSE.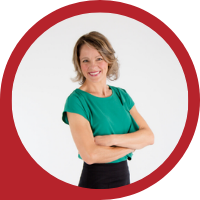 About Andrea Holwegner
CEO, Registered Dietitian, Counseling Practice Director & Professional Speaker
Andrea the «Chocolate Loving Nutritionist» is founder and CEO of Health Stand Nutrition Consulting Inc. since 2000. She is an online nutrition course creator, professional speaker and regular guest in the media. Andrea is the recipient of an award by the Dietitians of Canada: The Speaking of Food & Healthy Living Award for Excellence in Consumer Education....Read more