Breaded Cajun Style Fish Recipe
Healthy Recipe by Calgary Nutritionist / Online Dietitian Andrea Holwegner
Adults and kids will love this mild crunchy fish recipe. Serve with a salad, steamed green beans or asparagus for a balanced meal.
Makes 4 servings
What you need:
400 g fresh or frozen light white fish (such as sole, basa, tilapia, Icelandic cod fillets)
1/2 cup milk
1 cup bread crumbs
2 tsp. Cajun seasoning
Cayenne pepper to taste (optional if you like it hot!)
1 tbsp. fresh parsley (or 1 tsp dried parsley)
Fresh ground pepper to taste
1-4 tbsp. vegetable oil
Fresh Lemon wedges (optional)
How you prepare:
Pour milk into a shallow dish.
Pour bread crumbs into a separate second shallow dish and add Cajun seasoning, cayenne pepper (optional), parsley and fresh ground pepper.
Heat vegetable oil over medium heat in a non-stick, cast iron or stainless steel saucepan.
Dip both sides of the fish fillet into milk mixture and then into breadcrumb mixture.
Pan-fry fish 3-5 minutes on each side until the bread crumb coating becomes slightly golden coloured and fish flakes easily when cut.
Serve with optional lemon quarters on the side.
Variations:
If your kids like fish fingers prepare this recipe but cut the fish into fingers instead. You can pan fry or alternatively bake on a greased rimmed baking sheet, turning once, for about 15 minutes or until golden color and fish flakes easily when cut.
If you like breaded fish and want some variation, try replacing the Cajun seasoning with dried oregano, basil, garlic powder or your other favourite herbs and spices.
Per serving:
275 Calories
30 g Protein
21 g Carbohydrates
7.6 g Fat
1.2 g Fibre
Looking for more healthy eating recipes? Sign up for our weekly newsletter for a healthy recipe of the week (and nutrition articles and videos with a balanced living philosophy to help encourage healthy habits but still save room for your favorites). Our nutrition newsletter is written by the Calgary Nutritionists on our team who each hold a professional Registered Dietitian license to ensure you are getting credible advice.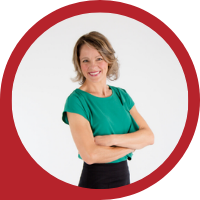 About Andrea Holwegner
CEO, Registered Dietitian, Counseling Practice Director & Professional Speaker
Andrea the «Chocoholic Nutritionist» is founder and CEO of Health Stand Nutrition Consulting Inc. since 2000. She is an online nutrition course creator, professional speaker and regular guest in the media. Andrea is the recipient of an award by the Dietitians of Canada: The Speaking of Food & Healthy Living Award for Excellence in Consumer Education....Read more