Easy Chickpea Burger Recipe
Simple Weekday Plant-based Vegetarian Burger Recipe
This delicious plant-based chickpea burger is easy to make, and can be eaten fresh or made ahead and frozen in patties for quick weekday vegetarian meals on the go.
Ingredients:
2 cups cooked chickpeas (or 1 – 14oz can)
1/2 cup onion, diced into small pieces
1/2 cup rolled oats
1Tbsp chili powder (or play around and use a different spice mix!)
salt and pepper
1 egg
Combine all ingredients in food processor, pulse until slightly chunky, add some liquid (water or milk is great) if needed, to have a moist but not wet mixture.
With wet hands, shape into patties, and let rest about 10 minutes. Heat a little oil in a frying pan, to medium, and cook the patties for about 5 minutes, until nicely browned. Then flip patties over, and repeat on other side. Serve with your favourite buns and toppings, or refrigerate/freeze for later meals. Makes 4 generous-sized burgers.
Nutritional Information for one chickpea burger (for 4 servings):
calories – 223
carbohydrate – 38.4 g
fat – 3.8 g
fibre – 7.4 g
protein – 9.6 g
Looking for more simple meal planning tips and healthy recipes for a healthier lifestyle?  Sign up for our weekly newsletter for a healthy recipe of the week (and nutrition articles and videos with a balanced living philosophy to help encourage healthy habits but still save room for your favorites). Our nutrition newsletter is written by the Calgary Nutritionists on our team who each hold a professional Registered Dietitian license to ensure you are getting credible advice.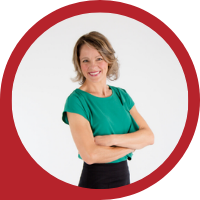 About Andrea Holwegner
CEO, Registered Dietitian, Counseling Practice Director & Professional Speaker
Andrea the «Chocolate Loving Nutritionist» is founder and CEO of Health Stand Nutrition Consulting Inc. since 2000. She is an online nutrition course creator, professional speaker and regular guest in the media. Andrea is the recipient of an award by the Dietitians of Canada: The Speaking of Food & Healthy Living Award for Excellence in Consumer Education....Read more