Healthy Afternoon Snack Attacks for Energy Zapped People [VIDEO]
Healthy energizing snacks to keep you
fueled throughout your day
This blog post is sponsored by my client: Wonderful Pistachios
Mid-afternoon is a fatiguing time of day for most people regardless if you are remote working and experiencing screen fatigue, in the office or on-the-go shuttling kids from school to activities.  You can keep yourself and your family fueled with quick, healthy energizing snack ideas everyone will like. 
Stay tuned for some simple, satisfying protein rich snack ideas using pistachios to top up your energy for the last half of your day.   
What are the components of a healthy afternoon snack?
Meals and snacks that have both carbohydrate and protein will keep your energy consistent throughout the afternoon and help you feel like you are riding a train rather than a rollercoaster.

Carbs found in grains, starchy foods, fruit and veggies are like "gasoline" to fuel your brain and muscles. 

Protein is found in food such as meat, poultry, seafood, dairy, eggs, nuts, and legumes.

Marry carbs plus protein together for an ideal healthy afternoon snack.

 
Watch my segment on Global News Morning Calgary:
Why is protein

important to

include in an afternoon snack?
Carbohydrates top up your blood sugars to fuel your brain for the energy it needs to get you through the afternoon. Carbohydrates are also like gasoline for your muscles for the energy you may need for physical activity in the later parts of your day.

 

Protein provides fullness and sustained energy. If you have missed a source of protein in your meals you can feel highs and lows in your energy experience hunger more often.  Protein is key for satiety and helping you sustain energy and productivity.

 
What
are
some healthy protein rich snack ideas to try?
Pistachios + apple

 

Hard cooked egg + whole grain crackers

 

Greek yogurt/skyr yogurt + granola

 

Cottage cheese + fresh/frozen berries

Cheese + grapes

Latte or tea latte +

energy ball
Can you tell us about the

snack ideas on display

?

 
I worked with Wonderful Pistachios on some fun healthy snack ideas since pistachios are a good source of protein. Wonderful Pistachios are a smart snack and a great grab-and-go protein option as a ¼ cup of pistachios contains 6 grams of protein and 3 grams of fibre.
In a medium bowl combine 1 tbsp cocoa, 1 tbsp maple syrup, ½ tsp vanilla, ½ cup milk/soy milk, 2 tbsp chia seeds.

 

Let sit for 15 minutes and stir again and leave 4 hours in the fridge.

 

Top with crushed pistachios

 
Combine 6 ounces goat cheese with 2 ounces cream cheese (both at room temperature).

 

Drop mixture by spoonful onto a tray lined with parchment paper and refrigerate 15 minutes

 

Roll into balls, then into ½ cup shelled salted pistachios. 

 
3) Mason Jar Sweet And Savoury Snack Mix   
Get your kids to build their own mixes of popcorn, pretzels, dried fruit, nuts and chocolate chips
Thinly slice apples, pears, peaches or nectarines in thin slices. If not serving immediately you can toss the fruit in any type of citrus or vitamin C rich juice such as orange juice to prevent browning.

 

Arrange the fruit slices on a plate and drizzle with melted peanut butter. Sprinkle with coconut, mini chocolate chips and crushed pistachios.

 
Where can I find out more information?
For more pistachio-inspired recipe ideas, visit Wonderful Pistachios.
Looking for more healthy recipes and meal-planning tips?
Sign up for our weekly newsletter for a healthy recipe of the week and nutrition articles and videos with a balanced living philosophy to help encourage healthy habits but still save room for your favourites. Our nutrition newsletter is written by the Calgary Nutritionists on our team who each hold a professional Registered Dietitian license to ensure you are getting credible advice.
Click here to sign-up for our free weekly nutrition newsletter!
If you enjoyed this blog post, check out our other recipes and meal-planning articles: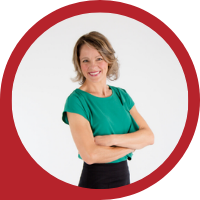 About Andrea Holwegner
CEO, Registered Dietitian, Counseling Practice Director & Professional Speaker
Andrea the «Chocoholic Nutritionist» is founder and CEO of Health Stand Nutrition Consulting Inc. since 2000. She is an online nutrition course creator, professional speaker and regular guest in the media. Andrea is the recipient of an award by the Dietitians of Canada: The Speaking of Food & Healthy Living Award for Excellence in Consumer Education....Read more