How Much Protein Do I Need a Day?
Protein 101 – A guide to protein intake and its importance in the diet
Written by CEO, Andrea Holwegner, and Nathalie Prayogo, Student in the Dietetics Specialization program at the University of Alberta.
As the protein trend takes off, so do the myths and facts about protein. One frequently discussed topic is protein intake. We often been asked questions like: Why is protein important? How much protein do I need a day to build muscle or to maintain a healthy body? How much protein do I need as a vegetarian? Protein is important for our body, so it is important to avoid misinformation regarding protein intake. To get to the right answers, we're going to help address some of these questions and more.
What is protein and why is protein important?
Protein is an essential macronutrient in our body (along with carbohydrates and fat) aka you must consume it regularly from foods for health. Once digested, protein is broken down into amino acids which perform a variety of functions. Commonly known as 'building blocks' of the body, protein can make new cells and repair old ones, such as muscle and connective tissues. It is used to maintain bone health and aids in the proper growth and development of children, teenagers, and pregnant women. Protein is also required for production for healthy skin, hair and fingernails.
Sufficient protein intake is required for maintaining good general health as it has other major functions such as blood clotting, maintaining fluid balance, helping to produce antibodies in the regulation of immune responses, and can serve as hormones and enzymes in the body.  
Protein is also an important source of energy. In extreme conditions, such as prolonged starvation or an intensely low-carbohydrate diet, protein is metabolized and used to generate energy that can fuel the entire body. Although protein can be used for building muscles and creating energy, protein cannot be stored in the body. Any excess protein intake will either be excreted out or stored as fat in the body.  
How much protein do I need a day?
Health Canada has established a DRI (dietary reference intake) for both macro and micronutrients. The AMDR (Acceptable Macronutrient Distribution Range) for protein intake for different age groups is the following: 
1-3 years: 5-20% of total total calories from protein

4-18 years: 10-30% of total total calories from protein

Adults 19 years and over: 10-35% of total total calories from protein

Pregnant women require approximately 25 grams of additional protein per day during the second and third trimesters (and double this for twins).
Since there are 4 calories per gram of protein this means you can calculate out an approximate range of protein grams needed each day.
As an example, for an adult that consumes 2000 calories per day, this is an amount approximately equal to 50-175 grams of protein each day. If your calorie needs are less, than this range will be smaller. If your calorie needs are higher this range will be larger.
WATCH the Global TV interview by CEO, Andrea Holwegner answering  'How Much Protein Do I Need?' and more:
Where do you get protein

?
Our body has the ability to create amino acids. However, there are a few amino acids that our body cannot produce. These are called essential amino acids. Animal-based food such as meat, poultry, seafood, eggs, and dairy foods contain all of the essential amino acids. Hence, they are known as complete proteins – foods that are good protein sources. Plant-based sources of proteins, with the exception of soy and hemp, are known as incomplete proteins because they are missing one or a few of the essential amino acids. However, with proper planning and eating a variety of plant-based food sources, it is possible to obtain all of the nine essential amino acids while getting adequate protein intake. 
List of protein sources :
| | | |
| --- | --- | --- |
| Food  | Serving Size  | Protein Amount  |
| Chickpeas  |  ¾ cup drained (175mL)  | 15 grams  |
| Black beans  | ¾ cup drained (175mL)  | 19 grams  |
| Smooth Peanut Butter  | 2 tablespoons  | 9 grams  |
| Firm Tofu  | 3.5 oz (about the size of a deck of cards)  | 14 grams  |
| Egg  | 1 large  | 6 grams  |
| Roasted Chicken Breast  | 3.5 oz (about the size of a deck of cards)  | 33 grams  |
| Salmon  | 3.5 oz (about the size of a deck of cards)  | 22 grams  |
| Beef Sirloin Steak  | 3.5 oz (about the size of a deck of cards)  | 31 grams  |
| Shrimp  | 3.5 oz (about the size of a deck of cards)  | 11 grams  |
| Canned tuna  | ½ can (55g)  | 14 grams  |
| Cottage Cheese  | ½ cup (125 mL)  | 15 grams  |
| Greek yogurt   | ½ cup (125g)  | 11 grams  |
| Hummus  | ¼ cup  | 4 grams  |
| Almonds  | ¼ cup  | 8 grams  |
| Sunflower seeds   | ¼ cup  | 6 grams  |
| Cheddar Cheese  | 1 oz (30g)  | 7 grams  |
| Milk 1%   | 1 cup or 250 ml  | 9 grams  |
| Soy Milk  | 1 cup or 250 ml  | 7 grams  |
| Almond Milk  | 1 cup or 250 ml  | 2 grams  |
| Bread  | 1 slice   | 3 grams  |
| Pasta  | 1 cup  | 9 grams  |
| Banana  | 1 piece  | 1 gram  |
| Broccoli  | 1 cup  | 4 grams  |
Source: Health Canada 
What if your protein intake is low?
Adequate protein intake is crucial for our health. However, odds are the amount of protein you're consuming is enough to meet your body's needs. In fact, research shows that most Canadians eat enough protein.  
A few people, such as those over 70 or those with a digestive disease might be at risk for protein deficiency. Those following a strict low-calorie diet, or those with eating disorders might also be at risk for protein deficiency, due to their low overall food intake and thus low protein intake.  
A more common population at risk for a protein deficiency are those following a poorly planned vegetarian or vegan diet. A poorly planned vegetarian diet usually does not incorporate all the essential amino acids, or have enough protein needed for the body. A lack of balance of variety for different plant-based foods, especially a deficiency in nuts, legumes, and beans can cause this protein deficiency. So, it is important to properly plan out your vegetarian diet and incorporate nuts, beans, and legumes to ensure adequate protein intake. Click here more tips and tricks on incorporating legumes into your diet to ensure an adequate amount of protein while following a vegetarian diet.  
How can I get enough protein as a vegetarian?
Animal sources such as meat, poultry, seafood, eggs and dairy foods supply all nine essential amino acids and are therefore known as complete proteins.
Protein from plant based foods such as legumes, grains, nuts, seeds and vegetables are known as incomplete proteins since they are missing one or more of the essential amino acids our body cannot produce by itself and must get from food.
In the past those following strict vegetarian (vegan) diets used food combining at each meal to make sure they received all the amino acids required to build a complete protein. We now know that this is not necessary and that as long as a wide variety of plant based foods are being supplied throughout the day, a vegan can achieve what they need.
When planning major meals include a food that is rich in protein to help sustain energy and fullness since meals that are mostly carbohydrate often don't provide satiety. If you are vegetarian it is ideal to include a plant based protein source at your major meals AND also likely with snacks. Work with a Registered Dietitian to help ensure you are getting enough.
Also feel free to check out our previous blog post: How to Plan a Healthy Vegetarian Diet
How much protein do I need to build muscle as an athlete?
The above calculations for protein using the DRI are a good place to begin to assess overall protein needs for everyone. In addition to this it can be useful to also take a look at sports nutrition requirements if you are an athlete.
The Academy of Nutrition and Dietetics, Dietitians of Canada, and the American College of Sports Medicine provided a joint position paper to review nutrition and athletic performance.
The amount of protein athletes require to support health, body repair and sports performance generally ranges from 1.2 – 2.0 grams per kilogram body weight per day. Note this figure is based on a kilogram of body weight (not pound of body weight as this is commonly confused). Higher intakes of protein may be needed for short periods during intensified training or when reducing energy intake.
Using the equation above, here are some examples:
An athlete that weighs 60 kilograms (132 lbs) would need 72-120 grams of protein/day
An athlete that weighs 90 kilograms (198 lbs) would need 108-180 grams of protein/day
The best way to know if you are getting enough protein for your needs is to work with a Sports Dietitian. An experienced Sports Nutritionist can assess your requirement and provide you with customized advice and practical meal planning suggestions to achieve your needs. For more information on sports nutrition counseling services check out our: Dietitian Sports Nutrition Counseling.
Is high protein intake beneficial?
With all the hype surrounding protein, many are consuming high-protein diets as a new dieting trend. Research shows that a high protein intake might reduce weight in the short term however likely offers no additional benefit in comparison to other diets over the long term for your weight. 
High protein intake for a long time may also be linked to other health concerns. A high-protein diet is often linked with a low-carbohydrate diet. Extremely limiting carbohydrates prevent you from gaining enough nutrients and fiber. This can cause headaches, poor energy, poor recovery from exercise or sport, constipation, and other health problems. 
A high-protein diet may also increase the consumption of red meat, processed meat, and various types of animal foods high in saturated fats. Consuming these meats on a daily basis may increase your risk of heart disease, or potentially elevate your blood cholesterol.  
The bottom line
Different people have different bodies, and each unique body has its own needs to achieve health and optimal performance. There is no one fits all formula when it comes to the food and nutrition we each need. Therefore, it is always best to consult with a Registered Dietitian who can help you build a proper eating pattern that you can stick to for life. 
Looking for personalized nutrition support? Our team of Registered Dietitians can help!
Don't go through this journey alone, reach out to one of our Dietitians for support and have all the keys to success! 
Our Registered Dietitian team specialize in nutrition for mental health, meal planning, weight concerns, emotional eating, eating disorders, digestive health and more. Find out more about our Dietitian Nutrition Counseling Programs here.
PS: Don't forget to check with your insurance provider, health spending account or private health services plan and see if you are covered for Registered Dietitian services.
Also, subscribe to our weekly newsletter to never miss out on any tips, advice, and recipes!
See if personal nutrition counseling is for you:
Check out these protein-based recipes and articles on our blog: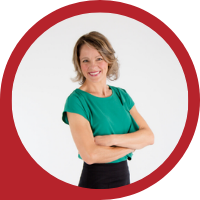 About Andrea Holwegner
CEO, Registered Dietitian, Counseling Practice Director & Professional Speaker
Andrea the «Chocolate Loving Nutritionist» is founder and CEO of Health Stand Nutrition Consulting Inc. since 2000. She is an online nutrition course creator, professional speaker and regular guest in the media. Andrea is the recipient of an award by the Dietitians of Canada: The Speaking of Food & Healthy Living Award for Excellence in Consumer Education....Read more

Brought to you by our friendly Registered Dietitian team at Health Stand Nutrition Consulting Inc. For more balanced living advice check out our RESOURCE MEGA BANK of nutrition articles, videos, healthy recipes, newsletters and meal planning kits here: www.healthstandnutrition.com/personal-nutrition/resource-mega-bank/