How Much Protein Do I Need?
Protein 101 – Why You Need it and How to Get Enough
As a Dietitian I've often been asked How much protein do I need per day? How much protein do I need as a vegetarian? How much protein do I need to build muscle as an athlete? And other common questions. So I put together this article to help address some of these questions and more.
Why do I need protein?
Protein is an essential nutrient (aka you must consume it regularly from foods for health). Our body needs protein from foods for structure and repair of all the cells of the body such as muscle and connective tissue. Proteins also function as enzymes, in membranes, as transport carriers and hormones. Amino acids which are the building blocks of protein also act as catalysts for many chemical reactions in the body. Protein is also required for production of antibodies to fight infection and for healthy skin, hair and fingernails.
Your body also uses protein for energy if it has been a very long time since you have eaten. In extreme cases if you were to follow a low-carb diet or fail to eat enough carbohydrates regularly your body breaks down muscle tissue and other body proteins to run the brain which leads to muscle loss, a lowered metabolic rate and weakened immunity.
WATCH the Global TV interview answering  'How Much Protein Do I Need?' and other questions here:
How many grams of protein do I need each day?

The Institute of Medicine and Health Canada provide a Dietary Reference Intake (DRI) for macronutrients (carbohydrates, protein and fat). This is known as the Acceptable Macronutrient Distribution Range (AMDR).
For protein the following AMDR is recommended for health:
1-3 years of age: 5-20 % of total calories from protein
4-18 years of age: 10-30% of total calories from protein
Adults over the age of 18 years of age: 10-35% of total calories from protein
Pregnant women require approximately 25 grams of additional protein per day during the second and third trimesters (and double this for twins).
Since there are 4 calories per gram of protein this means you can calculate out an approximate range of protein grams needed each day.
As an example, for an adult that consumes 2000 calories per day, this is an amount approximately equal to 50-175 grams of protein each day. If your calorie needs are less, than this range will be smaller. If your calorie needs are higher this range will be larger.
How can I get enough protein as a vegetarian?
Animal sources such as meat, poultry, seafood, eggs and dairy foods supply all nine essential amino acids and are therefore known as complete proteins.
Protein from plant based foods such as legumes, grains, nuts, seeds and vegetables are known as incomplete proteins since they are missing one or more of the essential amino acids our body cannot produce by itself and must get from food.
In the past those following strict vegetarian (vegan) diets used food combining at each meal to make sure they received all the amino acids required to build a complete protein. We now know that this is not necessary and that as long as a wide variety of plant based foods are being supplied throughout the day, a vegan can achieve what they need.
When planning major meals include a food that is rich in protein to help sustain energy and fullness since meals that are mostly carbohydrate often don't provide satiety. If you are vegetarian it is ideal to include a plant based protein source at your major meals AND also likely with snacks. Work with a Registered Dietitian to help ensure you are getting enough.
Also feel free to check out our previous blog post: How to Plan a Healthy Vegetarian Diet
Should I follow a low-carb, high-protein diet if I am trying to lose weight?
There are many ways to achieve your personal best weight. The 'best diet' is the one you can live with for life and ultimately allows for the least restrictions and most flexibility. Our Dietitian team at our practice stands for balanced living and enjoyment of all foods and wouldn't suggest you follow any diet that severely restricts carbohydrates. Diets that severely restrict carbohydrates in time often trigger bingeing and overconsuming these foods and a poor relationship with food.
If you are overweight, reducing calories from foods containing carbohydrates, protein, or fat will create the same level of weight loss over the long run. Simply switching the same amount of calories of carb-rich food to protein-rich food will not affect your weight (except for fluid as noted below).
Don't be fooled by the extra initial weight loss of a low-carbohydrate diet; this indicates you have essentially dehydrated yourself, since carbohydrates store fluid on the body.
Read our previous blog post: Best Way to Lose Weight Healthfully
How much protein do I need to build muscle as an athlete?
The above calculations for protein using the DRI are a good place to begin to assess overall protein needs for everyone. In addition to this it can be useful to also take a look at sports nutrition requirements if you are an athlete.
The Academy of Nutrition and Dietetics, Dietitians of Canada, and the American College of Sports Medicine provided a joint position paper to review nutrition and athletic performance.
The amount of protein athletes require to support health, body repair and sports performance generally ranges from 1.2 – 2.0 grams per kilogram body weight per day. Note this figure is based on a kilogram of body weight (not pound of body weight as this is commonly confused). Higher intakes of protein may be needed for short periods during intensified training or when reducing energy intake.
Using the equation above, here are some examples:
An athlete that weighs 60 kilograms (132 lbs) would need 72-120 grams of protein/day
An athlete that weighs 90 kilograms (198 lbs) would need 108-180 grams of protein/day
The best way to know if you are getting enough protein for your needs is to work with a Sports Dietitian. An experienced Sports Nutritionist can assess your requirement and provide you with customized advice and practical meal planning suggestions to achieve your needs. For more information on sports nutrition counseling services check out our: Dietitian Sports Nutrition Counseling.
In conclusion I'm hoping I've addressed your question 'how much protein do I need?' but if you have another question related to protein that I didn't cover here in this article feel free to let me know in the comments below.
Where can I find more information?
If you are looking for nutrition support on meal planning and healthy snack ideas for work, home and on-the-go we can help. We also provide online nutrition counselling support for health concerns, weight concerns, emotional eating, eating disorders, digestive health issues, diabetes, heart health, fertility, sports nutrition, family meal planning and more from the comfort of your home.
We've been offering virtual online nutritionist support by our Virtual Dietitian team for some time and can hand hold you through the process. You'll be surprised how easy it is to use even if you are not technologically savvy. Read more about our personal nutrition counseling services here: In-person and Online Nutrition Counseling
PS: Don't forget to check with your insurance provider, health spending account or private health services plan and see if you are covered for Registered Dietitian services.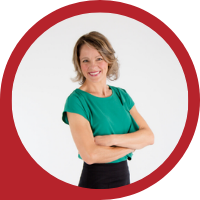 About Andrea Holwegner
CEO, Registered Dietitian, Counseling Practice Director & Professional Speaker
Andrea the «Chocoholic Nutritionist» is founder and CEO of Health Stand Nutrition Consulting Inc. since 2000. She is an online nutrition course creator, professional speaker and regular guest in the media. Andrea is the recipient of an award by the Dietitians of Canada: The Speaking of Food & Healthy Living Award for Excellence in Consumer Education....Read more