Nutrition Challenge – Just Add Pulses
Nutrition Challenge!
Just add pulses (aka chickpeas, lentils, dry peas and beans)
This segment is sponsored by Pulse Canada http://pulses.org
With summer holidays coming to a close and kids getting ready to head back to school, now is the ideal time to refocus our efforts on healthy meal planning routines. Making nutritious choices doesn't have to be complicated or take a long time to prepare. There are plenty of yummy meals that can fuel you and your family on the go. Some of my family's favorite go-to easy meals include pulses (aka chickpeas, lentils, dry peas and beans).
As seen on Global Calgary News, Watch here:
Why do you consider pulses nutritional powerhouses?
Pulses are loaded with plant based proteins, fibre, vitamins and minerals. In fact, most pulses contain up to 9 grams of protein per 1/2 cup cooked serving and deliver high levels of potassium, magnesium, zinc and iron. Pulses are naturally gluten-free, vegetarian and vegan, making them an ideal meal addition for many different palates.
Pulses are also a proud Canadian success story. Canada is the largest exporter of pulses in the world and the largest producer of lentils and peas. They are also budget-friendly and a versatile sustainable food choice.
How do I use pulses?
Pulses are extremely versatile and can be used in many diverse ways. Cook pulses in a big batch and use them a few different ways throughout the week or simply open a can of beans, lentils, chick peas and toss them into a meal.
Here are 7 of my favorite ways to enjoy pulses:
On top of a green salad or in a bean salad
In a Buddha bowl with quinoa or rice, cooked or raw veggies and your favorite vinaigrette or peanut dressing
Added to pastas, soups or on top a pizza
Roasted chickpeas or lentils as a savory crunchy snack
Included in a quesadilla, as a taco filling or lettuce wrap
Hummus as a raw veggie dip or sandwich spread
As the chocoholic dietitian, lentil or black bean brownies are one of my favorite ways to enjoy a moist baked treat
How can I get inspired to learn new ways to eat pulses?
I am challenging Canadians to sign up for the Half-Cup Habit, a free four-week long "challenge" from Pulse Canada that encourages people to eat at least one 1/2 cup serving of cooked pulses 3 times per week.  
Visit www.pulses.org to sign up for the challenge and receive cooking tips, recipe ideas and prizes.
Today, I've prepared three delicious, nutritious quick meals ideas to show how easy it is to add a 1/2-cup serving of pulses to your diet 3 x per week. Just cook up a batch of pulse or open a can, drain and voila!  
Dish 1 featuring beans (Spicy White Bean and Tomato Breakfast Tacos)
Dish 2 featuring chickpeas (BBQ Tortilla Pizzas)
Dish 3 featuring lentils (Crunchy Sea Salt and Thyme Roasted Lentils)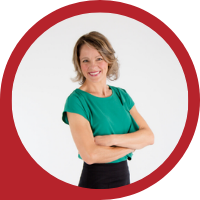 About Andrea Holwegner
CEO, Registered Dietitian, Counseling Practice Director & Professional Speaker
Andrea the «Chocoholic Nutritionist» is founder and CEO of Health Stand Nutrition Consulting Inc. since 2000. She is an online nutrition course creator, professional speaker and regular guest in the media. Andrea is the recipient of an award by the Dietitians of Canada: The Speaking of Food & Healthy Living Award for Excellence in Consumer Education....Read more