Mixed Berry Scones Recipe
Drop scones bursting with fresh berries and a hint of citrus
These healthy mixed berry scones are delicious for a weekend breakfast, with a cup of tea, or for a satisfying after school snack. Make them with your favorite fresh or frozen berry. I like to prepare a tray of them for a friend or neighbour in need of a pick me up, too.  
This recipe was inspired by one I found in a Best of Bridge cookbook.  Makes 8 jumbo or 16 regular sized scones 
What you need
¾ cup buttermilk or plain yogurt 
1 egg  
2 ¾ cups flour  
4 tsp baking powder 
½ tsp baking soda 
½ tsp salt 
½ cup cold butter / margarine 
2 cups fresh or frozen berries of your choice  
½ cup sugar 
Zest of one lemon or orange  
How You Make Mixed Berry Scones 
Preheat oven to 375 degrees 
Beat buttermilk and egg together in a small bowl and set aside 
In a large bowl, combine flour, baking powder, baking soda and salt  
Cut butter / margarine into dry mixture until it has a coarse, pea-sized crumb 
Mix in sugar, berries and citrus zest 
Add buttermilk / egg mixture and mix gently (don't squish the berries!) to form a soft dough 
Form dough into a ball and turn out onto a floured surface  
Pat out into a circle about one inch thick and cut into your desired scone size (8 or 16)  or drop onto baking seet
Place scones on ungreased baking sheet and bake at 375 for 15 – 20 minutes  
Nutritional Information
Per scone (if you make 16 scones)  
140 Calories 
25 Carbohydrates 
3.5 g Protein 
3.1 g Fat. 
1.4 g Fibre 
We hope you enjoy these soft and delicious mixed berry scones. Have you still got any berries left in the freezer to add to them? I plan to use some frozen saskatoons next time I make these – blackberries are also amazing!  
Looking for more simple meal planning tips and healthy recipes for a healthier lifestyle? Sign up for our weekly newsletter for a healthy recipe of the week (and nutrition articles and videos with a balanced living philosophy to help encourage healthy habits but still save room for your favorites). Our nutrition newsletter is written by the Online / Calgary Nutritionists on our team who each hold a professional Registered Dietitian license to ensure you are getting credible advice.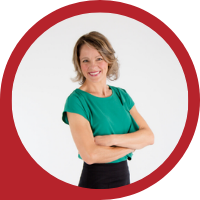 About Andrea Holwegner
CEO, Registered Dietitian, Counseling Practice Director & Professional Speaker
Andrea the «Chocoholic Nutritionist» is founder and CEO of Health Stand Nutrition Consulting Inc. since 2000. She is an online nutrition course creator, professional speaker and regular guest in the media. Andrea is the recipient of an award by the Dietitians of Canada: The Speaking of Food & Healthy Living Award for Excellence in Consumer Education....Read more