Nutrition for Women After 40
Healthy eating for perimenopause & menopause
For women after the age of 40 years of age, the physical and emotional changes due to perimenopause can be a big challenge negatively influencing energy, mood, weight and long-term chronic disease risk. The good news is that slight shifts to your diet can positively help you manage perimenopause and menopause symptoms to help you look and feel your best.
Watch my previous TV segment discussing nutrition challenges for women over 40: https://youtu.be/hMK95Fk6DZs
What are the major issues for women after 40 in perimenopause and menopause?
As hormone levels change in menopause it is common for women to experience:
Lowered energy levels and fatigue
Mood swings (such as depression, anxiety)
Lowered bone density and increased risk of osteoporosis
Increased risk of heart disease
Sleep disruption
Weight gain
What should women eat to help improve their symptoms at menopause?
The top 5 nutrition considerations for women at menopause:
Meals that combine carbohydrates AND protein
A focus on REAL food
Gradually decrease calorie intake
Get enough calcium and vitamin D
Take a vitamin B12 supplement
These 5 nutrition tips for women after 40 and at menopause are described in depth below:
1. Why should meals combine carbohydrates AND protein?
One of the most important aspects of effective energy and mood management is to ensure you balance your meals and snacks with both carbohydrates AND protein. One without the other has a negative impact on your overall energy.
Carbohydrates:
Carbohydrates provide your brain with satisfaction. Not only does your brain run on carbohydrate for energy so does your muscles.
While portion sizes of carbohydrate-rich foods such as grains, starches and sweets are important (since it is common for many people to overeat these items) you do not want a carb free diet.
Following a very low carbohydrate diet that skimps on carbohydrate-rich foods such as grains, legumes, vegetables and fruits can lead to fatigue, depression, anxiety and poor long-term health.
Protein:
Protein provides your stomach with fullness. Protein is also important for muscle and tissue repair and more.
Meals without protein simply do not keep you full and sustained with energy and can lead to frequent hunger and cravings.
Protein is found in foods such as meat, poultry, seafood, eggs, legumes, cheese, milk, yogurt, tofu, nuts, seeds and nut butter.
Make sure to have a source of protein with all your major meals and snacks to feel your best.
2.  What so-called "real foods" are important for women after 40 and at menopause?
The latest research shows that the most important way to sustain long-term health is to think about your overall diet and an emphasis on whole foods rather than simply just focusing on eating less of a single nutrient (such as fat or sugar).
The best protection against heart disease, cancer and osteoporosis is to emphasize whole food (the stuff the grows in the ground, on trees and generally would be recognized by your grandparents as "real" food).
While debates exist about which is the so-called "best diet" for health and weight management, eating more plant-based foods (vegetables and fruits) is always recommended.
Research on women's health also suggests whole grains, legumes, nuts, seafood and olive oil also have health promoting effects for women in menopause.
3. How can women through menopause gradually reduce their calorie intake?
Our metabolism slows with age and in order to maintain the current weight you are at you will need to exercise more or reduce your overall calorie intake. This is indeed tough to do since we become conditioned to eat a certain amount throughout our lifespan but will inevitably need to adjust our calorie intake down as we age.
3 ways to reduce calories are to consider:
Are there changes I can make to the TYPE of food that I eat?
Are there changes I can make to the AMOUNT of food that I eat?
Are there changes I can make about WHY I am eating?
Work with an experienced Registered Dietitian that specializes in customized weight loss nutrition counselling, emotional eating and behavior modification to help you sort out the right balance of what, when, why and how much to eat.
Avoid extreme or restrictive low-calorie diets as these will increase stress on your body and worsen menopause symptoms such as lowering energy, mood, bone density and sleep quality.
4.  How much calcium and vitamin D is enough for women at menopause?
Adequate calcium and vitamin D is essential to prevent bone loss. Many women do not get enough calcium and vitamin D. This increases the risk for osteoporosis, colon cancer and high blood pressure.
Calcium
Women over 50 require 1200 mg of calcium per day.
Without at least three servings of calcium-rich foods each day, you are unlikely to get enough calcium from food alone and will need calcium supplements.
Examples of calcium-rich servings are one cup of milk or fortified soy, rice or almond milk, ¾ cup of yogurt, or 1½ ounces of cheese.
Vitamin D
Vitamin D is critical to bone health, cancer prevention and more.
Some foods such milk and fatty fish contain vitamin D but taking a supplement is recommended.
Health Canada recommends that all adults up to age 70 get 600 IU each day from food and supplements. 800 IU per day is advised for those over 70. Some health groups suggest an even higher level of vitamin D may be helpful. Speak to your doctor or dietitian about what is best for you.
5. Why is a vitamin B12 supplement important for women at menopause?
Vitamin B12 is important for brain and nerve health along with making red blood cells.
As we age our ability to absorb vitamin B12 declines.
Vitamin B12 is found only in animal-based foods like eggs, dairy, meat, seafood and poultry, and some fortified foods like soy milk and soy-based meat substitutes.
Health Canada advises that adults over 50 years consume foods fortified with vitamin B12 or a supplement containing it.
Menopausal women need 2.4 mcg of vitamin B12 per day for health (often the amount found in an age-appropriate multivitamin).
Be sure to have your doctor check the B12 levels in your blood.
What about other dietary supplements for women after 40 and during menopause?
While there are many dietary supplements and herbs promoted for menopause symptoms, not all are beneficial and some may be harmful or interact with medications you are taking. Be wary of the conflict of interest that exists by so-called "nutrition experts" that are not only providing advice but also sell the product they are promoting. Work with a Registered Dietitian that specializes in dietary supplement education and learn the pros and cons for yourself.
Where can I find out more information on nutrition for women after 40 and eating advice for perimenopause and menopause ?
Check out some of these nutrition articles on our website:
How to Navigate Emotional Eating
Dietitian Answers to Your Top Weight Loss Questions
The Reasons You've Hit a Weight Loss Plateau
What is the Best Diet to Follow?
Our Calgary Nutritionist / Dietitian support for Women after 40
If you are seeking support for menopause, weight loss, emotional eating and finding an eating style that doesn't expect you to be perfect and can work for your life, here are some ways we can help support you:
Join the waiting list for our next Online Nutrition Course The Pursuit of Healthiness.
Contact us to learn more about booking private one-on-one nutrition counseling in-person at our Calgary office or by virtual video conferencing with one of the weight loss Nutritionists / Dietitians on our team.
Our menopause and weight loss Nutritionist Calgary / Dietitian services is designed to help you eat well and still have a life.  While we can't guarantee weight loss (no one can!) we can guarantee we will do everything we can to help you move towards your personal best weight and a sustainable lifestyle. You won't find any weird fad diets, unnecessary food restrictions and anyone trying to sell you shakes, supplements or so-called miracle cures here. As university trained Registered Nutritionists / Dietitians, you can count on us for credible advice and practical meal planning so you don't have to stress about food anymore. You can achieve a healthy and joyous relationship with food and your body. Let's talk about what this can look like for you. CONTACT US.
As Registered Nutritionists / Dietitians that specialize in women's health, weight concerns and emotional eating we can see you in our local Calgary Nutritionist office or as an Online Dietitian by phone or video conferencing for virtual nutrition counseling. Read more about our nutrition counseling programs and book an appointment by our experienced Registered Nutritionist / Dietitian team here: NUTRITION COUNSELING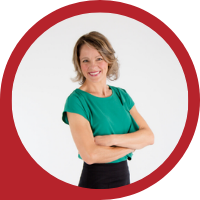 About Andrea Holwegner
CEO, Registered Dietitian, Counseling Practice Director & Professional Speaker
Andrea the «Chocoholic Nutritionist» is founder and CEO of Health Stand Nutrition Consulting Inc. since 2000. She is an online nutrition course creator, professional speaker and regular guest in the media. Andrea is the recipient of an award by the Dietitians of Canada: The Speaking of Food & Healthy Living Award for Excellence in Consumer Education....Read more