Easy Sauteed Zucchni Parmesan Recipe
Zucchini rounds with parmesan makes a satisfying side dish
Looking for a healthy simple side dish your whole family will eat? Try this tasty sauteed zucchini parmesan dish anytime of the year. It will convert anyone that doesn't love zucchini yet into a raving fan since, after all, adding zesty parmesan cheese makes everything better!
Recipe from www.wellplated.com
Makes 6 servings
What you need:
1 tablespoon olive oil
2 tablespoons butter
1 medium yellow onion thinly sliced
4 medium zucchini or yellow summer squash, or a mix (about 2 pounds), ends trimmed and cut into 1/2-inch-thick rounds
1/2 teaspoon kosher salt
1/4 teaspoon black pepper
1/2 teaspoon dried thyme
1/4 cup freshly grated Parmesan cheese
How you make to make Sauteed Zucchini with Parmesan
Heat the olive oil and 1 tablespoon butter in a large nonstick skillet over medium-low heat. Cook gently until the onions begin to brown, about 10 to 11 minutes. Add the zucchini, salt, pepper, thyme, and remaining butter.
Increase heat to medium. Continue to cook, stirring occasionally, until the zucchini is just cooked through and beginning to brown, about 10 to 15 minutes. Sprinkle with Parmesan. Enjoy immediately.
Tips:
TO STORE: Store leftovers in the refrigerator for 2 to 3 days.
TO REHEAT: Reheat in a nonstick skillet over medium to medium-high heat, spreading the slices in a single layer and crisping them up on both sides.
Nutritional Information
94 Calories
6 Carbohydrates
3 g Protein
5 g Fat.
2 g Fibre
Now that you have your family raving about zucchini after trying this amazing sauteed parmesan zucchini, try one of these other popular zucchini recipes:
Looking for more simple meal planning tips and healthy recipes for a healthier lifestyle? Sign up for our weekly newsletter for a healthy recipe of the week (and nutrition articles and videos with a balanced living philosophy to help encourage healthy habits but still save room for your favorites). Our nutrition newsletter is written by the Online / Calgary Nutritionists on our team who each hold a professional Registered Dietitian license to ensure you are getting credible advice.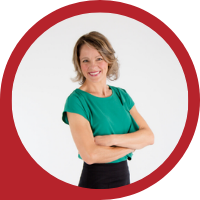 About Andrea Holwegner
CEO, Registered Dietitian, Counseling Practice Director & Professional Speaker
Andrea the «Chocolate Loving Nutritionist» is founder and CEO of Health Stand Nutrition Consulting Inc. since 2000. She is an online nutrition course creator, professional speaker and regular guest in the media. Andrea is the recipient of an award by the Dietitians of Canada: The Speaking of Food & Healthy Living Award for Excellence in Consumer Education....Read more