High-Protein Scrambled Eggs & Cottage Cheese
These simple, delicious, and

protein

-packed

scramble

d eggs

make

the perfect breakfast any day of the week!
Written by Naomi Kereliuk, Acadia University Student in the Nutrition and Dietetics program and reviewed by our Health Stand Nutrition Dietitian Team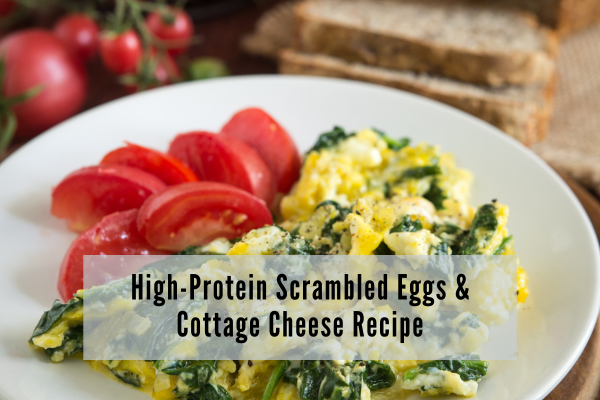 Looking to add more protein to your breakfast? Look no further with this delicious and protein-packed scrambled eggs recipe and cottage cheese! While scrambled eggs are a beloved classic, adding a half cup of creamy cottage cheese takes this dish to the next level, adding extra nutrients and flavour. Packed with protein, these scrambled eggs will keep you feeling satisfied all morning. Plus, with the option to customize your scrambled eggs with your favourite veggies like tomatoes or spinach, you can make this dish extra nutritious and delicious!
Makes 1 serving
What You Need:
2-3 Eggs

 

½ cup Cottage cheese (1% or 2%)

 

1 tbsp Vegetable oil or butter 

 

½ cup of your favourite vegetables (tomatoes, spinach, mushrooms, onions etc.)

 
How to Make High-Protein Scrambled Eggs Recipe With Cottage Cheese:
Heat up a pan to medium heat and add 1 tbsp of oil or butter to the pan until warm.

 

Add your favourite vegetables to the pan and sauté for 3-4 minutes until soft. 

 

Add your eggs into the pan with the vegetables and stir often to cook the eggs for 2-3 minutes.

 

Add the cottage cheese to the scramble and cook all together for another 3-4 minutes or until the eggs appear cooked.

 

Season with salt and pepper

,

and/or your favourite hot sauce and serve right away.

 
If you tried this recipe, feel free to comment below your thoughts, and make sure to follow us on Instagram at @HealthStandNutrition. Don't miss out on more simple and delicious breakfast recipes on our blog. Scroll down to see more!
Looking for more practical meal planning tips and simple, dietitian-approved recipes?
Sign up for our FREE weekly e-newsletter: Sound Bites. Get practical nutrition tips, articles, videos, and simple recipes written by our team of Registered Dietitians so you can be sure to get the credible sound bites you need for everyday healthy living.
Find out why over 10,000 people subscribe to one of our richest resources! Subscribe below today.

Brought to you by our friendly Registered Dietitian team at Health Stand Nutrition Consulting Inc. For more balanced living advice check out our RESOURCE MEGA BANK of nutrition articles, videos, healthy recipes, newsletters and meal planning kits here: www.healthstandnutrition.com/personal-nutrition/resource-mega-bank/