Simple Vegetable Frittata Recipe
The perfect go-to meal for any time of the day
This blog post is sponsored by Get Cracking.
It's no secret that I love simple recipes that are packed with nutrition, and this vegetable frittata recipe fits the bill!
In this blog post, I'll walk you through how to make a delicious vegetable frittata recipe. 
I'll also be sharing some of the nutritional benefits of eggs, and how they fit into a healthy diet for people with diabetes. 
4 servings 
Eggs in general and frittatas are one of my favorite go-to weekday meals when I'm time strapped and need food on the table quickly for my family. Despite sounding fancy, frittatas are actually incredibly easy to make. This recipe requires only a few common ingredients but makes good use of whatever ingredients or vegetables you have on hand. 
Speaking of vegetables, frittatas are a great way to sneak more into your diet. From red peppers to mushrooms, to frozen peas – the possibilities are endless! Similarly, with cheese you can get creative as well. Cheddar, mozzarella, fresh grated parmesan, ricotta, whichever cheese you can find in your fridge can work! 
Nutritional Benefits of Eggs and for People with Diabetes
As you may have heard before, eggs are a great source of protein. Protein is key for our body to build and maintain muscle, and to keep our immune system healthy. Protein is also ESPECIALLY important for people with diabetes. Eggs can balance blood sugar levels and help improve blood glucose control. Aside from protein, eggs also are low in carbohydrate and are rich with nutrients like vitamin A, D, E, folate, iron and zinc 
 If you or a family member has type 2 diabetes, you can enjoy eggs as part of a nutritious diet.  
What You Need
Vegetable Frittata Ingredients 
8 eggs

 

½ cup of milk (or water)

 

2 cups chopped vegetables 

 

½ cup of shredded cheese

 

Pepper and salt to taste

 

Fresh or dried herbs to taste (optional)

 
How to Make This Vegetable Frittata Recipe
(Optional) Set your oven to 'Broil'

 

Crack 8 eggs into a bowl and whisk them together with ½ cup milk.  Add your salt, pepper and dried/fresh herbs if using. To keep the texture of your frittata fluffy just loosely whisk the eggs together.

 

Gather and chop your vegetables. While doing so, heat

 

a cast iron skillet or a non-stick oven-safe frying pan over medium heat.  

 

Oil your pan and sauté red peppers and green onions to bring out the sweetness and flavor.  Then add the spinach and stir until wilted.

 

Pour in the egg mixture into your skillet and as eggs set around the edge of the skillet, use a spatula to gently lift cooked portions and allow uncooked egg to flow underneath.

 

As it is cooking, grate your cheese.

 

Once the bottom is set and top almost set, sprinkle cheese on top. Place skillet under preheated broiler for 2-3 minutes to melt the cheese and puff up frittata. If you prefer you can also instead cover with a lid and cook for a few more minutes on the stovetop instead of on broil.

 

Serve your frittata! I often like to serve frittata with some tossed greens for example, pea shoots with cherry tomatoes drizzled with vinaigrette.
And there you have it! An easy, delicious, and nutritious frittata recipe. As I mentioned before, this recipe is great if you are home late, the family is hangry, and you need a quick meal. You might also want to pack the leftovers for lunch or enjoy this as a weekend brunch. 
What are your favorite toppings to add to your frittata? Comment below and make sure to tag me and Get Cracking on our socials. 
Nutrients per serving
Using whole milk, red peppers, green onions, fresh spinach, and cheddar cheese. 
236 Calories
16.7 g Protein 
6 g Carbohydrate 
16 g Fat 
1 g Fibre 
If you enjoyed this blog post, check out these previous articles on our blog!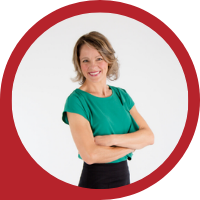 About Andrea Holwegner
CEO, Registered Dietitian, Counseling Practice Director & Professional Speaker
Andrea the «Chocolate Loving Nutritionist» is founder and CEO of Health Stand Nutrition Consulting Inc. since 2000. She is an online nutrition course creator, professional speaker and regular guest in the media. Andrea is the recipient of an award by the Dietitians of Canada: The Speaking of Food & Healthy Living Award for Excellence in Consumer Education....Read more