Strawberry Suggestions
Suggestions for enjoying strawberries + recipes
Fresh strawberries are delicious and are easy to enjoy just washed, and hulls removed. Here are a few suggestions for adding them to dishes.
Enjoy fresh sliced strawberries on top of oatmeal along with slivered almonds and a drizzle of maple syrup.
Add sliced fresh strawberries to a spinach salad with thinly sliced red onion, feta cheese and balsamic vinaigrette.
Build a lower calorie banana split slicing a banana lengthwise and placing on the bottom of your bowl, adding a few spoons of chocolate ice cream or frozen yogurt and top with sliced fresh strawberries.
Make a strawberry avocado salsa – recipe here: Strawberry Avocado Salsa
Spiced Chia Pudding
And try this recipe from the Dieitians of Canada, Cookspiration App. Nutritious and satisfying—make this delicious, super-easy pudding the night before to enjoy the next day. Makes 7 servings
What you need:
2 cups 1% milk        
3 tbsp honey           
1/8 tsp ground ginger       
1/8 tsp ground cardamom
1/4 tsp vanilla extract        
1/4 tsp ground cinnamon 
1/3 cup black or white chia seeds
1/3 cup 1% vanilla yogurt
1/2 cup strawberries or other fresh fruit of the season
How to make:
In a saucepan, heat milk, honey, vanilla and spices over medium heat until milk is steaming. Transfer mixture to a bowl and let sit for 10 minutes. Stir in chia seeds. Refrigerate 12 hours or more.
Mix in yogurt. Divide three quarters of the strawberries into seven glass bowls. Scoop equal amounts of the chia pudding into each. Top with the remaining strawberries.
Per serving:
Calories – 108
Fat – 3 g
Carbohydrates – 17 g
Fibre – 3 g
Protein – 4 g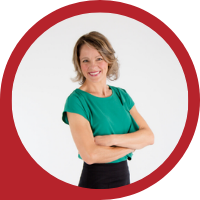 About Andrea Holwegner
CEO, Registered Dietitian, Counseling Practice Director & Professional Speaker
Andrea the «Chocolate Loving Nutritionist» is founder and CEO of Health Stand Nutrition Consulting Inc. since 2000. She is an online nutrition course creator, professional speaker and regular guest in the media. Andrea is the recipient of an award by the Dietitians of Canada: The Speaking of Food & Healthy Living Award for Excellence in Consumer Education....Read more