Tackling Weight Gain, Cravings, and Emotional Eating at Menopause
Navigating Nutritional Challenges in Menopause
This segment is sponsored by my client The California Dried Plum Board
In our practice, navigating weight gain, food cravings and emotional eating are a few of the most talked about struggles for menopausal women. While there may be a shift in body composition at menopause due to a more central or upper body fat distribution, the majority of changes in weight have a lot to do with the natural decline of muscle mass experienced with age. As muscle mass declines, so does our metabolism and how much food our body requires. At menopause sleep disturbances, lowered energy levels, and emotional roller-coaster mood changes can trigger overeating, more food cravings and emotional eating. All of these factors couple to make weight management throughout menopause challenging. The best way to navigate some of these challenges from an eating perspective is to be mindful of what you are eating, how much you are eating, the way you are eating and why you are eating.
What you are eating
Keep a food journal for a week and take a look at your overall food choices. Without judgment, take an honest look at where extra calories might be sneaking in due to poor planning, skipping food and getting too hungry, which can lead to overeating. 
Do you need to increase your consumption of fruits and vegetables?
Do you need to stop eating foods mindlessly from the pantry that are not on a plate?
Do you need to drink more fluids to prevent eating when you were actually just thirsty?
How much you are eating 
If you currently eat quite well then perhaps the biggest way to reduce your calories is to keep your food choices the same but work on shrinking down your portion size habits:
Are you truly hungry between breakfast and lunch or are you snacking out of habit?
Check in to see how you feel having one toast and one egg with fruit instead of double this amount at breakfast.
Determine if having three ounces of meat, fish or poultry would suffice with half a cup rice instead of slightly larger portions of these at supper. Fill up your plate (and your eyes with more veggies).
The way you are eating
While sometimes there is no substitute for chocolate chip cookies or ice cream, sometimes a sweet craving can be satisfied by a healthy choice which is a win-win for your wellness. 
Could a baked apple or pear with cinnamon, pecans and crunchy bran cereal with psyllium cereal satisfy a dessert craving? This would be an energizing make ahead breakfast after a sleepless night that also contains plenty of soluble fibre beneficial for heart health. 
Would snacking on five naturally sweet prunes with about 100 calories curb a candy craving while also improving your digestion? This amount has also been shown in research to slow bone loss in post-menopausal women. 
Could a smoothie made with chocolate almond milk, banana and ice do the trick to curb a chocolate craving and also supply necessary vitamins and minerals such as calcium, vitamin D and potassium?
Why you are eating
One of the most challenging parts of navigating eating at menopause is emotional eating triggered not only by hormone changes but by personal, work and family life changes which are often significant at this stage.
Am I eating enough food and do I have enough fun and flexibility in my diet so I don't feel deprived and unsatisfied?
If I am eating because I am sad, mad, worried or angry, could I come up with a game plan for next time (such as take a bath, call a friend or head out for a walk) to help nourish myself without food?
Could I seek support from a trusted friend, group or health professional such as a registered psychologist and registered dietitian who specializes in emotional eating?
Try these Rite Bites
This energy ball recipe courtesy of www.californiadriedplums.org is the perfect nutty, soft and chewy healthy snack.
Ingredients:
2 cups crispy rice cereal
1 1/2 cups rolled oats
1 cup slivered almonds
1 cup California dried plum bits (diced prunes)
1 cup mini dark chocolate chips
1 cup almond butter
2/3 cup honey
1⁄2 teaspoon cinnamon
1⁄2 teaspoon grated orange peel
Directions:
Combine cereal, oats, almonds, dried plum bits, chocolate chips, and in a large bowl; mix well
In a microwave-safe bowl, stir together almond butter, honey, cinnamon and orange peel. Microwave on HIGH for 90 seconds or until bubbling. Stir well and add to dry ingredients, mixing until well blended.
Shape into 1-inch balls and place on a baking sheet or shape for ice trays. Chill for at least one hour, then store in the refrigerator or freezer to keep firm.
Calgary dietitian Andrea 

Holwegner

, "the chocoholic nutritionist," is a corporate wellness expert and motivational speaker specializing in workplace health, stress and productivity. Contact her at healthstandnutrition.com or call her at 403-262-3466.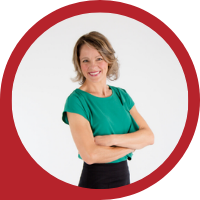 About Andrea Holwegner
CEO, Registered Dietitian, Counseling Practice Director & Professional Speaker
Andrea the «Chocoholic Nutritionist» is founder and CEO of Health Stand Nutrition Consulting Inc. since 2000. She is an online nutrition course creator, professional speaker and regular guest in the media. Andrea is the recipient of an award by the Dietitians of Canada: The Speaking of Food & Healthy Living Award for Excellence in Consumer Education....Read more