Whole Wheat Crepes
Add your favorite filling to these delicious and nutritious crepes!
Makes 10 small crepes
Whole Wheat Crepe:
1 cup milk
3/4 cup whole wheat flour
2 eggs
1 tbsp sugar (optional)
Apple Cheddar Filling:
6 oz sharp cheddar, grated
2 green apples, peeled and thinly sliced
2 tablespoon brown sugar
1 teaspoon cinnamon
2 tablespoon butter
Maple Yogurt and Fruit Filling:
1.5 cups plain low-fat yogurt
4 tbsp maple syrup
3 cups of your favorite fruit cut in small pieces (eg. Blueberries, raspberries, kiwis, bananas,strawberries)
How to prepare:
Whole Wheat Crepes: Blend the milk and eggs until well mixed, but stopping short of creating foam. Add flour, sugar (if desired) and mix together. The batter should be quite thin. Add more milk as necessary. Heat a lightly-greased medium skillet or crepe pan over medium heat. The pan is ready when a drop of water dropped in the pan dances on the surface. For each crepe, use 3 tablespoons of batter. Immediately swirl the pan gently to distribute the batter in a very thin layer. Cook the crepe until the surface appears dry – about one minute. Stack completed crepes on a plate with wax paper between each crepe to prevent sticking. To keep for later use, wrap with waxed paper and freeze.
Maple Yogurt and Fruit Filling: Combine yogurt and maple syrup and blend evenly. When crepes are ready, pour into centre of crepe and then sprinkle fruit on top. Fold crepe and enjoy!
Per serving:
Whole Wheat Crepe:
Calories 62
Carbohydrate 9g
Protein 3.3g
Fat 1.6g
Fiber 1.1 g
Apple Cheddar Filling:
Calories 116
Carbohydrate 7.3g
Protein 4.3g
Fat 8g
Fiber 0.6 g
Maple Yogurt and Fruit Filling:
Calories 62
Carbohydrate 14.4g
Protein 2.1g
Fat 0.1g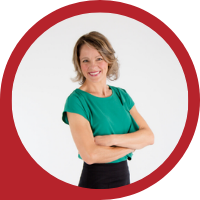 About Andrea Holwegner
CEO, Registered Dietitian, Counseling Practice Director & Professional Speaker
Andrea the «Chocoholic Nutritionist» is founder and CEO of Health Stand Nutrition Consulting Inc. since 2000. She is an online nutrition course creator, professional speaker and regular guest in the media. Andrea is the recipient of an award by the Dietitians of Canada: The Speaking of Food & Healthy Living Award for Excellence in Consumer Education....Read more