Mexican Black Bean Breakfast Bake
Serve this mexican breakfast casserole on its own, or wrap it in a tortilla for breakfast on the go!
Makes 8 servings
This delicious make-ahead Mexican Breakfast Casserole is a vegetarian twist on the traditional Christmas Morning "Wifesaver" breakfast and incorporates black beans and roasted red peppers. It can also make a quick and healthy Meatless Monday supper with leftovers for lunch. Provide salsa, guacamole and sour cream on the side. Leftovers can be wrapped in tortillas and either frozen or eaten during the week.
What You Need:
3 cups frozen hash browns
1 cup frozen corn
1 can black beans, rinsed
1 jar roasted red peppers, diced (370 mL)
1 small onion, diced and sauteed
2 1/2 cups shredded cheese (we used mozzarella)
8 eggs
1 1/4 cup milk
1 tsp garlic powder
1/4 tsp cayenne pepper
Cilantro to garnish (optional)
How You Prepare Mexican Breakfast Casserole
Combine hash browns, corn, beans, peppers and sauteed onion in a greased 9 x 13 inch baking dish. Sprinke shredded cheese over the top. In a bowl, whisk together eggs, milk, garlic powder and cayenne. Pour over hashbrown mixture.
Cover and refrigerate overnight.
Bake uncovered at 350F for approximately 1 hour, or until a knife inserted in the center comes out clean.
Let stand 5 minutes before serving.

Nutritional Information
366 Calories
28.5 g Carbohydrates
20 g Protein
20 g Fat.
2.6 g Fibre
We hope you enjoy this Mexican Breakfast Bake Recipe! Let us know in the comments if you decide to give this a try.
Looking for more simple meal planning tips and healthy recipes for a healthier lifestyle? Sign up for our weekly newsletter for a healthy recipe of the week (and nutrition articles and videos with a balanced living philosophy to help encourage healthy habits but still save room for your favorites). Our nutrition newsletter is written by the Online / Calgary Nutritionists on our team who each hold a professional Registered Dietitian license to ensure you are getting credible advice.
Sign-up for our free weekly nutrition newsletter: Nutrition Newsletter by our Calgary Nutritionist / Online Dietitian team.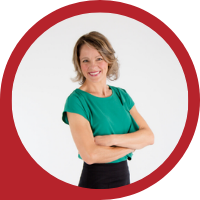 About Andrea Holwegner
CEO, Registered Dietitian, Counseling Practice Director & Professional Speaker
Andrea the «Chocoholic Nutritionist» is founder and CEO of Health Stand Nutrition Consulting Inc. since 2000. She is an online nutrition course creator, professional speaker and regular guest in the media. Andrea is the recipient of an award by the Dietitians of Canada: The Speaking of Food & Healthy Living Award for Excellence in Consumer Education....Read more