Pear Walnut Blue Cheese Salad with Spinach
Try this Summer Spinach Salad, with Grilled Chicken or Steak
Spinach salads are great year round and you can change up the toppings to match the seasons. This summer version for a pear walnut and blue cheese salad with baby spinach needs no dressing as the cheese and walnuts provide richness, and the lightly candied pears add a big flavor boost. This simple recipe is also high in iron and folate.  Serve along with grilled chicken or steak for a complete, decadent meal.  If you don't have pears feel free to use whatever seasonal fruit you have instead.
Makes 6 Servings
What you need:
6 cups baby spinach leaves
½ cup chopped walnuts
2 pears
¼ cup crumbled blue cheese
2 tsp vanilla
2 tsp sugar (optional)
¼ cup water
How you prepare Pear Walnut and Blue Cheese Salad with Spinach
Peel the skin off the pears and cut into ¼ inch slices.
Heat saucepan to a medium heat.
Place the sliced pears in the pan along with vanilla, water and sugar.
While pears are cooking, place spinach leaves in a large bowl.
Sprinkle the walnuts and crumbled blue cheese over the spinach.
When pears are soft (approximately 3-5 minutes), place them on top of the spinach.
Serve immediately.
Nutrients Per serving:
Calories 123
Carbohydrates 12.9 g
Protein 5.3 g
Fat 6.4 g
Dietary Fiber 3.4 g
We hope you enjoy this recipe for Pear Walnut and Blue Cheese Salad with Spinach! Give these other great spinach salad recipes a try:
Looking for more simple meal planning tips and healthy recipes for a healthier lifestyle? Sign up for our weekly newsletter for a healthy recipe of the week (and nutrition articles and videos with a balanced living philosophy to help encourage healthy habits but still save room for your favorites). Our nutrition newsletter is written by the Online / Calgary Nutritionists on our team who each hold a professional Registered Dietitian license to ensure you are getting credible advice.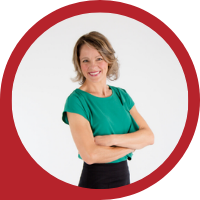 About Andrea Holwegner
CEO, Registered Dietitian, Counseling Practice Director & Professional Speaker
Andrea the «Chocolate Loving Nutritionist» is founder and CEO of Health Stand Nutrition Consulting Inc. since 2000. She is an online nutrition course creator, professional speaker and regular guest in the media. Andrea is the recipient of an award by the Dietitians of Canada: The Speaking of Food & Healthy Living Award for Excellence in Consumer Education....Read more