Dietitian Recommended High Protein Breakfast Ideas!
Fuel your work and school day with these protein-powered breakfasts
By Calgary Dietitian / Online Nutritionist Andrea Holwegner

This blog post is sponsored by my client The Peanut Bureau of Canada
I bet you intuitively know that breakfast is an essential part of fueling good energy and productivity at work.  If you are struggling with overeating later in the day, you should ask yourself
You may have also heard that research shows a balanced breakfast can help kids at school.  Healthy morning meals can improve behavior, mood and overall academic performance in children.
But what type of breakfast is speedy, healthy and can fuel a busy day ahead?  What does a Calgary Dietitian / Online Nutritionist fuel her family with in the morning?  Read on to find out the answer to this and other common breakfast questions.
How soon should I eat breakfast (especially if I am not really hungry)?
How soon you eat your breakfast will depend on where you are currently starting from:
In a best-case scenario, aim to eat your breakfast within about an hour or so of waking up.
If you have been a breakfast skipper your entire life then start with a bite sized change. Aim to begin having breakfast at the first available time you can wrap your head around eating something.  I am willing to bet that you can find a window before lunch that could work for you.
What does a balanced breakfast look like?
Your brain needs carbohydrates for thinking, concentrating and elevating your energy.   Carbohydrates are also the "gasoline" to fuel working muscles.  Protein-rich foods are important to help sustain fullness and provide longer lasting energy and productivity.
A simple way to think about breakfast is to ensure you have the following three components:
Grains/starchessuch as whole-grain toast, pancakes, high-fibre breakfast cereal, oatmeal or leftover pasta, rice or other grains from supper.
Fruits/vegetablessuch as fresh fruit, canned unsweetened fruit, dried fruit, frozen fruit or even raw or cooked veggies if you prefer.
A source of protein,such as peanut butter, eggs, cheese, cottage cheese, yogurt, milk, soy milk, nuts/seeds, protein powder, tofu, meat, poultry or seafood.
What is a common breakfast mistake you see often?
One of the most common breakfast issues is grabbing a meal that contains mostly carbohydrate but failing to have a good source of protein included in your breakfast.
A meal such as oatmeal and berries or avocado toast is a good start, but without a protein-rich food added the meal will not sustain you.  Meals that contain primarily carbohydrates won't keep you full for much longer than an hour or two. You will feel like your energy levels are on a rollercoaster ride of highs and lows.
Protein-rich foods such as adding a handful of roasted peanuts, egg(s) or some cheese will provide you with longer satiety and energy. You will feel like your energy levels are a solid (more like a train ride rather than a rollercoaster ride).
What are some protein packed breakfast ideas for work or school days?
WATCH the Global TV Segment on Protein Powered Breakfast Ideas:
PBJ Overnight Oats
In a glass mason jar or single serving bowl stir together 1/2 cup rolled oats, 3/4 cup milk/dairy-free beverage and 1-2 tbsp peanut butter and a spoon of raspberry or strawberry jam.  Layer sliced fresh raspberries or strawberries and top with crushed or whole peanuts.  Make ahead a few of these at a time for a make-and-take option on the go.
Freezer French Toast with Banana "Sushi"
On the weekend or as a "breakfast for supper" theme make a big-batch of French toast and place in the freezer to reheat for a fast morning breakfast grab.
To balance the meal, make banana "sushi" which is fun for both adults and kids. To make spread peanut butter (or a mix of yogurt mixed with peanut butter which I like to call "yo-nut" dip) on a banana and roll in coconut and/or rice crisp cereal. Slice into pieces and enjoy!
Protein Punch Oatmeal
When you are cooking your oatmeal or steel cut oats on the stove add a protein punch to your oatmeal by adding one of the following items:
Hemp hearts
Powdered peanut butter (or fresh peanut butter)
Raw egg(s) that have been whisked – continue cooking oatmeal until eggs are done
To create a balanced meal be sure to add fruit to your oatmeal.  Try adding diced apples and raisins or frozen blueberries while cooking. Alternatively top with fresh berries.
What make-ahead recipe works great as a make-and-take option for the car or transit?
 Roasted Chickpea and Peanut Snack Mix
Try this protein-packed snack mix from my client the Peanut Bureau of Canada!
The crunchy roasted chickpeas and peanuts makes the perfect breakfast-on-the-go option. The flavourful spices, seeds, maple syrup and dried fruit make it a delicious grab-and-go energy boost. More great recipes can be found at www.peanutbureau.ca.
Roasting time: 35 minutes Makes: 2 1⁄2 cups (675 mL)
1 can chickpeas, drained and rinsed (14 oz/398 mL)
1 tbsp (15 mL) peanut oil, divided
1⁄4 tsp (1 mL) each salt and cayenne
1 cup (250 mL) peanuts
1 tbsp (15 mL) maple syrup
1tsp (5mL) brown sugar
1⁄2 tsp (2 mL) each cinnamon and ginger
1⁄4 tsp(1mL) nutmeg
3 tbsp (45 mL) each slivered dried apricots and raisins (or more if you are serving for breakfast!)
Preheat oven to 375°F (190°C). Rub chickpeas with paper towels to dry, discarding any peels that comes off chickpeas. Turn onto parchment-lined baking sheet. Toss with 1 tsp (5 mL) oil, salt and cayenne. Roast in preheated oven 25 minutes, shaking pan occasionally.
Meanwhile, stir peanuts with remaining 2 tsp (10 mL) oil, maple syrup, brown sugar and spices, until well coated. After chickpeas have been in the oven 25 minutes, move to one side of baking sheet. In a single layer, add peanut mixture to the other side. Roast 10 more minutes, until chickpeas are a deep golden brown and crispy. Cool completely. Toss with apricots and raisins. Store in an airtight container for 1 to 2 days.
Per serving (1⁄4 cup/60 mL, about 1/10 of recipe): 160 calories, 9 g fat (1.5 g saturated fat, 0 g trans fat), 0 mg cholesterol, 95 mg sodium, 15 g carbohydrate, 3 g fibre, 6 g sugars, 5 g protein
Hope you enjoyed these high protein breakfast ideas!
If you are seeking support to help to make meal planning simple if you are cooking for one, don't want to spend oodles of time in the kitchen or find yourself eating out often, we can help. We specialize in health without guilt or complexity. Our Calgary Dietitian team can work with you in person at our Calgary office or online through our virtual private and secure video conferencing services. Contact Us.
For more information about our Calgary Dietitian / Online Nutritionist services by our experienced nutrition counseling team visit: NUTRITION COUNSELING.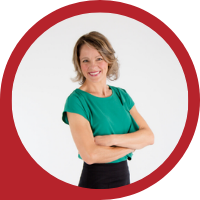 About Andrea Holwegner
CEO, Registered Dietitian, Counseling Practice Director & Professional Speaker
Andrea the «Chocolate Loving Nutritionist» is founder and CEO of Health Stand Nutrition Consulting Inc. since 2000. She is an online nutrition course creator, professional speaker and regular guest in the media. Andrea is the recipient of an award by the Dietitians of Canada: The Speaking of Food & Healthy Living Award for Excellence in Consumer Education....Read more