Workplace Wellness Dietitian Tips: Lunch Packing Hacking
3 Strategies if you suck at packing lunch for work from a workplace wellness Dietitian
By Andrea Holwegner RD, CEO Workplace Wellness Dietitian, Professional Speaker and Online Course Creator and Facilitator
Running out the door in a rush without a lunch?
Packed your kids a healthy lunch but neglected to take time to pack one for yourself?
Disappointed or unsatisfied with the boring lunch you eat at your desk?
Skipping lunch often or grabbing unhealthy options when you are eating out at work?
October is Healthy Workplace Month and that means I'm going to nudge you to think about healthier habits when you are at work. While of course breakfast is key and so is healthy snack options to fuel productivity, this article is going to focus on your mid-day meal at lunch.
I've got good news for you. Even if you suck at lunch packing, are limited on time or don't consider yourself a gourmet cook, there are some strategies that can help.
Why should I care about packing a healthy lunch?
Lunch is tied with breakfast as the most important meal of the day!
A nutritious lunch is critical to keep blood sugar levels constant which helps improve energy, focus, mood and creative thinking.
As adults we are just like kids. Schools and teachers see a direct link to how nutrition (or a lack of nutrition) can drastically influence a kid's ability to concentrate, learn and behave. Kids that have poorly balanced meals or simply just don't eat enough at lunch are more likely to be cranky (aka hangry).
Similar to kids, adults in the workplace require lunch so they can play nicely together as a team. A healthy balanced lunch will ensure your brain has the vital energy it needs for critical thinking, healthy mood management, stress management and overall productivity.
With so much emphasis on workplace productivity hacks that utilize technology and project management systems, I'm amazed that nutrition (the single most basic and fundamental part of fueling productivity) is overlooked. If you and your colleagues at work are not fueling your body with good nutrition, no amount of whiz bang technological solutions will help productivity, what your brain needs is food.
WATCH my Workplace Wellness Dietitian Interview from Global Morning Calgary News:
What are the components of a healthy lunch?
A healthy balanced lunch should contain 3 components:
Grains/starches:
Bread, pita, wraps, crackers, homemade muffins, pasta, potato, rice, quinoa or other grains.
These offer fibre, B-vitamins and carbohydrate needed for your brain and muscles for energy.
Failing to add enough carbohydrate in your lunch leads to poor productivity, fatigue, inability to concentrate and sleepiness in the middle of your work day. You may also experience low mood (crankiness and emotional swings) and overeat later in the day if you fail to fuel your brain with enough carbohydrate during your work day.
Veggies and fruit:
Raw veggies, leftover cooked/grilled veggies, vegetable soup or salad and fresh fruit, frozen berries, canned unsweetened fruit, dried fruit.
These offer fibre and health-promoting vitamins, minerals and phytonutrients. In general, adults should aim to have half of your lunch from veggies and fruit.
Failing to add enough of these to your lunch will likely mean you may fall short by the end of the day which negatively influences health, energy and weight management efforts.
Source of protein:
Leftover meat/poultry/seafood, legumes (such as chickpeas, lentils, black beans, refried beans and more), cheese, yogurt, cottage cheese, canned tuna/salmon, hard cooked eggs, tofu, nuts and seeds.
These provide iron and protein key for sustaining energy and fullness.
Failing to add enough protein to your lunch will lead to inconsistent blood sugar levels that feel like you are on a rollercoaster ride along with cravings and constant hunger through your work day.
Why is getting in the habit of lunch packing so darn hard?
Part of the reason change is hard is because of the pleasure principle, which states that we are wired to approach pleasure and repel pain. If packing your lunch for work means you need to get up earlier, this is likely to be painful while sleeping-in is pleasurable. If the choice is a greasy restaurant meal versus your boring lunch with a sandwich and raw veggies, again the pleasure principle makes it hard to choose the healthier option since our taste buds are wired to love fat, salt and sugar.
Building a new habit takes longer than you think. It's not just "21 days to change a habit" like is commonly quoted. In a recent study in the European Journal of Social Psychology, it was determined that the average time to anchor a specific eating, drinking or exercise habit was 66 days (but the range was from 18 to 254 days).
You'll likely need more practice and a growth mindset to see failure as an essential part of learning. You will also likely need patience, some forgiveness if you are imperfect and a longer time frame to get in the groove with lunch packing than you might think.
What are some strategies that can make lunch packing easier?
#1 Build a habit loop
Author Charles Duhigg, in the book The Power of Habits, breaks down the science of habit formation by describing habit loops which include three parts: a cue, a routine and a reward.
Shifting a habit involves first understanding your habit loop right now and then writing out a new routine triggered by the old cue that delivers the same reward.
Step 1:
If you want to become a savvy lunch packer, the first step is to understand the cue. What time is it, where are you, who are you with, what activity did you just do and what emotion are you feeling? Look for which of these is the strongest cue that shows up every time.
Step 2:
Step two is to determine the reward or craving that you are satisfying when you pack a healthy lunch instead of skip lunch or grab unhealthy options when eating out. In this step, you need to experiment to see what you are really looking for. Is it simply just physical hunger? Or are you bored or fatigued at work and looking for a distraction or mental break? Or maybe you stuffing an uncomfortable emotion such as sadness or anger? Test out if packing a healthy lunch could satisfy the physical hunger or craving. If this doesn't work, then test out the opposite (non-food rewards). Could the mental break of physically leaving your office and eating your packed lunch away from the workplace at another location be what you are really looking for? Keep testing a wide range of strategies until you stumble upon something that delivers the reward.
Duhigg offers this simple fill-in-the-blank formula to post somewhere visible since research has shown writing out a plan is the best way to anchor a new habit:
When (insert CUE from step 1), I will (ROUTINE) because it provides me with (REWARD from step 2).
#2 Divide and conquer with a colleague
Nothing beats staying focused on packing a lunch when you know you've got to be accountable to someone else. There are two ways to improve your success with healthy lunch packing with a colleague at work:
Make a lunch, take a lunch
Find a colleague in the office and ask them if they would be interested in doing a trial "make a lunch, take a lunch" system where once a week you pack them a healthy lunch and then one other day of the week they pack you a healthy lunch. If you find this approach successful then expand your group members to further divide and conquer. If you have 5 people in your group then it means you may only need to pack lunch one day per week. Be sure to come up with the ground rules to manage expectations to ensure all 3 components of a balanced meal are included and that you can navigate likes/dislikes. You might want to go with a salad bar theme, homemade soup theme or healthy bowl theme to start where your colleague can dish up as much or as little as they like.
Build an Accountability Partner at Work
Tell one trusted colleague that already seems to have a healthy lunch packing habit in place that you are working on a goal to bring lunch X number of times per week and you know you will be more likely to succeed if you have an accountability partner. Ask them if they would be an accountability partner for you. Your job – give them a weekly score on how you did each Friday morning. Their job – respond to your weekly updates with enthusiasm or tough love.
#3 Understand your lunch packing personality
One size does not fit all. The more your understand fundamentally who you are, how you plan and what you enjoy eating midday, the better off you will be to succeed in lunch packing AND actually love the food you packed.
If you are not a naturally born planner consider packing some or all of your lunch 2 days or 5 days at a time.
I've had many clients that have found it is far more effective to bring all the raw veggies or snacks they need for the week on a Monday than trying to remember to do this each day. I also worked with a client years ago that struggled to consume enough fruit who took my advice and bought a fruit bowl for his desk as a visual cue. On Monday he would bring in 10 pieces of fruit and average2 pieces per day so that the bowl was empty on Friday afternoon.
If you don't have sufficient fridge space at your workplace consider your own personal bar fridge in your office, or ask your leadership team if adding another fridge would be a possibility as part of your health and wellness budget.
Same goes for adding blenders, toaster ovens, cutting boards and other items to make your workspace more conducive for healthy meal prep. From experience, sometimes all you need to do is ask and these items will appear.
If you don't enjoy your homemade lunches that are often cold mundane sandwiches and find yourself eating out often as you enjoy something warm, then freezer meals you can prepare in bulk would be ideal. Think about soups, stews, pastas, curries, rice-meat-veggie frozen meals in single serving containers you can 'grab and go' with on busy mornings.

Here are a few freezer friendly recipes to try:
Beef and barley stew
Red curry crockpot lentils
Mushroom ricotta stuffed shells
Tortellini bean soup recipe
Final thoughts: HOW you eat is as important as WHAT you eat
One other thought that makes a BIG difference in increasing the satisfaction of your lunch, is this. Put food on a plate – a real glass plate and eat with real cutlery.
Food tastes better when it is served and displayed beautifully. Eating with plastic utensils out of a plastic container at your desk simply steals joy.
When you eat, only eat. Mindfully enjoy a few short minutes away from distraction from your computer, smartphone and desk. Lunch is a great time to connect with your work family (aka colleagues) and take a step away from work related tasks.
When you do not only will you come back to your work fueled and productive but simply eating together improves your entire workplace culture.
WATCH the follow up Facebook Live with Global Morning Calgary here:
Need more support from our Calgary Nutritionist / Online Dietitian team?
As Registered Dietitians that specialize in meal planning, weight concerns, emotional eating, eating disorders, digestive health, heart health, diabetes, pediatric nutrition and sports nutrition we can see you in our local Calgary Nutritionist office or as an Online Dietitian by phone or video conferencing for virtual nutrition counseling. Find out more about our Dietitian Nutrition Counseling Programs here.
Join the waiting list for our next Online Nutrition Course The Pursuit of Healthiness.
As university trained Registered Dietitians, you can count on us for credible advice and practical meal planning so you don't have to stress about food anymore. You can achieve a healthy and joyous relationship with food and your body. Let's talk about what this can look like for you. CONTACT US.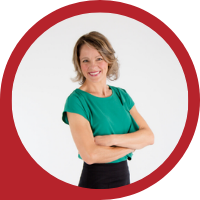 About Andrea Holwegner
CEO, Registered Dietitian, Counseling Practice Director & Professional Speaker
Andrea the «Chocolate Loving Nutritionist» is founder and CEO of Health Stand Nutrition Consulting Inc. since 2000. She is an online nutrition course creator, professional speaker and regular guest in the media. Andrea is the recipient of an award by the Dietitians of Canada: The Speaking of Food & Healthy Living Award for Excellence in Consumer Education....Read more