3 Corporate Health Dietitian Strategies to Create a Healthy Workplace
October is Healthy Workplace Month
It goes without saying that a healthy workplace is a good thing, and we all want one. But, exactly what is a healthy workplace? People can be healthy, but can your workplace be healthy? As a Corporate Health Dietitian I say YES, your place of work can be a healthy environment for you to spend many hours each day.
It's easy to identify an unhealthy workplace:
Physically detrimental to your health and well-being
Saps your energy
Causes mental stress or inability to sleep
Lack of positive feedback
No work/life balance
Toxic, negative co-workers and management
An unhealthy workplace not only negatively impacts employees, but it can also negatively impact your clients, customers and products or services. Similarly, a healthy workplace can positively impact a business's employees, clients and services.
What Is A Healthy Workplace?
A healthy workplace is one where workers and managers collaborate
 to continually improve the health, safety and wellbeing of all workers
 and by doing this, sustain the productivity of the business.

World Health Organization
6 Cringe-Worthy Corporate Wellness Statistics
Source: Quantum Workplace
16% of employees have work situations that negatively impact their sleep on a regular basis.
25% of employees frequently feel physically drained or exhausted after an average day's work.
30% of employees frequently start their workdays feeling tired or low on energy.
About 20-30% of employees feel frustrated, stressed, anxious, or annoyed daily or a few days a week.
25% of employees frequently feel emotionally drained or exhausted after an average day's work.
Employees who interact with customers on an hourly or daily basis are more likely to frequently feel physically and emotionally drained after an average day's work.
There are several key components that work together to create a healthy workplace:
Workplace Culture
The 2018 Global Talent Trends study found that 50% of employees want to work for a company that focuses on well-being, including an emphasis on physical, psychological and financial wellness. A healthy company culture helps keep employees productive and helps your company retain the best employees: happy employees are more likely to stay with their employer.
Physical Safety
A safe workplace is a healthier workplace. Employees who work in an environment with hazards such as peeling paint, electrical cords strung across hallways or broken chairs not only have concerns about their physical well-being, they carry additional stress from working in an unsafe environment.
Healthy Lifestyle
Employees are a company's strongest asset. Employee wellness and nutrition programs encourage teamwork, increased productivity, reduced sick leave and workplace loyalty.
3 Doable Strategies to Create a Healthy Workplace Lifestyle for Your Employees
According to the Global Talent Trends study, employees want managerial support for their physical and emotional well-being. Your company can implement changes that result in a healthier workplace – and healthier employees.
1. Provide Healthy Food Options
Healthy nutrition habits are also critical to keep blood sugar levels constant which helps improve energy, focus, mood and creative thinking. Many employees bring their lunch to work or go out for fast food. But does your office have a 'cake culture' where you provide sugary treats and snacks for office celebrations, heavy food for lunch meetings and vending machines with soda, cookies and candies?
Employers spend large sums of time and money on improving business systems to get employees producing faster and better results. Shockingly, little is done to examine the basic reason many employees fail to have the essential energy, concentration and productivity they need to excel on the job. Do you want to improve workplace productivity? Focus on lunch.
Healthy Vending Machines Options
Study after study shows we eat whatever is convenient. Make healthy choices easy by removing traditional vending machine items such as pop and chips and replacing them with healthier options such as sparkling water, nuts, dried fruit, whole-grain crackers and more.
Walk the Talk for Wellness
Ensure catered lunches and snacks brought on-site for meetings, events and employee breaks include vegetables and salad, hearty whole grains and filling protein-rich choices. Find a few of the health leaders in your organization that can form a committee with the assistance of a Registered Dietitian to come up with an approved healthy catering menu with local vendors.
Create a Healthy Lunch Challenge
Post weekly healthy recipes, lunch packing tips or meal ideas in your company intranet, newsletters and signage in your workplace eating areas.
2.  Invest in Nutrition Education for Employees
Educate to prevent hangry (hungry + angry) employees. In the workplace, businesses spend thousands of dollars on complicated systems and organizational techniques that focus on productivity, when employee nutrition (the most basic solution to productivity) is overlooked.
Employee Nutrition Education Program
Build an ongoing, long-term nutrition strategy as part of your corporate wellness program. Enlist the help of a Corporate Health Dietitian to help ensure your company nutrition education is credible and effective, including nutrition seminars, on-site nutrition counselling and video education.
Encourage Good Lunch Bag Habits
Healthy lunch nutrition habits are also critical to keep blood sugar levels constant which helps improve energy, focus, mood and creative thinking. Skipping lunch, packing an unhealthy lunch or last-minute whatever is handy lunches can derail your employees' afternoon productivity.
Healthy Eating Out or Carry-In Lunches
It is possible to buy fast food or eat out without blowing your nutrition plan. Eating out our buying take-out is challenging because someone else chooses the portion size and quality, which leads to more calories, more saturated and trans fats and more sodium.
My Corporate Health Dietitian Tips for the 12 S's for Eating Out
3. Move More
Build a culture of activity. Do employees eat at their desks, and call or message other employees who are just across the hall? Research shows you can improve employee performance through small changes to their workplace environment. Long periods of sitting lead to increased risk of heart disease, obesity, diabetes and cancer. The World Health Organisation listed inactivity as the fourth biggest risk factor for global adult mortality.
Movable Meetings
Activity is essential for mental and physical health. When possible, schedule a meeting with a colleague while walking instead of sitting to improve not only physical well-being but also emotional health. This can be done either inside or outside, weather permitting. Leadership from the upper management and executive team is essential so that employees see this as an acceptable practice. If walking meetings aren't an option, try standing meetings: standing uses more muscles than sitting.
Build a Break Room
Discourage eating lunch at your desk – or skipping lunch altogether. Set up a work-free zone for employees to eat lunch, take a break, de-stress and recharge. If possible, stock your break room with healthy snack and drink options. Encourage managers as well as employees to use the company break room.
Write A Policy
To be successful, it's important for management to encourage and model a culture of activity. A written policy communicating the goal and benefits of increased movement at work reinforces to employees that their health and well-being is important to the company. Provide employees with opportunities for movement and activity including standing desks, moving meetings, meditation and stretch time-outs, breaks when meetings run long, and a movement-friendly dress code.
October is Canada's Healthy Workplace Month, but the benefits of a healthier workplace last year-round for employees and the company. For more ideas on how you can create a healthier, happier workplace, visit HealthyWorkplaceMonth.ca.
As The Chocoholic Nutritionist, I believe anyone can achieve health without guilt or complexity, and that the secret to success is having fun! Our Health Stand Nutrition's workplace wellness programs by our Corporate Health Dietitian team offer relevant, FUN solutions to reduce workplace stress, improve health and dramatically increase productivity.   
CONTACT me for more information on how our Corporate Health Dietitian team can help support your organization.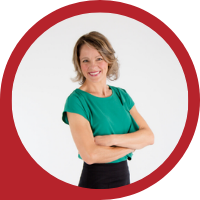 About Andrea Holwegner
CEO, Registered Dietitian, Counseling Practice Director & Professional Speaker
Andrea the «Chocolate Loving Nutritionist» is founder and CEO of Health Stand Nutrition Consulting Inc. since 2000. She is an online nutrition course creator, professional speaker and regular guest in the media. Andrea is the recipient of an award by the Dietitians of Canada: The Speaking of Food & Healthy Living Award for Excellence in Consumer Education....Read more