Is There a Recommended Daily Sugar Intake?
A Sample Menu and Review of the New Food Label for Sugars
This blog post is sponsored by my client, the Canadian Sugar Institute, a non-profit association that provides science based nutrition information services who compensated me for my consulting time and expertise to provide the following information on food label reading and what Health Canada considers an amount of total sugars consistent with a healthy eating pattern. 
Throughout my career as a Registered Dietitian for over 20 years, I frequently get asked about sugar and how much can fit in a healthy diet given there is so much conflicting information online.
In this article I'm going to explore the answer to the common questions: "Is there a recommended daily sugar intake?' and 'How much sugar is OK per day?'  I will also help you understand the new food label for sugars in Canada to help you make educated choices.  
To help you "see" an example of a full daily menu that meets the Daily Value that Health Canada suggests is an amount of total sugars consistent with a healthy eating pattern, below you will also find a sample menu I created using some of my favorite recipes from previous blog posts.
Sugar Terminology
Sugar is carbohydrate used by your brain, central nervous system and muscles for energy and it is found in a variety of foods naturally.  Sugar is also added to foods for taste, food preservation and culinary baking and cooking functionality (such as for texture, volume, mouthfeel and color).
Before diving into addressing the question if there is a recommended daily sugar intake, it may be helpful to understand the general ways sugar is often described online and by health organizations:
Naturally occurring sugars

are usually described as glucose, fructose and sucrose (found in fruits and vegetables) and lactose (found in milk products).
Added sugars

are those added during cooking and processing such as sugar, brown sugar, honey, corn syrup and maple syrup.
Free sugars

include added sugars plus concentrated fruit juice.
Total sugars

include naturally occurring sugars plus added sugars and concentrated fruit juice.
Is There a Recommended Daily Sugar Intake?
According to Health Canada a Daily Value of 20% of your total calories is the amount of total sugars that is consistent with a healthy eating pattern where sugars come mostly from fruit, vegetables and plain milk.
This level is not a recommendation to strive towards but can be used to compare the sugars content of different foods and understand the relative amount of sugars in the context of your day.
For a 2,000 calorie diet, 20% of your total calories is 100 grams of total sugars.  If you eat more or less than 2,000 calories per day this means there is more or less room for total sugars in your day.
20% of 1,500 Calories = 75 g total sugars

20% of 2,000 Calories = 100 g total sugars

20% of 2,500 Calories = 125 g total sugars

20% of 3,000 Calories = 150 g total sugars

20 % of 3,500 Calories = 175 g total sugars
Wondering how much sugar Canadians consume per day?
The latest data from the 2015 Canadian Community Healthy Survey showed that Canadian adults consumed on average 86.9 g/day [18.8% of energy, (%E)] from total sugars, 47.5 g/day (9.9 %E) from free sugars, and 41.7 g/day (8.6 %E) from added sugars.
Understanding the New Food Label for Sugars in Canada
The Revised Nutrition Facts Table
The new Nutrition Facts Table on food labels (that is required by Canadian law by the food industry by 2022) will display a % Daily Value for total sugars based on 100 grams (20% of a 2,000 calorie diet). 

Using menu modelling, Health Canada determined that when the Daily Value equals 100 grams total sugars, foods with greater than 15% Daily Value include many products that are high in added sugars.
The List of Ingredients
On the List of Ingredients on the new food label you will also find new regulations that require all added sugars be grouped together (by weight) in brackets following the term "Sugars."  Functional substitutes that act as sweetening agents such as fruit juice concentrate are also grouped together under "Sugars."  This can help to make it easier to identify all the sources of sugars added to a food or beverage.  
However note that the "Sugars" in the List of Ingredients represents added sugars whereas the "Sugars" in the Nutrition Facts table represents total sugars including those from naturally occurring sources such as fruits, vegetables and milk.
Sample Menu: What Does 100 g of Total Sugars Look Like in a Day?
I recently taught an awesome group of Dietitians LIVE on Zoom videoconference from my kitchen.  While cooking events normally happen live, we had a great time cooking together online!
We cooked several of my recipes together from a menu I created to showcase one example of a full day menu of what 100 grams of total sugars actually looks like in a healthy diet.  This is an eating pattern that includes a regular intake of vegetables, fruits, whole grains, and protein-rich foods, while still allowing some room for some of your favourite treats and savoury foods chosen for flavour and enjoyment. 
I've also provided links to the recipes on our blog in case you want to try the recipes yourself. I hope this helps give you one example of how much sugar a day is ok.
What Does 100 g of Total Sugars Look Like in a Day?
Breakfast

Blueberry Pecan Baked Oatmeal Cups

(1 muffin)

135

17

6

2

6

1

4

98

Plain 2% Greek Yogurt (3/4 cup)

122

7

6

2

3.5

2

17

90

Maple Syrup (1 tbsp)

52

13

12

0

0

0

0

2

Blueberries (1/2 cup)

44

11

8

2

0

0

0.5

1

Lunch

Asian Chicken Salad Bowls




(1 serving)

496

59

11

6

14

2

35

870

Tall Iced Coffee with 2% Milk

80

17

17

0

1

0.5

2

30

Snack

Strawberry Avocado Salsa

(1 serving)

118

11

3

4

8

1

2

80

Tortilla Chips (12 chips)

170

24

0

2

7

1

2.5

0118

Dinner 

Easy Chickpea Veggie Burger

(1 burger)

240

33

5

5

7

1

11

95

Multigrain Bun (1 bun)

113

19

3

2

2.5

0.5

4

197

Toppings – Lettuce, Tomato, Pickle, Ketchup, Mustard

27

6

4

1

0

0

1

258

Apple Poppyseed Coleslaw

 

(1 serving)

238

23

17

3

16

2

2

170

Dessert

Dark Chocolate, 70% (3 squares, 30 g)

170

14

9

4

12

7

3

10

Totals
2,005 Calories
254 g Carbs
101 g
Total Sugars
33 g Fibre
77 g Total Fat
18 g Saturated Fat
84 g Protein
2,019 Sodium
I hope you found this article to address the common question 'is there a recommended daily sugar intake?' helpful in your healthy eating journey.
With so much conflicting information online it can be very confusing to figure out what to eat in the course of a day that not only provides good health and nutrition but also a tasty life.  As the Chocoholic Nutritionist, I always advocate for balanced living.  This means eating enough nerdy nutritious foods needed for health but also saving room for our favorite sweet and savoury soulful foods chosen exclusively for taste and social enjoyment.  This eating style that aims for balance (not perfection) helps with long term sustainability of a healthy lifestyle.
Eating FULLY = HealthFULLY + SoulFULLY
Where can I get more support on healthy eating for my personal needs?
As a team of Registered Dietitians that specialize in meal planning, weight concerns, emotional eating, eating disorders, digestive health, heart health, diabetes, fertility, sports nutrition and more, we can help you with your goals and health concerns.
We've been offering virtual online nutritionist support by our Virtual Dietitian team for some time and can hand hold you through the process. You'll be surprised how easy it is to use even if you are not technologically savvy. Read more about our personal nutrition counseling services here: In-person and Online Nutrition Counseling.
PS: Don't forget to check with your insurance provider, health spending account or private health services plan and see if you are covered for Registered Dietitian services.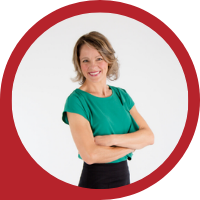 About Andrea Holwegner
CEO, Registered Dietitian, Counseling Practice Director & Professional Speaker
Andrea the «Chocoholic Nutritionist» is founder and CEO of Health Stand Nutrition Consulting Inc. since 2000. She is an online nutrition course creator, professional speaker and regular guest in the media. Andrea is the recipient of an award by the Dietitians of Canada: The Speaking of Food & Healthy Living Award for Excellence in Consumer Education....Read more