Healthy Red Snack Attacks for Valentine's Day!
Surprise and delight your loved ones with these easy red snack ideas!
Valentine's day is right around the corner! There are so many ways to add a spice of love to regular snacks. Enjoy these fun Valentine's Day snack ideas with those you love! 
9 Valentine's Day Snack Ideas
1)    Add raspberry puree to your pancake or waffle mix to make them red. Go even further and serve them with raspberry compote and sliced strawberries and a dollop of raspberry or strawberry yogurt. Check out this Banana Raspberry Protein Pancake recipe!
2)    Cut strawberries in the shape of roses by making 4 small slits on the outside of the strawberry and move up the strawberry to the tip in 'layers'. You can even put them on the end of a skewer and make a bouquet. 
3)    Make hearts out of watermelon rounds using assorted sizes of heart shaped cookie cutters. You can add these to a skewer as well and make heart pops. 
4)    Make a cranberry curd by stewing frozen cranberries, sugar and water. Once cool blend until smooth. Add back to a saucepan with egg yolks and stir until thickened. You can use this to top a slice of bread with brie cheese or as a spread on toast. 
5)    Use beet hummus in place of traditional hummus on a plate with red vegetables – red bell pepper, cherry tomato and radishes. Take a look at this delicious Beet Hummus Recipe.
6)    Make red velvet energy bites using beet puree to turn the 'dough' red. 
7)    Shrimp, they are naturally pinky/red in colour and when paired with cocktail sauce they are a terrific addition to any Valentine meal or as a snack. This Speedy Shrimp Recipe is a must-try!
8)    Red yogurt parfaits. Start by adding some red fruit – raspberries, strawberries, pomegranate seeds, stewed rhubarb etc. In the bottom of a jar, layer raspberry or strawberry yogurt on top, then granola. Continue to alternate layers until the jar is full, top with red fruit of choice. 
9) Cut thin pieces of a beet with a heart shaped cookie cutter. Toss them into a salad! This Barley & Beet Salad Recipe is great for this!
Don't miss a healthy recipe or nutrition article and sign up for our newsletter, today! 
Sound Bites is a weekly nutrition newsletter that goes out to thousands of subscribers. Written by our team of registered dietitians, it includes articles, videos, tips and recipes.
As a special BONUS, we'll email you our popular '51 Healthy Snack Attacks' PDF.
Looking for some more healthy snack ideas? Try these!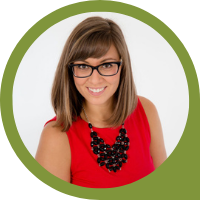 Shauna Kime
Registered Dietitian & Online Nutritionist - Weight Concerns, Women's Health, Diabetes & Meal Planning
The first thing you will notice about Shauna is her contagious optimism, energetic personality and zest. Shauna loves teaching and has a heart full of compassion and empathy for helping clients work through health concerns. Shauna specializes in healthy cooking, diabetes, cardiovascular health, weight concerns and womens health. Read more