Vegetarian Charcuterie Board
Easy and delicious party platter
Want to make a vegetarian charcuterie board that everyone can eat? Try this delicious, nutritious and easy vegetarian charcuterie board recipe. 
Makes 16 servings
What You Need
Vegetarian Charcuterie Board

 Ingredients
6 raw vegetables such as

carrots, snap peas, cherry tomatoes, cucumber rounds

, sliced lengthwise

24 seeded whole-grain crackers

4 pickled vegetables such as

pickles, pickled beets, pickled green beans, pickled asparagus 

8 slices mini whole-grain baguette, toasted (10 ounces)

1/4 cup nuts and seeds such as

almonds, pumpkin seeds, cashews 

1/4 cup red pepper jelly or olive tapenade

1 1/2 cups berries such as

strawberries, raspberries, blackberries

 

2 cups red/green grapes

1 1/2 cups sliced pears or apples

3 sprigs fresh dill

1/4 cup green/black olives

1/4 cup dried fruits such as

figs, dried apricots, dates

 
Dip recipes
How to Make Vegetarian Charcuterie

 Recipe
Place dip of choice in

small serving bowl; arrange in the center of the board.

Arrange raw vegetables in one corner of the board, allowing them to hang slightly over the edge of the board.
Scatter crackers and baguette slices in three separate sections of the board around the dip.

Scatter a few nuts, seeds and dried fruits near the dip. Place the remaining nuts, seeds  and dried fruits in a small bowl on the opposite side of the dip.

Pleace pickled vegetables and olives in small glass jars and place across from raw vegetables.

Scoop red pepper jelly and olive tapenade into a small glass jars and place it in the third quadrant of the board, creating a triangle with the bowls of dip and nuts.

Scatter berries, grapes and fresh fruit in any open spaces on the board, filling in gaps. Garnish with fresh dill sprigs.
Try this easy and delicious vegetarian charcuterie board and let us know on social media by tagging us on Facebook and Instagram @healthstandnutrition! 
Nutrients per serving
152 Calories 
28 g Carbohydrates
4.5 g Protein
3.6 g Fat
5 g Fibre 
Don't miss out on healthy new recipes or nutrition articles and sign up for our newsletter, today! 
Sound Bites is a weekly nutrition newsletter that goes out to thousands of subscribers. Written by our team of registered dietitians and nutrition experts, it includes articles, videos, tips and recipes.
As a special BONUS, we'll email you our popular '51 Healthy Snack Attacks' PDF.
Looking for more healthy snack ideas? Check out these recipes!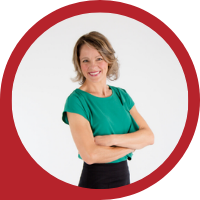 About Andrea Holwegner
CEO, Registered Dietitian, Counseling Practice Director & Professional Speaker
Andrea the «Chocoholic Nutritionist» is founder and CEO of Health Stand Nutrition Consulting Inc. since 2000. She is an online nutrition course creator, professional speaker and regular guest in the media. Andrea is the recipient of an award by the Dietitians of Canada: The Speaking of Food & Healthy Living Award for Excellence in Consumer Education....Read more