Back to School: Packin' healthy lunches for your munchkins
Healthy Kids Lunch Packing Ideas
By Andrea Holwegner, Health Stand Nutrition Consulting Inc. – for CBC.ca
It's that time of year again where everyone is hitting the grocery store looking for fun ideas for lunches to beat the brown bag blahs. With the latest outbreak of listeriosis from deli meats in August 2008 many parents are now even more challenged about what to pack their kids for lunch. The good news is that there are plenty of healthy, fun lunch ideas that will please both your kids and health-conscious parents.
Lunch adds a punch
What your kids eat at lunch is an important part of their short-term energy as well as their long-term health.
Lunch is a key meal that impacts their focus, mood and ability to learn and retain information at school. If lunch is missed or isn't planned properly the immediate effects could be unstable blood sugars leading to mood swings, fatigue and poor learning. Carbohydrates in foods such as grains/starches, vegetables and fruits are essential sugar sources for the brain and also are the fuel for muscles. If your children don't get enough carbohydrates they will more likely become emotional, tired and unfocused in school. At the same time, children who eat only carbohydrate-rich foods without a source of protein will feel like they are on a rollercoaster ride with highs and lows in their energy levels.
Protein-rich foods such as meat, poultry, seafood, eggs, dairy, legumes, soy foods, nuts and seeds are critical in a meal to help your child stabilize their blood sugars leading to better focus, energy and a sense of fullness.
Are you like many parents who believe if your kids are a healthy weight you don't need to worry about what they eat? Over time, if lunches are missing healthy foods it is likely to contribute to increased risk of longer term health concerns such as a poor nutrient intake, weight problems, poor bone density and even diabetes, cancer or heart problems.
The process of cholesterol building up in their arteries starts at a young age. What your child eats at a young age influences how likely they are to develop cancer, osteoporosis and diabetes as well as other medical issues.
Nutrition challenges for Canadian kids
Six out of seven kids aged four to nine years old are not consuming enough vegetables and fruits for overall health, according to the Canadian Community Health Survey. But why would we expect them to when the same survey says 60 per cent of adults don't get enough? More than one-third of kids aged four to nine and three quarters of kids aged 10 to 16 don't get enough calcium rich foods per day for health. Lunch provides a key opportunity to boost your child's intake of vegetables, fruit and calcium rich foods among other healthy choices.
Building a solid healthy lunch
When you are packing your child's lunch here are the top three tips to keep in mind:
1. Aim for 3 key components for lunch.
When you are packing a lunch, educate your children on the importance of having three things to ensure they keep energetic and healthy for the long term:
Grains/Starches:
Whenever possible choose the whole grain options, since they provide more vitamins, minerals, fibre and fullness. These foods are high in carbohydrates essential for the brain and muscles.
Choose from bread, buns, wraps, pita bread, crackers, pasta, rice, potatoes, cereals and more.
Vegetables and fruit: Include both a vegetable and a fruit in every lunch since they supply carbohydrates for the brain and muscles and also a wide variety of vitamins and minerals for health. Choose from fresh fruit, canned fruit, applesauce, dried fruit, dried fruit bars, unsweetened juice, raw veggies, cooked veggies, tomato sauce, salsa, vegetable juice, vegetable soup.
Source of protein:
Protein helps to keep them full and sustained with energy for the day. These foods are also important sources of iron and calcium for health.
Choose from meat, poultry, seafood, nuts, seeds, nut butters, legumes (beans, lentils, chick peas), tofu/soy foods, milk/soy milk, yogurt, cheese, cottage cheese, eggs.
2. Get them involved!
Kids are never too young to start helping learn about the components for a healthy lunch. Start by framing the components of a healthy lunch, teaching them the three key components of a balanced meal (grains/starches; vegetables and fruit; and source of protein).
Once they know this, you can provide them choices within each of these food groups and have them choose. Kids are more likely to want to eat their lunch and less likely to trade it with friends if they have had a say in what goes into their lunch bag.
Don't fret if your child likes to pick mostly the same foods – you can provide more variety in their breakfast and supper choices at home where you have more control over meal planning.
3. Toss in extra foods for snacks.
Your child has a small stomach and likely needs to eat often to make sure he or she consumes all the foods required. Be sure to pack a morning recess snack as well as an afternoon recess snack and/or a snack for the bus. Some kids are so busy and distracted at lunch that they don't eat much so make sure there are plenty of snack options available for your child.
10 healthy snack ideas:
Yogurt or yogurt tubes (try freezing these so they stay cool in lunches)
Oat bran or bran muffin or whole grain crackers and cheese
Dried fruit (such as raisins/craisins) and pretzel mix
Popcorn and dried apricots snack mix
Raw veggies (such as snap/snow peas, carrots and mini tomatoes) and dip
Whole wheat pita bread wedges and hummus
Fresh fruit or dried fruit bar and container of milk
Canned fruit cup or applesauce cup
Grapes and cheese cubes
Sliced oranges/kiwis/strawberries and fresh cheese snack (such as Yoplait Minigo)
10 lunch ideas for kids:
Here are some healthy lunch ideas to get you started. Be sure to also pack an ice pack to keep lunches cold and a water bottle to keep kids hydrated.
Whole grain crackers, slices of cheese, hard-boiled egg, raw carrots and celery, applesauce cup, grapes, almonds (only if nuts are permitted in your child's school).
Thermos of leftover meat/vegetarian chili from the night before, whole wheat bun, cucumber slices, container of milk or soy milk, orange slices.
Pita bread and hummus, carrots, canned peaches, cottage cheese, dried fruit bar, banana.
Thermos of leftover pasta and meat sauce from the night before, raw snap/snow peas, yogurt, grapefruit or orange slices.
Grilled chicken or flavoured firm tofu on a bed of Romaine lettuce, caesar salad dressing in a separate container, banana muffin, canned/fresh pear.
Whole grain wrap with meat or canned refried beans or black beans, grated cheddar cheese, salsa in separate container, yogurt tube, raisins, unsweetened juice box.
Whole grain crackers, salsa, guacamole, broccoli and cauliflower, veggie dip, mango or watermelon slices.
Bran muffin, cheese cubes, canned/fresh pineapple, thermos of vegetable soup, popcorn.
Flavored tuna, whole grain crackers or wrap, lettuce and red/green peppers, kiwi or strawberries, container of milk.
Pasta salad with chicken or meat/cheese, whole wheat pasta, red/green peppers, broccoli, and cherry/grape tomatoes with salad dressing, cantaloupe or honeydew melon slices, craisins
Healthy lunch recipes
Healthier macaroni and cheese
Makes 8 servings
per serving: 345 calories, 36 g carbohydrates, 23 g protein, 12 g fat, 4 g dietary fibre.
What you need:
3 cups dry whole wheat macaroni
1/4 cup flour
1 1/2 cups skim milk
1 cup chicken stock
1 1/2 cups light sharp cheddar cheese
1/4 tsp paprika
1/2 tsp salt
1/2 tsp dry mustard
1/4 tsp pepper
2 ounces (1/4 cup) light cream cheese
2 tbsp parmesan cheese
How you prepare:
Cook pasta until al dente, then drain.
In saucepan, mix flour, milk and chicken stock and cook until thickened. Grate in the cheddar cheese and mix in the rest of the ingredients (except parmesan cheese). Stir until cheeses are melted. Combine this sauce with cooked pasta and place in a large casserole dish. Top with parmesan cheese. Bake uncovered for 30 minutes.
Branberry muffins
Makes 12 muffins
per serving: 161 calories, 26 g carbohydrates, 4 g protein, 6 g fat, 4 g dietary fibre.
What you need:
3/4 cup whole wheat flour
3/4 cup natural bran
1/2 cup wheat germ
3/4 cup brown sugar
1 tsp baking soda
1/2 tsp salt
1 tsp grated orange rind
1 cup blueberries
1 egg
2/3 cup buttermilk (sour milk, yogurt)
1/4 cup canola oil or other vegetable oil
How you prepare:
Beat egg with buttermilk and oil. Mix in dry ingredients until just moistened and then stir in orange rind and berries. Fill muffin cups 3/4 full. Bake at 400° F for 15 to 20 minutes.
Raw veggie dip
Makes 6 servings
per serving: 71 calories, 4 g carbohydrates, 5 g protein, 1 g fat, 0 g dietary fibre.
What you need:
2/3 cup light mayonnaise or salad dressing
1/3 cup light sour cream
Splash of Worcestershire sauce
1 tbsp. dried dill
1 tsp Dijon mustard
Pinch of salt
Pinch of pepper
1/4 tsp onion powder
How you prepare:
Stir the above ingredients together in a bowl and refrigerate.
For more healthy recipes visit www.healthstandnutrition.com.
Andrea Holwegner — the Chocoholic Dietitian — is a registered dietitian and founder and president of Health Stand Nutrition Consulting in Calgary.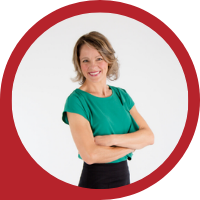 About Andrea Holwegner
CEO, Registered Dietitian, Counseling Practice Director & Professional Speaker
Andrea the «Chocolate Loving Nutritionist» is founder and CEO of Health Stand Nutrition Consulting Inc. since 2000. She is an online nutrition course creator, professional speaker and regular guest in the media. Andrea is the recipient of an award by the Dietitians of Canada: The Speaking of Food & Healthy Living Award for Excellence in Consumer Education....Read more